FlipBeats, a trend-setting music app by hSenid Outsourcing was selected as the winner at the United Nations World Summit Awards 2016 under the World's Best Digital Content in the Entertainment and Lifestyle category. The event was held in Singapore earlier this month.

The World Summit Awards are a highly diverse and democratic awards system that selects and promotes the world's best digital innovation that has an impact on society.

Just after the event, a jubilant Sachi Wickremage, Head of hSenid Outsourcing said, "This is our biggest global achievement to date. Not only does this award take our company to another level, but this recognition also gives Sri Lanka, which is a United Nations member country, a huge boost on an international platform."

ICTA Chairperson Chitranganie Mubarak was also present at the event.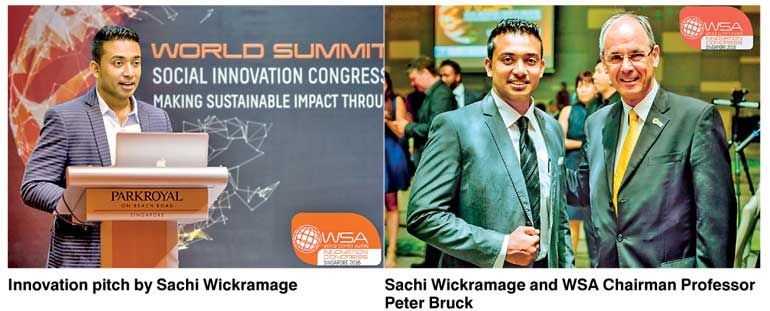 FlipBeats is a beautifully designed, highly user friendly music app, currently ranked as one of the Best Music Player Apps on the Apple AppStore and GooglePlay Store. The app is unique, intuitive and customisable with the most advanced audio configuration to create a studio-like listening experience. Newest addition to its long list of features is Free Streaming Music, which the community has already started to fall in love with. The app runs on all Android and Apple iOS devices including the Apple Watch. FlipBeats has been favourably reviewed in internationally respected websites such as Engadget, LifeHacker and AndroidGuys.

Additionally, the app's smart energy saving mode 'Black Edition' reduces 75% of the device's power consumption by turning a majority of the display pixels off, yet creating a stunning visual effect with contracting colors. It is powered with special ergonomic features such as 'Sound Health Profile' and comes in six different languages.

hSenid Group Chairman Dinesh Saparamadu said, "This is an outstanding recognition for FlipBeats having competed and won against tough industry peers on an international platform. I am very proud of Sachi and his team and commend them on this incredible feat."

This award adds to the multi, local and regional awards received by hSenid Outsourcing. In 2015, FlipBeats was the winner at the mBillionth Award under the Media and Entertainment category, beating several international peers. In 2014, the app won Best App of the Year at the eSwabhimani Awards 2014, Finalist at Asia Pacific ICT Alliance 2014, and several awards at BCS National Best Quality Software Awards 2014.

The World Summit Awards was initiated in 2003 in the framework of the UN World Summit on the Information Society (UNWSIS) and contributes to the UN Sustainable Development Goals agenda by recognising local digital content with an impact on society, demonstrating the richness and diversity of innovative applications.

To date more than 178 countries are actively involved, with a daily growing network of thought leaders, innovators, entrepreneurs, government and business representatives and young founders.