By Hiruni Dabarera

In a bid to strengthen the value and sustainability of corporates, Chartered Accountants (CA) Sri Lanka recently launched the Integrated Reporting Council (IRC) under the patronage of International Integrated Reporting Council (IIRC) Director Sarah Grey.

Established under the guidance of the IIRC, this initiative aims to be an important platform to network people who are interested in the concept of IRC, which has placed increased importance on corporates across the globe.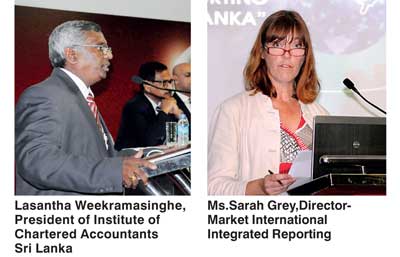 "This is the first IRC in the whole of Asia. I expect it to impact Sri Lanka quite positively in terms of how businesses with strategy and resilient business value can attract local and global markets and enhance financial stability and sustainable development," said the IIRC Director.

According to her, integrated reporting will enable the fair distribution of wealth while helping sustain the planet. Its objective is to provide meaningful information to all investors to make more effective capital allocation decisions that will facilitate better long-term investment returns at a time when reporting has become so complex that its essentials tend to get lost.

"Integrated reporting is not more reporting but rather more cohesive and concise reporting; not allowing the flow of information to obscure the really important strategic issues that are vital to the sustainability of a business," she elaborated.

It will help combat the new risks that economies are facing today - disruptive technologies, climate change and skill shortages that could potentially lead to another global financial crisis. In 2016, the World Economic Forum pointed out that these risks were interconnected and not independent. Hence, an integrated approach to managing and mitigating those risks is essential in the modern world.

92% of companies who have already adopted integrated reporting have stated that it has increased understanding of the creative value of an organisation. 79% stated that there are improvements in decision-making and management decisions and 96% reveal how positive it has been in terms of internal engagement, connecting departments and breaking down silence.

"Transparency and accountability are important to any business today. Through this initiative we hope to further strengthen the financial landscape in Sri Lanka," expressed the CA President Lasantha Wickramasinghe.

He went on to reveal how 25-30 companies in Sri Lanka have already adopted integrated reporting.

The IRC will comprise committee members representing CA Sri Lanka, AACA and CIMA while the Advisory Council will consist of Sri Jayawardenapura, Colombo and Kelaniya Universities and the Ceylon Chamber and National Chamber, Sri Lanka Accounting and Auditing Standards Monitoring Board (SLAAAMB), Central Bank Auditor General, multinational institutions such as United Nations Compact, Asian Development Banks as well as representatives of companies that applied for the Integrated Reporting Award at the 51st Annual Report Awards ceremony organised by CA Sri Lanka.

The other objectives of the council are to raise awareness on integrated reporting, disseminate knowledge on it among corporates and accounting professionals, collaborate with statutory bodies for promoting integrated reporting and to perform research and studies related to it.
Pix by Gitika Talukdar