From left: Chief Executive Officer at MSH Packaging Industries Ltd. Savera Weerasinghe, Director/CEO of SAIG and Orion Jeevan Gnanam, Co-founder & Chief Executive at Katha Mahen Ratnayake, Co-Founder of Katha Mudith Uswatta, Founder of Nicnac Sachira Fernando, Co-Founder, Chief Architect at Creative eLearning Sheran Corera (the winner), CEO at Codegen Harsha Subasinghe, Founder and CEO of Calcey Technologies Mangala Karunaratne, Chief Information Officer at MAS Holdings Jehan Mutaliph, Seedstars World Asia Associate Nick Feneck, Asia Regional Manager Seedstars World Katarina Szulenyiova, Project Executive at SLASSCOM Anas Akram.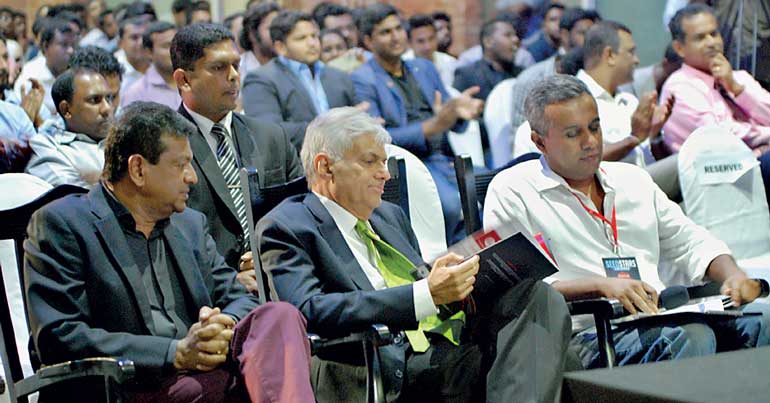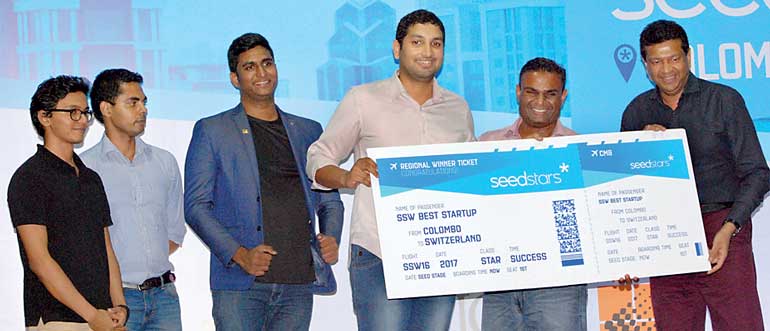 SLASSCOM Chairman Mano Sekaram(R) presenting the award for the best start-up to 'LayUp' founder Sheran Corera (L).- Pix by Shehan Gunasekera
On 30 June during Seedstars Colombo, LayUp won the Sri Lankan round of Seedstars World and will represent Sri Lanka at the Seedstars Summit in Switzerland to compete for up to

$ 1 million in equity investment.

Seedstars World, the global seed-stage startup competition for emerging markets and fast-growing startup eco-systems brought its Sri Lankan round to a successful close during Seedstars Colombo. The event took place on 30 June at Trace City Expert, and eight selected startups were invited to present their ideas in front of the local jury panel.

The local winner, LayUp, a learning-driven social platform to discover a new way to train, engage and reward employees, was selected as the best startup in Sri Lanka for its user-friendly solution.

"I realised during my corporate tenure there was no effective, engaging product on the market that addresses the problem of online training," explains Sheran Corera, founder of LayUp.

As a part of the prize, LayUp will be participating at Seedstars Summit, taking place in Switzerland in March 2017, a weeklong training program with the opportunity to meet the other 60 winners, as well as investors and mentors from around the world.

Traditionally, the final day of the Summit will be dedicated to pitching in front of an audience of 1000 attendees, with the possibility of winning up to the $ 1 million in equity investment.

NicNac with its personal digital butler service came second and Katha, a social, audio content creation platform, grabbed the third position. The other startups invited to pitch were PayMedia, Foodie Global, Touristeun, Hype Hash and PreviewVR.

Seedstars Colombo hosted Prime Minister Ranil Wickramasinghe and a number of high profile speakers. SLASSCOM Chairman Mano Sekaram welcomed the Prime Minister and explained The Seedstars Colombo initiative before SLASSCOM Vice-chairman Ruwindhu Peiris presented a compelling and thorough report about the Sri Lankan startup ecosystem, which can be accessed via http://www.slasscom.lk/content/startup-sri-lanka-report. MAS Innovation Head of Human Resources Zahara Ashraff also presented a talk on the need for an innovation based startup ecosystem in Sri Lanka.

The local Ambassador of Seedstars World Mangala Karunaratne of Startup Sri Lanka, which is a SLASSCOM initiative, provided the closing remarks for the event by talking about the need for more national focus on supporting technology products made in Sri Lanka. MAS Holdings was the main sponsor for the event and further support was provided by ICTA as national partner and media partners ReadMe and Daily FT as well as the event partner Regus. The event attracted interest from over 140 startups and 250 attendees.

Continuing on its world tour of startup competitions in emerging markets and fast-growing startup eco systems, Seedstars World's next stop is Hong Kong at the newly-opened entrepreneurship space in LKF, Metta to select the best startup in the city. Seedstars World is looking for smart startups that solve regional issues and/or develop profitable products for the global market.