Located in prime Colombo, bordering Duplication Road and off the R A De Mel Mawatha, Bauddhaloka Mawatha intersection, Colombo Innovation Tower is a building spanning 20 floors and 120,000 sq ft, with a modern car park system plus A-grade office complexes that is set to house one of the most futuristic office spaces that Colombo's innovative companies will want to join.

The project due to be completed in July 2018 opens its call for potential tenants who would want to be housed in this unique space. Here, Founder of the project and this unique concept Linda Speldewinde speaks about the vision behind the project: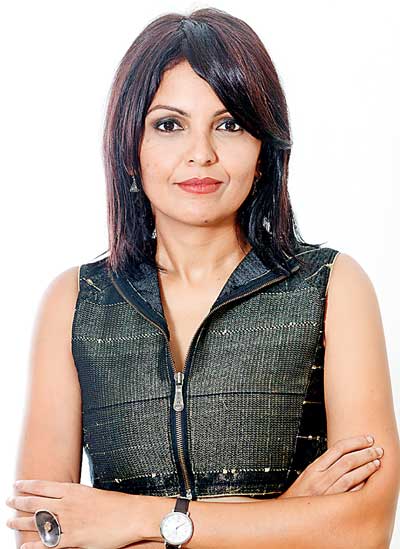 Q: Why did you think that Colombo needs an Innovation Tower?

A: The project primarily delivers to an identified need for a modern way of working that Sri Lanka's new generation understands and will demand for in the future to come.

Sri Lankan companies today and we who live in today's commercial space know that we may be physically located in Sri Lanka but are very much a part of a global community and a modern world that thinks differently and a world that we need to be wired in to, in order to deliver to it.

Q: Can you explain more about this new way of working that the Innovation Tower promotes to Sri Lanka?

A: The modern way of working is geared to technology, interdisciplinary work, collaboration and it also lies between the physical and the virtual worlds. This is the work philosophy that the Colombo Innovation Tower delivers. The building itself will be a demonstration to that and it will enable a modern way of working so the new generation will want to work in and the building along with all the technical infrastructure geared to deliver to that.

This brings me to another aspect of the building concept which is that, it recognises that for great things to happen in today's world that different industries, ideas and disciplines need to be brought together; which is why this space will look to select and curate a diverse and ambitious community of companies that drive innovation and are geared up to embrace a future that will ensure success in a modern world.

Q: Will it reflect the modern buildings around the world or does it have another plan?

A: The Innovation Tower not necessarily built on becoming a brick-and-mortar architectural monument. It has a more contemporary approach which focuses on the concept of creating a carefully designed and curated 'experience' which is altogether a new concept. The exterior is modern and slick and lends us to drive this innovative concept...but piper focus is the synergy of creativity, innovation and collaboration that happens inside the building.

Q: What kind of companies will be part of this new vision?

A: The companies we select to be part of this modern work community will include fast growing global businesses that are housed in Sri Lanka or want to set up here, home grown companies that drive innovation from various sectors, individual companies and companies that are recognised as some of the most inspiring and influential makers of product and new technologies like the apparel and software sector, to give some examples.

At the same time, AOD which serves as the creative nucleus for design in Sri Lanka will be in close proximity; this will allow all the others to engage with the contemporary design and innovation driven energy that it creates. In the modern community innovation comes from being open to emerging ideas and breakthroughs from different fields; which is why this community needs to be carefully created. We have just put out a call for companies interested to get in touch.

Q: What kind of space will the Colombo Innovation Tower have?

A: In terms of the scope of the building, it will not just be a brick and mortar space; it's the experience of the building and what it will deliver is what the companies we want to be part of it would embrace. Everything we will be doing in that space would be designed to help its tenants flourish and succeed in the modern economy and also enable them to unlock the future creative potential of their people by giving them access to an inspiring work space. The building will be creative accelerator in that sense and will indeed be a workplace and a venue for thinkers, entrepreneurs, and businesses that are innovation led.

Q: What does the building offer to help the operations in it exactly?

A: The building recognises the modern work world and the habits of the emerging and future corporate generations. For example, things that promote the wellbeing of your team are and should be recognised as a core deliverable by organisations today. The project recognises this and support its tenants to deliver to this and know that a person's performance is at the heart of everything they do and we know that feeling good is essential in making great work, and therefore the building will we provide a regular series of activities to support well being. Yoga classes, Run clubs etc.

It also recognises the need for exposure that Sri Lankan teams need and the requirement to broaden their horizons; therefore it would be offering a program that gives our members or tenants access to leading thinkers, innovators, entrepreneurs through hosting an inspiring year round series of talks, exhibitions, live music, film screenings and more that will truly wire professionals to a global community.

Recognising that food is another important factor and understanding that good eating habits can bring a community together while supporting a creative and productive working day, we will be looking to house an accessible in-house restaurant that promotes and delivers to that.

All this is part of the emerging work culture where work takes a holistic approach that looks after the well-being of workers and the work output becomes an incredible one in relation to that too.

Q: How will you scout the kind of companies who will be part of the Innovation Tower? Will there be particular criteria?

A: We are looking to build a diverse ecosystem of innovative organisations that are capable of having a collaborative and synergistic relationship with the world around them and who are at the intersection of their different fields. We are hoping to have 80% our tenants on this basis and the balance 20% will be housed because of the work they do like design studios, innovation labs, venture capital and other such organisations.

Q: How would one find out more about the project?

A: We have just put out a call for potential tenants and we have just started discussions with interested parties. Therefore, anyone interested in collaborating with us, renting space or contributing to the space can get in touch with us on 0115867772/3 or email us on info@aod.lk.