A top Indian economist last week emphasised that good economic policy is good politics and urged Sri Lanka to look beyond the World Bank-IFC index to improve the country's ease of doing business.

"There is a growing awareness that good economic policy is good politics," Associate Professor of Economics at Carleton University in Canada Dr. Vivek Dehejia told the audience while delivering a speech titled 'Improving the Ease of Doing Business in a Federal Polity: A Case Study of Modi's India' at the Institute of Policy Studies (IPS).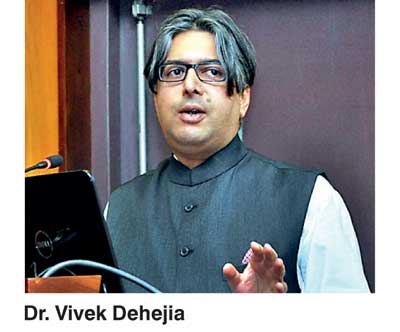 Dr. Dehejia recounted how India's relatively small growth in manufacturing, which makes up about a fifth of the fastest growing economy in the world, had promoted the Indian Government to see ways to increase labour incentive investment.

"India's growth has not created a lot of jobs but on average a million new people enter India's job market every month and there is an increasing need to establish new ways of creating employment. One of the key elements of this is to encourage States to become competitive, especially by establishing progressive policies on labour, land and infrastructure," he said.

Several States of India such as Rajasthan and Gujarat have pushed forward with reforms prompting other Chief Ministers to follow. The Central Government is becoming increasingly aware of the need to put Chief Ministers and Provincial Governments to the test on improving local regulations for doing business.
In contrast Sri Lanka's model is markedly different. The Central Government makes all crucial economic decisions and provinces are not held accountable for attracting investment. Even the Government's monthly meeting held by the Finance Minister to help Sri Lanka move up the World Bank rankings only deals with Colombo or the Western Province.

A survey on how different provinces perform on encouraging business would provide the Government with crucial information on how to reform the system to make it more company friendly.

"Policy makers may not realise the differences and differentiate across the board. Such a survey could also identify the deltas within Sri Lanka. Other than the sub-regional differences it would also provide knowledge sharing and friendly competition among provinces," Dr. Dehejia added.

He also said Sri Lanka would benefit from independently evaluating key impediments to investment across the country rather than depending on global indexes such as the World Bank Ease of Doing Business rankings to define its policy agenda.

The World Bank, partly because it ranks over 190 countries worldwide, will select only one or two key business centres in each country and depends heavily on experts to show weaknesses in its business environment. In Sri Lanka the whole country is evaluated based on the ease of doing business in Colombo and the index fails to note the nuances of investment across the country.

Noting this discrepancy, the think tank under the Indian Government has launched a comprehensive survey covering more than 3,000 manufacturing companies in the small and medium sector to evaluate investment bottlenecks in the 39 odd States of the subcontinent.