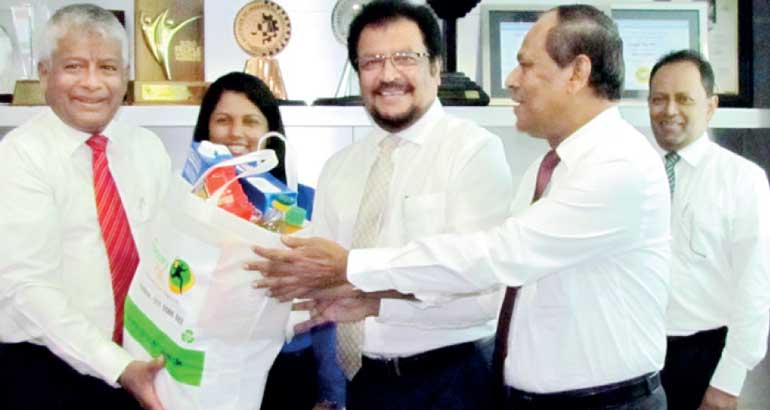 Thilak De Silva(centre) Group Managing Director of LAUGFS hands over the first grocery pack
Lfinity Ltd., the digital business arm of LAUGFS Holdings, recently launched its online grocery site www.grocerypal.lk. Linked with LAUGFS Supermarkets and a number of other major FMCG suppliers, GroceryPal.lk will bring the convenience of grocery shopping from home, office or while on the go. With a wide variety of over 2,000 products to choose from and a range of payment options, the site offers customers with the additional convenience of sending in grocery lists via email or WhatsApp and having the products delivered to their doorstep.

The site was launched on 2 June, with the presence of LAUGFS Holdings and LAUGFS Supermarket senior management and the Lfinity team. Representatives of the site's express logistics partner, Quickees, were also present at the event.

This new venture by Lfinity Ltd., offers online shoppers a convenient and stress-free method of shopping for their groceries with a myriad of highest quality choices, including general merchandise, healthcare products, confectionaries, beverages and many more.

The site also offers a number of payment methods for the convenience of shoppers, including Cash-on-Delivery, payment by major credit or debit cards, as well as the eZ cash and Mcash options and various online gateways offered by reputed banks. The Return Policies and Refund Policies are also in place to prevent customers from paying for products they have either ordered by mistake or wish to return for any reason. The website is also extremely user-friendly and easy to navigate. It is 100% secure and offers even the most inexperienced online shoppers with the ability to purchase everyday items with the click of a mouse.

"We, at Lfinity, are extremely pleased about the launch of GroceryPal.lk," stated a spokesperson for the company. "Shopping online saves the consumers valuable time and takes away the stress of travel amidst constant traffic congestions. With the launch of GroceryPal.lk, shoppers can take the time spent on the road and put it to more constructive use."

"Offering the highest quality products and on-time delivery are things we take pride in. All purchases on GroceryPal.lk will be delivered on the same day, and within a few hours of making the purchase. If shoppers are not at home at the time of purchase, the option to select the preferred delivery time slots is also available for our customers. They can further choose to have their order delivered to their office and the courier will ensure the purchases are loaded into the customers' vehicles, as is the practice in conventional grocery stores."

GroceryPal.lk currently provides delivery to Colombo 1-15 areas and its immediate suburbs. The company plans on expanding delivery areas further, to enable ease of shopping for many more customers.