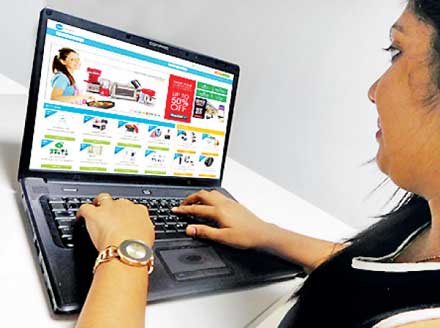 Clicknshop.lk, the newest player in the Sri Lankan online retail space, recently added Nations Trust Bank American Express as a payment partner in its online store, allowing customers to use their American Express cards for online payments. Nations Trust Bank American Express Card members will also be able to enjoy the instalment payment schemes linked with its card payments.

"Clicknshop.lk, which was launched just a few months back by Lfinity Ltd. is enjoying encouraging growth pace, and we want to add on more facilities and bring further benefits linked to credit cards to our clientele," stated a spokesperson representing the company.

Promising the best virtual hyper mall experience, ClickNshop.lk has kept its promise with uncompromising customer service levels, over 6,000 product offers, and making available a wide range of product and service categories that are currently not catered to in the local online retail space.

"Most sites in Sri Lanka today either focus on offering deals or focus on few key categories as electronics and mobile phones. This makes business sense as the administrative work load of handling many vendors representing various categories is tremendous, and selecting the fast moving categories instead to focus on works well. However, at ClickNshop.lk, we are keen to build an online shopping space where anyone needing anything will find it without a hassle and then could get it delivered to their doorstep. So, we are continuously looking to add new suppliers and expand our product categories, even though these categories are not yet commonly shopped for by online users in Sri Lanka," added the spokesperson.

Within a short span of time, ClickNshop.lk has attracted a substantial number of customers resulting in high traffic to its site. "Being a new site, our new users will naturally be higher than the return users, but we are pleased to note that we have a very strong return customer base, which is the reward we receive for the foremost focus we place on efficient order fulfilment," she further elaborated.

With the ever-increasing traffic congestions and the newly-implemented parking tolls in the Colombo city, shopping in conventional fashion is turning out to be a major hassle, which has led to consumers increasingly choosing virtual shopping for their daily needs. The online retail sector has been enjoying steep growth tangents over the past years, with last year recording a growth of almost 100% YOY.

ClickNshop.lk features an extensive range of products and services, including latest gadgets and electronics, top quality household appliances, fashionable clothing and cosmetics, trusted automobile accessories, as well as fantastic deals on kitchen appliances from over 100 reputed vendors in Sri Lanka. From smart home devices to home improvement items and office furniture, customers will find convenient and reliable shopping opportunities with Clicknshop.lk.

"We are focusing on offering a sustainable, reliable and convenient shopping alternative for customers. Our aim is to serve the customer without a single service failure and this is why we don't believe in price wars. After all, quality goes hand in hand with reliability, and customer's long-term satisfaction with us is at the heart of our value proposition," stated the spokesperson, explaining the business philosophy driving the company.

A number of other product and service sites are also in the pipeline for Lfinity. An online grocery site will be launched soon, as per the plans indicated by the spokesperson. "We are venturing into a number of product as well as digital services segments in the online market sphere as solutions to gaps we currently see in the market. We will also launch an app to enhance the mobile shopping experience further," she concluded.

Lfinity Ltd. is a subsidiary of LAUGFS Holdings, and functions as the online retail arm of the group. LAUGFS is one of the largest diversified business conglomerates and a trusted name in Sri Lanka. Founded in 1995, LAUGFS today has expanded across 20 industries, both local and overseas, establishing a strong presence as a leader and pioneer in the power and energy, retail, industrial, services, leisure, logistics and real estate sectors. With over 4,000 employees and an annual turnover exceeding Rs.28 billion, LAUGFS continues to expand and empower millions as a trusted Sri Lankan brand.