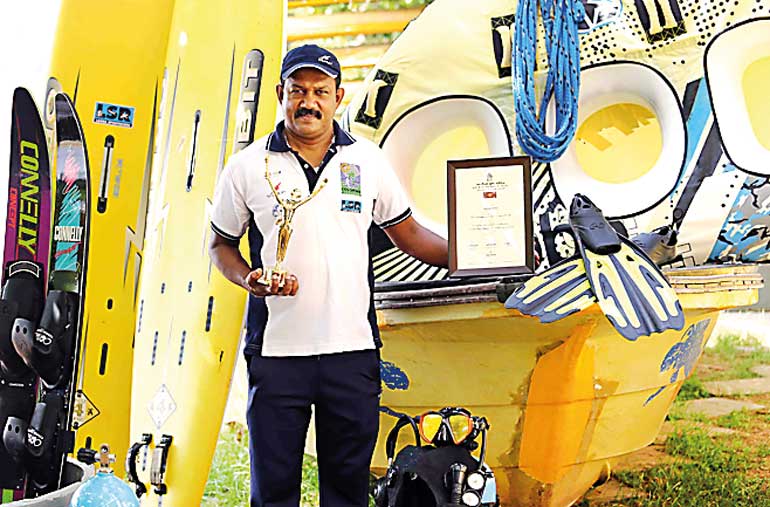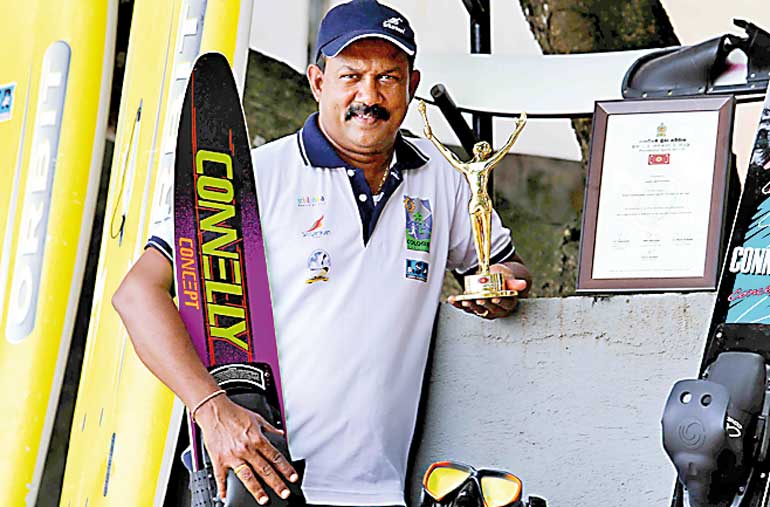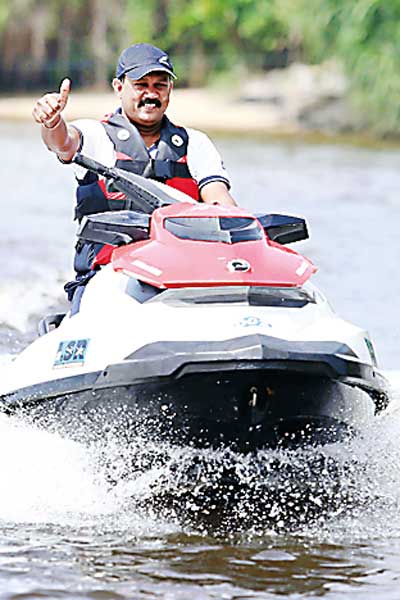 Lanka Sportreizen Founder and Chairman Thilak Weerasinghe has been recognised once again for his massive contribution in pioneering sports and adventure tourism in Sri Lanka, with his company winning the Presidential Award for the 'Most Outstanding Leisure Sports Provider in Sri Lanka for 2015'.

From the inception of Lanka Sportreizen (LSR) in 1982, Thilak has pushed the boundaries of Sri Lanka's tourism industry, diversifying into numerous niche markets and placing Sri Lanka firmly on the map for adventure, sports, conventions, and other areas.

Today, LSR (www.lsr-srilanka.com and www.lsrtravel.com) is the country's fourth largest inbound tour operator by revenue, counts more than 40 countries as its markets, and provides employment for more than 600 people, with subsidiaries such as LSR Europa GMBH handling its European operations; LSR India Ltd. bringing in business from India; Tropical Destinations Ltd. which specialises in MICE tourism; and other marketing companies in China, Japan and France.

Asked what the secret of LSR's success has been, Thilak smiled: "Hard work, innovation, always being humble, having an excellent team at LSR over the years, and being very fortunate to have the support of some excellent partners. In particular, SriLankan Airlines recognised LSR as a major player in expanding the country's tourism product portfolio."

Thilak is justifiably proud of having strongly supported the country's tourism industry during the years of the nation's conflict, which caused havoc for the industry. "We were encouraging sports tourism even during the worst years, and managed to continue expanding events such as the Colombo Marathon, persuading international runners to participate," he observed.

Most importantly, Thilak placed Sri Lanka firmly on the global map for adventure and sports tourism, launching and partnering major international sports events. LSR is currently involved in seven major annual national events.

These include the LSR Colombo Marathon, now in its 17th year, which last year attracted 7,000 runners from 39 countries. Not surprisingly, LSR is one of just 58 Voting Members of the Association of International Marathons and Distance Races (AIMS).

Other past and present international events include the SriLankan Airlines Golf Classic, SriLankan Airlines Rumble in the Jungle mounting bike event, and International Wind Surfing Professionals Events (6 star) in Arugam Bay. This year, Thilak and LSR are involved in launching yet another international event – the Sri Lanka Tea Cup coast to coast cycle race from Passekudah to Colombo.

Thilak has never stopped pushing the boundaries of opportunity, and the group has diversified into virtually all aspects of tourism including Inbound Tour Operations, Event Management, MICE tourism, etc. It is one of the country's major tourism transport operators with a fleet of over 100 vehicles. This includes being the layover operator for transit passengers of SriLankan Airlines since 2004 and also of Mihin Lanka. It operates four travel counters at the Taj Gateway Hotel, Bandaranaike International Airport, the Galadari Hotel and the Global Towers Hotel.

LSR has also quietly become a significant player in the hotel industry as well (www.lsrhotels.com), and now operates nine small hotels in strategic locations of the country with a total capacity of 215 rooms. These include Passi Villa and Marina Passikudah, Catamaran Beach Hotel in Negombo, Rangiri Dambulla Resort, Kuda Oya Cottages, Marina Bentota, The Riverside Marina Hotel in Aluthgama, Water Garden Hotel in Belihul Oya, and FarCry Resort in Wasgamuwa. It has two fully equipped Water Sports Centres – Marina Passikudah and Marina Bentota which are recognised by the Professional Association of Diving Instructors (PADI) as the only five-star Gold Palm Resorts in Sri Lanka.

In the Bandaranaike International Airport area, LSR will shortly begin construction of a luxury transit hotel with 126 rooms, and plans to later construct a 150-roomed luxury hotel in Negombo where Catamaran Beach Hotel is located. There are also plans to set up two more hotels in Kandy and Nuwara Eliya.

Thilak excelled in water sports during his school days, and qualified as a life guard. He was an avid windsurfer, and won several international windsurfing competitions. He received a scholarship to train as an instructor in Germany, Switzerland and the Netherlands in a multitude of adventure sports including mountain climbing, biking, kayaking, canoeing, and surfing. Returning to Sri Lanka, he launched LSR.

He married national sprint champ Aruni Wickramarathna, so the spirit of sports runs in the family. They have a daughter and a son.