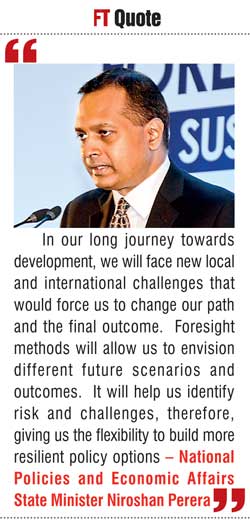 By Charumini de Silva and Shehana Dain

Sri Lanka's first National Summit on 'Foresight and Innovation for Sustainable Development' organised by the United Nations Development Programme (UNDP) and the Ministry of National Policies and Economic Affairs kicked off in Colombo yesterday.

The two-day summit, held together with Ministry of Science, Technology and Research, Sarvodaya, LIRNEasia, the United Nations Global Compact (UNGC) and Ceylon Chamber of Commerce (CCC) as Core Partners and Ceylon Biscuits Ltd. as a Summit Partner, will focus on starting a national dialogue on the importance of foresight and innovation as a value addition to traditional development planning to achieve sustainable human development and the 2030 development agenda.

In this historic move, Sri Lanka's public sector, think-tanks, corporate and industry bodies will combine to integrate national policies to meet the United Nation's Sustainable Development Goals (SDGs), while incorporating innovation to foster development.


UNDP viewpoint

Sharing the UNDP viewpoint, Resident Representative in Sri Lanka Peter Batchelor said Sri Lanka stands at a historic crossroad and is seeing a promise of a better, more peaceful and prosperous future.

However, pointed that this future is not a given; it requires patience and a lot of hard work.

Noting that standard approach to development will only capture part of this story of hope and aspiration of the people of Sri Lanka, he said: "People of Sri Lanka look to their leaders to express these expectations of a better future in a more inclusive and inspirational vision of the future, one that encapsulates the spirit and values of the new area and that unites everybody under a common purpose and banner."

Posing the key question of how Sri Lanka is going to achieve more inclusive and sustainable human development in an increasingly complex world, Batchelor emphasised that this is where foresight and innovation comes in handy, to manage the uncertain future.

He said the Government could play a key role in fostering a conducive environment for innovation, helping overcome certain barriers to innovative practices, and in ensuring that innovation contributes to key goals of public policy.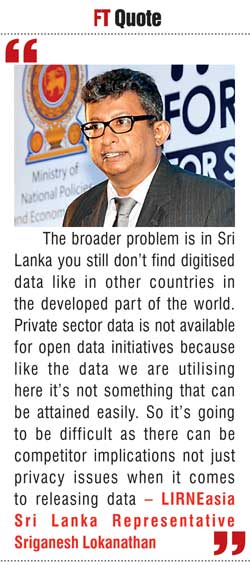 "It is clear that the build-up of innovation capacities has played a central role in the growth dynamics of successful developing countries such as Singapore and Malaysia. These countries recognise that innovation is not just about high-technology products or a one-time project, but rather requires a shift in thinking, a disciplined approach, strong leadership and a collective commitment to ensure the sustainability of tested innovative ideas," he added.

Batchelor asserted for UNDP, innovation is not simply about a product or an app, but really begins with a critical rethink of how they approach development challenges, identifying solutions outside of traditional project cycles, engaging users at the forefront and recognising innovation as an intrinsic design principle of programme development.

"We continue to build our innovation capacity to provide tested and high-quality policy advisory services and interventions to tackle stubborn development challenges, building new and non-traditional partnerships and improving overall business process efficiencies," he stressed.

He said the gathering of partners from all over Sri Lanka provides them with a relevant opportunity that can be leveraged for informed and inclusive policy making, addressing Sri Lanka's wider development needs and priorities, thereby helping Sri Lanka to implement the 2030 agenda — and at the same time achieve more innovative, inclusive and sustainable human development.

"This summit was a concrete example of UNDP's commitment to work with the Government of Sri Lanka and other key partners towards building 'fit-for purpose' institutions and developing the next generation of development solutions to address Sri Lanka's current and future development challenges that will help them build a Sri Lanka that they want and need by 2030," he stated.


SL strives high to be best in South Asia

Outlining Government's expectations National Policies and Economic Affairs State Minister Niroshan Perera said Sri Lanka will strive to be the most open and competitive economy in South Asia.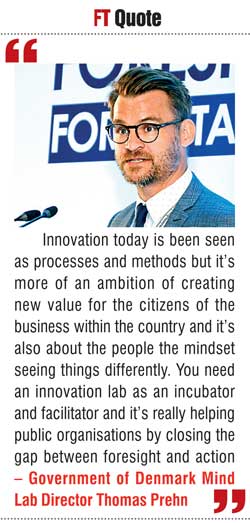 He highlighted that this National Summit would be a good starting point for Sri Lanka in the internalisation of the Agenda 2030 and would shed light on policy formulation process to achieve the political and economic change expected by the people of the country.

"I believe that Sri Lanka has a favourable and stable political leadership, human and economic potential to carry out the 2030 Agenda successfully," the Minister stressed.

Acknowledging that Sri Lanka missed several opportunities in the past which could have led to a vibrant and a sustainable economy he assured that current path to economic prosperity is resilient against global and local challenges.

Perera said global labour and capital mobility which are vital for our development is constrained by ever-evolving complications in the international economic, political and social climate.

"Today, we face numerous global complexities that directly impact us as a small developing country. Trade patterns are rapidly evolving due to formation of multilateral, bilateral and regional treaties. Financial markets and currencies fluctuate on a daily basis. Political dimensions are reshaped by new ideologies. And most importantly civil conflicts have engulfed the world," he quipped.

After battling a civil war with human and economic casualties, he stated that they are now been forced to deal with an economy that is immersed in debt. Therefore the Minister said to overcome these challenges; foresight and innovation could be used as effective tools in policy formulation.

Highlighting the importance of innovation as Sri Lanka strives to compete in the global market he said technological and demand driven innovation was essential adding that a leap forward in technological innovation will put the country on par with the developed world or otherwise will always lag behind the rest in production capabilities.

"In our long journey towards development, we will face new local and international challenges that would force us to change our path and the final outcome. Foresight methods will allow us to envision different future scenarios and outcomes. It will help us identify risk and challenges, therefore, giving us the flexibility to build more resilient policy options," he asserted.



Sri Lanka has pledged its commitment to achieve SDGs by 2030 with special focus on poverty alleviation, achieving food and energy security, improving education, minimising income disparity and urban development.


Speeding up policy building

Taking the stage subsequent to the keynote address was Government of Denmark Mind Lab Director Thomas Prehn. He articulated how Sri Lanka's lagging public sector could benefit from innovation to accelerate its policy building.

In the current context the public is perfectly designed for administration and regulation and the future that we look upon calls for something completely different.

Elaborating on his point, Prehn said: "It calls for different approaches, different mindsets, new ways of thinking and new ways of processes within the public sector. The third generation see ourselves as our cultural development movement that are pioneering the best version of a relevant public sector and we do so with relevant experiments and original thinking."

According to him the world's first mind lab has introduced an interesting idea on and human sensitive design how related to the public sector a month ago called a 'public start up.'

"One must understand that this is not a business within the public sector, it's merely a group of people, civil servants within the public sector working completely detached from the original system and building policies in 14 days. So from scratch to second generation policy it has been tested in a live environment with real citizens. Therefore that is a new way of creating new policy accelerating the speed of the process by detaching from the original system."


Seeing failure in a new light

Taking his skateboarding experience into the spotlight Prehn stated that it took him several attempts to master the skill.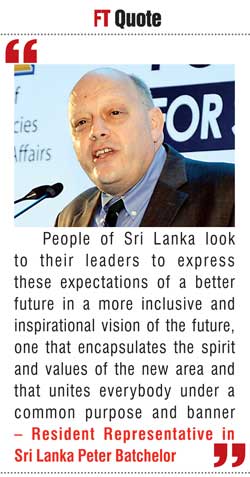 "What skateboarding could bring to the public sector, it's not only seeing the urban environment differently it's also about challenging the urban environment. Impossible is a great place to start because most of the things you're looking at right now were impossible at one point and if you had given in you would never see it today. There is this thing about failure; the only failure I know of is missed opportunities. For me it's not the number of failures it's the number attempts and we now know it ends up with success. When you really need is organisations that honour these attempts because every time an individual will adjust and tweak in all those attempts internally to reach success."

Highlighting the importance of prototype as a part of innovation and he said that it's a very difficult discipline in a public organisation.

"Innovation today is been seen as processes and methods but it's more of an ambition of creating new value for the citizens of the business within the country and it's also about the people the mindset seeing things differently. You need an innovation lab as an incubator and facilitator and it's really helping public organisations by closing the gap between foresight and action," he added.


Pioneering change

Sharing insights into Danish innovation and its rise to the top in the ranks as one of the most innovative countries, Ambassador of Denmark to India, Bhutan, Maldives and Sri Lanka Peter Takose Jensen stressed that the global economy is standing at the threshold of a new technological age which is rapidly changing value chain models by the use of robots digital data and internet of things.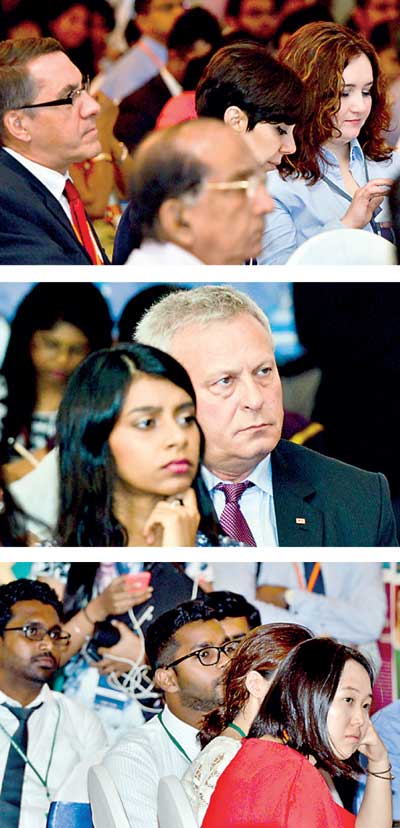 "This will transform all sectors of economic activity and unlike other growth stories it will not create millions of manufacturing jobs. However if harnessed the right set of skills and opportunities jobs will be created. The key here will be foresight and innovation managing this is one of the most important agendas of our times."

He explained that in the delivery of specific services by the public sector as well as in Government policies authorities need to deliver innovation led growth.

Explaining why Denmark is ranked on the top as one of the most efficient governments, he highlighted that Public Private Partnerships (PPPs) stand at the forefront of its success.

"We have a long tradition for PPPs in Denmark. Through this collaboration the public sector not only secures a higher personal freedom it also creates favourable business climate. This has a profound impact on the economy and innovative performance of our economy. In a knowledge economy it's not enough to invest on infrastructure to generate demand for the expansion of production, it is ever more critical to direct public resources into capitalising innovation to develop technical skills," the Ambassador said.

He also added that the Danish Government's strong political consensus on the importance of education has led to an investment of approximately 8% of Denmark's GDP on education which is a lesson to be learnt for the Sri Lankan Government where investment on education stands below 6% of our GDP.

However he highlighted that increased public sector investment on human skills or science and technology does not itself accelerate into sizable development and innovation.


How can the Government get its act together?

Jensen elaborated on how the Government can get its act together to form national networks that create an efficient distribution of knowledge and technology.

"Firstly mission oriented state funding and procurement, secondly collaboration between Government agencies and other institutions in society. In other words its money and public private partnerships, Government's support for innovation can also take form of investment made by R&D infrastructure, labour skills and education," he professed.

Noting that the Danish Government has established an innovation fund which is independent body far from political agendas he said that this could be bench mark the Sri Lankan Government to overcome many socio economic disparities.

"We have seen enormous change in this part of the world over the last 20 years and we can also see that economic growth and not aid has been the most impactful driver to eradicate poverty. The introduction of the 2030 agenda with its seven goals aligning with the climate agreement signed in Paris has reconfirmed that in the coming years the 17 sustainable development goals will be the global framework for innovation in our view," he said.


Foresight and the role of data

LIRNEasia Sri Lanka representative Sriganesh Lokanathan took the reins to commence the second session of the day. He spoke of a very timely topic which has been neglected by many Government and private institutions in the country as data sources become increasingly difficult to find.

"If we are to take a country such as Sri Lanka one that has the most compressive data coverage is the data that the mobile operators have. As you can see we have more SIMs than people, this however doesn›t mean that everyone has a mobile SIM. So what can we do with this kind of data that mobile operators collect as normal part of their business? We can do population estimates understand socio economic levels and poverty levels as well population density changes every month we can tap this data. This has been utilised by the western region megapolis as well for their planning process."


Challenges in data collection

According to Lokanathan, the main obstruction in the way of smooth data collection process are data silos. This can also occur when departments compete with each other instead of working with each other towards common business goals.

"When collecting data from the Government, the most frequent challenge we faced was data silos and we worked with different government departments to break these silos. We have been doing a lot of work to understand cities and we needed a lot of data from the urban development authority as well the transportation authorities. So how do you match these things how do you break these silos?" he asked

"The broader problem is in Sri Lanka you still don›t find digitised data like in other countries in the developed part of the world. Private sector data is not available for open data initiatives because like the data we are utilising here it›s not something that can be attained easily. So it›s going to be difficult as there can be competitor implications not just privacy issues when it comes to releasing data."

Citing an example, he said: "A public sector organisation would want to know where the poor are while mobile operators would want to know where the rich are so it›s a win-win for both sides."


Noting that breaking data silos in Government organisations is the only way to unleash the real power of data, he said that data philanthropy by the private sector will be a big boost because lot of the digitised data about the population is going to be with the private sector.

However he added that this doesn›t have to always be philanthropic. "At the end is always good business because you're not doing charity what we are trying to do is build greater resilience and that has an impact on the bottom line of business. New types of partnerships will not just require the Government and the private sector but also third party institutes," he added.

The Summit yesterday also looked at introduction to foresight, case studies on economic development as well as flood and drought, environment and energy under which climate action, waste management and disasters.

Today, the summit will discuss on disruptive innovation, social development innovation for sustainability: role of the private sector and economic development. At the end of the sessions today, the UNDP will be launching a campaign to mark 50 years of UNDP globally and in Sri Lanka.

Pix by Daminda Harsha Perera and Upul Abayasekara
---
Strategic foresight will help policymakers improve effectiveness of

Govt

., says Malaysian expert
A top Malaysian expert yesterday said strategic foresight will help policymakers improve the effectiveness of the Government and urged Sri Lanka to aspire to a common vision to overcome challenges and achieve higher sustainable development.

Words of wisdom as well as Malaysia's socio-economic success was shared by Malaysian Foresight Institute Director Rushdi Abdul Rahim who is also the Vice President of Malaysian Industry Government Group for High Technology during his keynote at the opening of the UNDP championed two-day National Summit on 'Foresight and innovation for sustainable development' at the Water's Edge.

Following are excerpts of Rahim's keynote titled 'Looking at alternative futures' delivered at the event organised by the United Nations development Program (UNDP) and the Ministry of National Policies and Economic Affairs: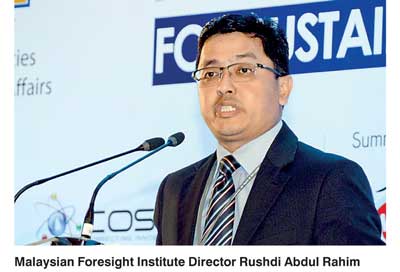 It is most timely we look at Foresight and Innovation. On 1 January this year, the 17 Sustainable Development Goals (SDGs) of the 2030 development agenda officially came into light.

In Malaysia, we are already embedding these strategies into our national development plans. Having discussed about it at every level, I truly believe that this would be same for Sri Lanka and that is what we are doing in the coming two days, while we talk about your future.

Now, the world is changing at an accelerated pace. At this year's economic forum we are talking about reforms for industrial revolution: what and how industries need to respond to this revolution. It is believed that these revolutions will disrupt almost every industry in every country. Therefore, those who can best anticipate, plan and respond to these stages are most likely to succeed. Hence, there is need for foresight.

Foresight is nothing new to developed countries like Denmark, UK, Japan, South Korea and Singapore. They have long embarked on foresight initiatives. Foresight has become their most effective companion and enabled these countries to capitalise on these opportunities. This is why the interest on foresight is on rush, especially in the developed nations.

During the past few months I was invited to talk and discuss about these things in various countries. But what makes foresight so compelling? Now, the first and foremost foresight is about changing your mindset. You need to be able to think about possible and alternative futures without changing your mindset, whatever it is, is of no use. Secondly, the participatory engagement, which is what it, is all about. Thirdly, it is about the process of methods. I believe the facilitators here today will take you to think more about foresight.

Foresight gives insight into potential and alternative futures. Understanding these futures allow us to identify opportunities, risks and threats; therefore allowing us to innovate, capitalising on the opportunities, minimising on the risks and nullify the threats.

I think it is important to explore the future that is available for us, meaning to differentiate these alternative futures' needs and the wants. This will allow us to prioritise and would be very much different to future that we want and need.

Though I'm often being told that there is not much difference to the future that we want than the future that we need, I beg to differ. I need a car, but I want a Jaguar — although Suzuki will also suffice. Therefore, the future that we want gives us a target, a vision of the future that we are striving. Then we consider on the minimum quality of development and assess our current status. Building strategy and an action plan to allow us to continuously emerge by anticipating the future will enable us to react faster and better.

Allow me to share a bit of what Malaysia is hopeful to achieve. Vision 2020 has been a part of Malaysia for over two decades. In 1991, the then Prime Minister took the challenge to make Malaysia a fully developed nation by 2020. At that time it was a distant goal, but now the vision 2020 is four years away from us. We inculcated them to our national development plans looking into long-term. One of the key to this vision is human development.

In summary we envisioned Malaysia to have nine characteristics by 2020. We want Malaysia to be united, confident, mature, ethical, tolerant, progressive, caring, economically just and prosperous.

Sometimes, I ask some of the Malaysians are we there yet? And their answer is perhaps not. This is something we aspire to achieve continuously. This vision is now complemented with our new economic model that put citizen's quality of life as a main agenda in high income, inclusivity and sustainability as the goals.

Malaysia wants a gross national per capita income of $15,000 by the year 2020, enabling all communities to benefit from the work of the country and without compromising with the future generation. To do this, Malaysia has also embarked on a national conservation program to ensure that the vision will be achieved.

It is done through what we call the 'Economic Transformation' program, where priority is given only to specific areas because we can't concentrate on everything. The Government transformation program focuses on key areas of concerns for the citizens. Achieving high income status by 2020 is within reach for us. Ratio poverty rate is now 1% and our unemployment rate is below 3%. We are trying to be as inclusive as possible.

However, a country cannot rise purely by looking at these aspects only. The Government point out that growth is not measured by economic success alone. It is the wellbeing of your people and commitment is more inclusive and achieving sustainable goals. This plan was formulated with the people as the centerpiece for all development efforts similar to the theme of your summit.

In my experience, everybody has a vision for the future. Same way I think you all need to talk and create a common vision for Sri Lanka; it is not hard to make a decision.

Albert Einstein says 'imagination is more important than knowledge'. But looking at alternative futures and doing so in; structured, open and collaborative ways, you will be able to create a better and a more robust future.

Focusing only on the challenges at present may see imperative especially when those challenges are massive. But we also need to understand what's next? Capacity for understanding the connection and horizons and a vision of what kind of world we want or need? Our efforts to give these problems will weaken, made vulnerable and blind to the challenges. Therefore, the public sector should think of foresight in policy development to help encourage innovation, strategy evaluation, and proactive shaping of the future, rather than making predictions based on extra collision of current plans.

Strategic foresight will help policymakers improve the effectiveness of the Government by identified opportunities and threats that may arise in the coming years or decades.

Let us continue to engage with the same vision promoting foresight and innovation for the global community.