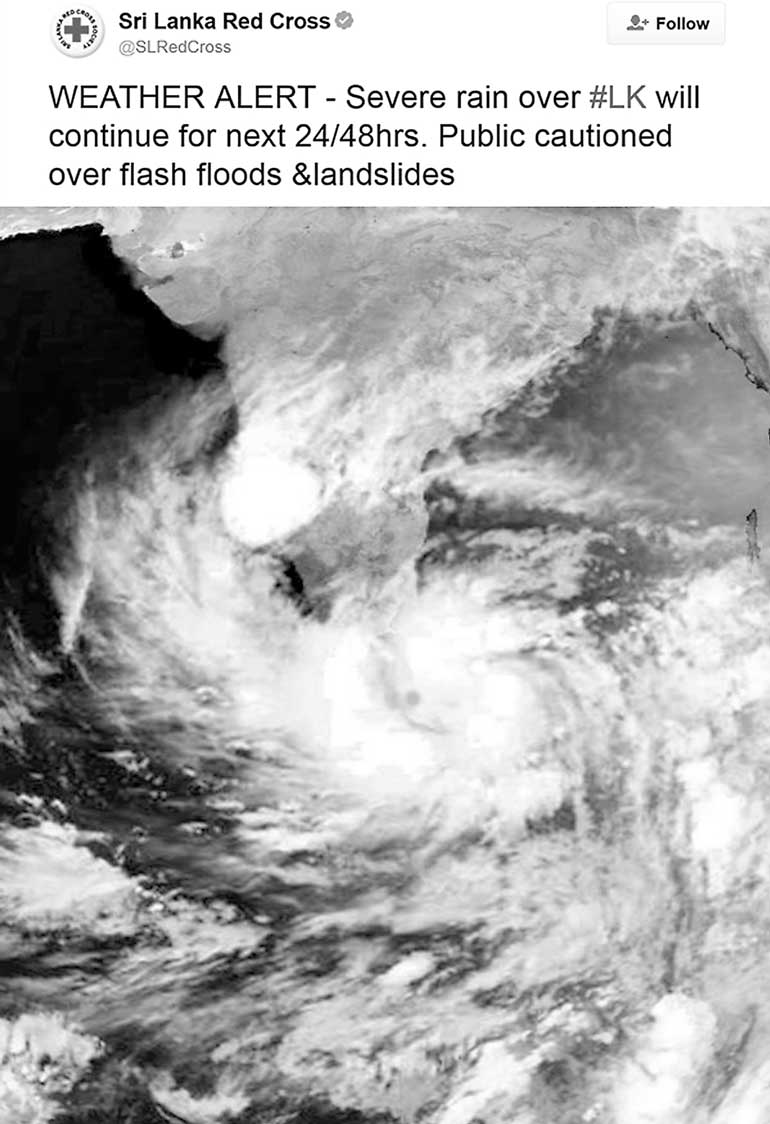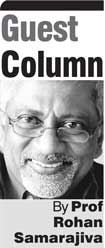 On 14 May I retweeted a satellite image of a weather system over Sri Lanka. The tweet said "WEATHER ALERT - Severe rain over #LK will continue for next 24/48hrs. Public cautioned over flash floods & landslides." The hazard was public knowledge, contrary to some claims now being made.

Now some are asking why the Government did not provide early warnings, issue evacuation orders, provide security to the evacuable homes, and so on. In my view, this is not useful. It is better to ask why people do not attend to (and act upon) early warnings when provided, why they do not obey evacuation orders when given, and so on.

We have come to this realisation after more than 10 years of engagement in disaster-risk reduction and disaster response.

Hazards and disasters

To many, these are synonyms. But for disaster professionals, they are not. A hazard becomes a disaster when it interacts with humans. If we can keep out of its way, there is no disaster. Until it makes landfall in Myanmar and/or Bangladesh, Cyclone Roanu is a hazard. The purpose of disaster-risk reduction is to keep people out of the path of hazards. If they cannot be fully removed, at least, reduce the interaction.

That is where early warning and information and communication technologies (ICTs) come in. Both in terms of detecting and monitoring hazards (e.g., weather satellites that tell us depressions are forming days ahead) and in terms of allowing the authorities to speedily communicate with first responders (e.g., government officials who can manage evacuations)and the subsets of the population who are at risk, ICTs have made a huge difference. Compared to the days when humans or birds had to carry messages, we are much better placed now.

The science of detecting and monitoring different kinds of natural hazards relevant to Sri Lanka is advanced. Earthquakes are tough, but they affect us only from a distance, to the extent they generate teletsunamis. With phones in 88.5 percent of households and television sets in 82.7 percent of households in 2013 (has to be higher now), it is technically possible to convey targeted or general warnings to the public. Our problems on the "supply side" of warnings are with regard to time taken for internal decision making, in message design and in effective and timely use of the available technological means.

Of the three elements, what we at LIRNEasia have not worked on or written about in the past is message design. That is the focus of this column.

Empathy

When citizens pay no heed to alerts, warnings and evacuation orders, the normal reaction is to blame the citizens or ponder the possibilities of forcible means. But what we learned through our research and from reflective practitioners is that people have good reasons not to act on warnings. So if we want to design effective messages, we have to start from the minds of the recipients. We must practice empathy.

Evacuation, the primary means of getting people out of harm's way, is a major disruption of the evacuee's life. It carries enormous risk.

"Where do we go? Is it the home of a friend or relative? Will they give us shelter? Will they be unkind? Will they take our dog? If not a home of a friend or relative, what kind of place is it? Will it be safe for my family? Will my daughter be raped? Will we be robbed?"

"What will happen to my house? To my assets? Will we be robbed?"

As Sri Lanka becomes more prosperous, the risks get larger and decisions to evacuate even more difficult. When people affected by floods are not just the extremely poor living in shanties on reservations but those from asset-owning, middle-class homes, evacuation is hard.

Disaster managers must have answers to the above questions, at least those regarding public shelters and security of person and property. Prior planning and standard operating procedures can, if properly implemented by government or by non-governmental agencies and effectively communicated, give a degree of comfort re-evacuating to public shelters. The experience of operating massive camps and shelters after the war and the tsunami provides us solid foundations to build on.

Assurance of the security of homes and assets is an extremely difficult problem in a society like ours. In the aftermath of the tsunami, we found houses that were incapable of being locked. But few trust locks, even if they have them. So we saw people who had experienced the wrath of the tsunami just months earlier, refusing to fully evacuate, leaving one person behind while the rest ran.

Having come from Hawai'i where I had learned about tsunami response from their Civil Defense Force, I asked whether establishing security cordons on the edges of the inundation zones would make it possible to evacuate. "The police will rob us," was the response.

The only thing that will work is some kind of trusted community-based security arrangement. That was our hope in working with Sarvodaya villages in the post-tsunami period. Where villages or communities had their own organisations and leaders, evacuation could be implemented properly.

If messages of great significance such as evacuation orders are to be effective they must be credible. They must come from respected sources and it must be possible to check them. They must match what the evacuees will actually experience.

Message design

As I read general alerts of the type quoted above, I wonder how a person could react. So for example, what do I do, as a resident of Kegalla District, when I am told there is a risk of landslides in the District? For specific action, I would need a specific warning, such as "there is a 75 percent probability of this particular hill looming over my house sliding down if there is more than one hour of continuous rain." I would need to know where to go. Rather than a general message that the Kelani River is rising, I would need a specific message that it will rise 2 meters at around 6 PM on a particular day in my neighbourhood.

It is possible, using sensor arrays and models, to make such predictions. It is also possible to micro-target such messages to specific communities using present day capabilities of ICTs. There is no point in telling people in Hanwella what is likely to happen in Kaduwela. All that broad dissemination of specific messages will do is cause people to stop paying attention.

So what needs to be done?

We need to understand the evacuation decision from the perspective of the evacuee. Necessary elements such as evacuation locations and security measures have to be worked on and communicated. Ideally this will be limited to vulnerable populations and will be communicated just before the likelihood of a hazard occurring is highest.

Evacuation messages must be as specific as possible. Advances in hazard detection and monitoring, including modeling, have made it possible to make such predictions. If we blast out these detailed predictions to all and sundry, even the relevant warnings may get ignored. Therefore, it is important that the public-warning authorities use modern technologies such as cell broadcasting now available on mobile networks to provide location-specific warning messages. Those in Hanwella will get one mesaage; those in Kaduwela another.

If we do these things, we are likely to save more lives. But if we are to save livelihoods, we will surely have to do more. We will have to start building back better after each disaster. We will have to make our infrastructure, our buildings and our livelihoods, resilient by design.