Roshan R. Perera was appointed to the board of LAUGFS Leisure Ltd. at the recently held Board Meeting. LAUGFS Leisure is a subsidiary of LAUGFS Gas PLC and owns and manages the Anantaya chain of luxury resorts.

Roshan joined LAUGFS Leisure as the CEO last year and is a veteran in the leisure sector, having held various senior positions over a period of 30 years.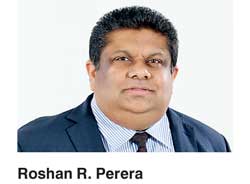 Roshan is a past Chairman of the Institute of Hospitality UK – Sri Lanka International Group and a past President of the Kandy and Kalutara Hotel Associations. He has also been an active member of the Rotary Club of Kandy for over 20 years, and has served the community through numerous projects.

A SLIM/BUCKS alumni, Roshan has also had advance hotel operations management training at the prestigious Cornel Hotel School and Swiss Asian School of Hotel Management.

LAUGFS Leisure Ltd. currently operates Anantaya Resort and Spa – Chilaw, an award winning luxury beach resort nestled between the Indian Ocean and Chilaw Lagoon. It offers 87 spacious star class rooms, providing a breathtaking view of both the ocean and lagoon. Anantaya – Passekudah, the second luxury hotel under LAUGFS Leisure, will soon be launched along the pristine eastern coast featuring 55 luxury rooms, suites and villas. A third luxury property is also scheduled to be constructed on the beautiful southern coastline in Waskaduwa.

LAUGFS is one of the largest diversified business conglomerates and a trusted name in Sri Lanka. Founded in 1995, LAUGFS today has expanded across 20 industries, both local and overseas, establishing a strong presence as a leader and pioneer in the power and energy, retail, industrial, services, leisure, logistics and real estate sectors. With over 4,000 employees and an annual turnover exceeding Rs.28 billion, LAUGFS continues to expand and empower millions as a trusted Sri Lankan brand.