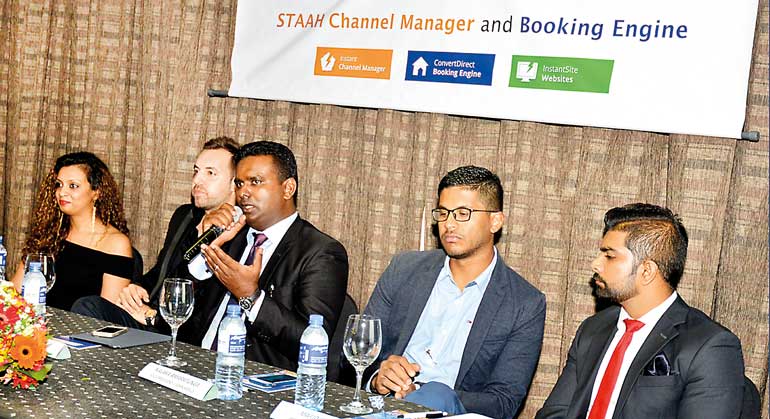 From Left Negete Executive Director Shifani Maharoof, STAAH CEO Duncan Chappell, Negete CEO Brian Walter, John Keells Vice President Nalaka Amaratunga and EXPEDIA Area Manager Mario Stubbs

- Pix by Daminda Harsha Perera
By Hiruni Dabarera

The official product launch of STAAH Channel Manager and Booking Engine by Negete, which stands for Next Generation Technologies, was held last week to help empower the hospitality industry by catering to the growing demand of becoming more efficient.

Channel Manager is a central platform which manages the rates and availabilities in hotels and guest houses and automatically updates any changes or bookings. A booking engine allows guests to check availability, rates and book rooms, provides important information and images regarding the property and is linked to the existing website directly.

"According to the SLTDA statistics, the tourism industry in Sri Lanka has posted a year on year growth of 17.8% in 2015, with a record-breaking amount of 1.8 million tourist arrivals bringing in over $2.8 billion of foreign exchange into the country. This makes the industry the third largest foreign income earner in the country, only behind foreign remittances by Sri Lankan workers overseas and the apparel sector, and the industry is all out to become number one, with an anticipation of 2.2 million tourists this year and four million by 2020," said Negete CEO Brian Walters.

Yet, he also denoted how, despite the popularity of Sri Lanka in the tourism sector as one of the top 10 holiday destinations, the adoption of technology in the country is comparatively low and slow. Even though there are over 5,200 Sri Lankan properties listed on several OTAs, only a mere 4% of these properties (less than 200) use a channel manager. Together with STAAH Negete was able to increase this number by at least 25% in less than six months.

Walters also noted how the tourism industry is faced with human resources and marketing challenges. The industry suffers with high staff turnover, capacity building and increased skill migration. Hence, he believes that shifting to channel managing and online booking will be quite helpful to the Sri Lankan tourism sector.

STAAH, which is based in Auckland, New Zealand has been providing industry-leading technology for online distribution (via OTAs), direct bookings and digital marketing services since 2008. At present it manages over 500,000 room nights a month as they help over 2,000 properties in over 40 countries understand, control and grow their online business. It is also the only channel manager with a dedicated Sri Lankan support team.

"There has been a notable increase in the number of properties listed in OTAs from 1,500 to over 5000 in only two years. This is more than Malaysia and Vietnam. Through this Sri Lanka showcases how it has the choice and depth of accommodation to support a boom in tourism and travel. Therefore we believe that this is a great investment opportunity for us," stated STAAH CEO Duncan Chappell.

STAAH has already made around 40 releases in 2016 and is hoping to unveil major releases in Sri Lanka this week. Their goals is to help hotels increase their earnings and to provide them the ease of achieving this.

ExpediaArea ManagerMario Stubbs also addressed the gathering under the topic of the importance of global online travel and evolving technologies. He stressed on how travel is a huge industry expecting to be worth $ 1.4 trillion by 2016. Global penetration is projected to be 45%.

"Travel is increasingly an online playing field, with share growing from only a quarter in 2006 to 45% of the global market by 2016. Online business is becoming increasingly mobile. From the Expedia perspective, online is growing faster than offline in our business too. Call centre sales in Q3 were at their lowest ever at 5%, down from 8% in Q3 2014," he declared.

The adoption to online travel in the APAC region is expected to grow to 35% share by 2016, an increase from 28% in 2014. The rising number of digital buyers, as well as escalating disposable income of consumers in Asia-Pacific, Latin American, Middle Eastern and African regions, stimulate the rapid expansion of digital travel commerce across the globe

"What does this mean for Sri Lanka and the rapidly growing hospitality landscape? Technology is the key to the success of any business, especially seeing all the statistics for online and mobile penetration it is of utmost importance to ensure our businesses are up-to-date with quality, dynamic and effective products. The share of a 1.4 Trillion Travel industry is in our hands; technology is going to play a key role in us capturing it," Stubbs further expressed.

John Keells Vice President Nalaka Amarathungatold the Daily FT the name of the gameis being relevant and unique will bring down the cost of sales. "To be unique you need to have a technology partner who is willing to change and help you realise your goals and aspirations. I trust that Staah partnering with Negete will bring in that balance to support the local customers with their customised needs," he shared.

Negete, guided by its mission of making lives simple, together with STAAH is all set to take Sri Lankan travel and tourism to the next level with the launch of its online products at a time where technology governs the life of modern man.