By Charumini de Silva

Malaysian Minister of International Trade and Industry Datuk Seri Mustapa Mohamed yesterday called for mutually advantageous economic relations between the two countries adding that Malaysia is keen on being a part of the development process in Sri Lanka.

"The outlook for me is very positive and Malaysia likes to be a part of this development," he said addressing 'Business opportunities in Malaysia' organised by the Malaysian High Commission and Ceylon Chamber of Commerce (CCC).

He pointed out that having been close trade partners for many years, it was time for the two countries to scale up the bilateral trade for the benefit of people of Malaysia and Sri Lankan citizens.

Noting that there are many bilateral trade agreements signed between Sri Lanka and Malaysia he emphasised that it was important for them to deliver the desired results.

"Malaysia is a gateway for Sri Lankan investors to penetrate into ASEAN and global markets as we are strategically positioned to offer a wide array of products and services especially at a time where the country is undergoing transformation to become a middle income economy," the Minister noted.

Noting that trade is critical for Malaysia's economic growth he said the total trade between the two countries during last year, $578 million, with a negative growth of 20.9% was not sufficient and asserted that there is a lot of space that Sri Lanka can explore in the areas of textile and apparel, processed foods and fisheries products.

"At present Sri Lanka accounts for 0.2% of our total trade, which in my view is quite small for a large country like Sri Lanka," he added.

Exports from Sri Lanka include petroleum, textile, clothing, footwear, and processed food, rubber products and key import products from Malaysia are palm oil and palm based products, chemical products, petroleum products and electrical machinery.

In addition Minister Mohamed said with Sri Lanka planning to embark on some major infrastructure projects such as the Western Province Megapolis Development, there will be many openings for Malaysian companies not only for infrastructure development, but also for various other facilities that are planned for develoment in the province.

Stating that there are number of Malaysian companies which had grown, the Minister appreciated the assistance provided by Sri Lankan Government especially in facilitating Malaysian companies to function smoothly in Sri Lanka.

"Malaysian companies have experience in doing this kind of projects. Of course there are issues in financing it, but it can be done through bank loans," he explained.

Despite the liberalised policies and multiple investment opportunities available, not many Sri Lankan companies have expanded their footprint in Malaysia, he claimed.

"There are no excuses for us not to work closely as both countries are rapidly developing. I would like to see more Sri Lankan investors and traders come to Malaysia," he added.

Highlighting that Malaysia ranks first among countries investing in Sri Lanka he added that as at 2015 it amounted to $2 billion with Dialog Axiata topping the list followed by Khazanah Nasional, Demak Manufac-turing, SCICOM, APIIT, Expo Lanka.

Along with the Minister a 25 member delegation representing 12 Malaysian companies including building and construction material, oil and gas and power generation, F&B, transportation and telecommunication sector participated at the forum.

Pix by Lasantha Kumara
---
Sri Lanka – Malaysia FTA to be inked by 2019
In an effort to scale up bilateral trade between Sri Lanka and Malaysia the two countries are now in discussion to ink a free trade agreement (FTA) within a period of three years, a top Malaysian Minister said yesterday.

"We had initial discussions with the Government of Sri Lanka to formulate a FTA between the two countries which would be beneficial to the nation's," Malaysian Minister for International Trade and Industry Dato Mustapa Mohamed told the journalists in Colombo yesterday.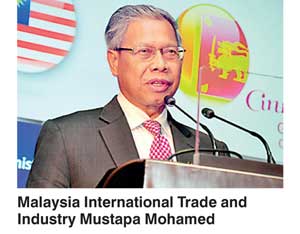 Noting that negotiations are tough he said it would at least take three years from now as the agreement should be studied and consult stakeholders in both countries.

"For any trade agreement to be in favour of a particular country, it needs provide products and services which are demanded by the other country. Malaysia being an open economy has no issues in purchasing products of Sri Lanka if that meets the demand in our economy," he said.

The Minister said it is important for Sri Lankan companies to be more aggressive in promoting products in Malaysia. "I think there is lot more room for Sri Lankan companies to promote their products in Malaysia. One way is to have trade fairs and various other approaches to highlight the strength of the products."

He also said that three trade delegations from Sri Lanka to Malaysia will take place in the near future.

The Malaysian economy which is highly dependent on trade has entered into 13 FTAs with a view of tapping into foreign markets and of those , 7 have been signed by the Minister himself.