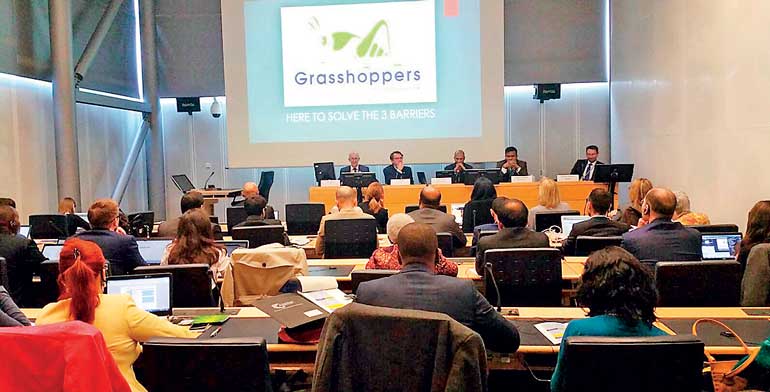 'Grasshoppers' invited to jump on board at UN WSIS Forum
Kapruka.com Founder and CEO Dulith Herath addressed the UN World Summit Information Society (WSIS) Forum on 4 May in Geneva, Switzerland. He presented the latest invention titled 'Grasshoppers'.

WSIS forum is the world's largest annual gathering of the 'ICT for Development' community. The forum is co-organised by ITU, UNESCO, UNDP and UNCTAD, in close collaboration with all WSIS Action Line Facilitators/Co-Facilitators. WSIS has proven to be an efficient mechanism for developing multi-stakeholder and public/private partnerships to advance Sustainable Development Goals (SDG).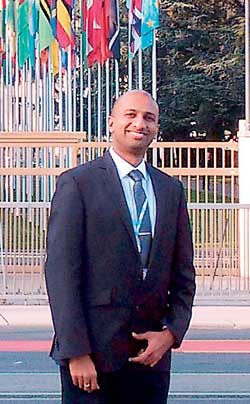 Kapruka.com invented Grasshoppers to innovate, disrupt and revolutionise individuals and small business enterprises that wish to be a part of, and add value, to the fulfilment network in Sri Lanka. Grasshoppers however is not just an e-commerce fulfilment tool. This grassroots empowerment project is also on its way to disrupt e-commerce as we know it, in many regions of the world.

As the rollout of Grasshoppers quietly takes place in Sri Lanka, the global e-Commerce audience has also been treated to a premiere of the concept and have applauded its simple, yet complex concept. "Grasshoppers offer a unique value to connect Small and Medium Enterprises in developing countries to e-Trade (e-Commerce). Having witnessed its formation only about eight months ago in Cambridge (UK), is delighted to see the leap of this Sri Lankan company," said UNCTAD ICT Analysis Unit Chief Torbjorn Fredrickson, sharing his sentiments and hope about Grasshoppers in Geneva.

Still being piloted with few handpicked partners in Colombo and Kurunegala, Grasshoppers is an emerging extended arm of e-Commerce operations of Kapruka and Kapruka Global Shop. Grasshoppers intend to revolutionise the 'dispatch rider network' in Sri Lanka and to be the chosen partner for leading brands and rising local small businesses. Grasshoppers believe each delivery is a mission to enhance customer experience by delivering excellence added by an ethical engagement that includes empowering small entrepreneurs and grassroots level communities.

The WSIS Forum is interested in the three innovative elements of Grasshoppers that will solve three major issues in e-commerce of developing countries. With their venturing in Sri Lanka, UK and USA, Grasshoppers founders envisage introducing Grasshoppers to other developing countries such as Ethiopia as a Sri Lankan venture to support young and small entrepreneurs around the world. While at this forum, many parties, including UN Organisations and Private Sector partners, have expressed their interests to explore opportunities to introduce Grasshoppers into their respective countries.

"As a company that has championed and forged through e-Commerce in Sri Lanka, Kapruka has navigated through the barriers of national and international trade. Now, with Grasshoppers I am ready to share these lessons to help young and energetic start-ups to meet their entrepreneurial ambitions. There are three key barriers against e-Commerce for SMEs: 1. Import and Export barriers, 2. Payment gateway and alternative payment options, 3. Door-step delivery."

"At Grasshoppers we provide handy solutions to overcome those barriers and scale up businesses to national and international markets," said Herath. The key message presented by Herath was in fact reiterated in multiple follow up discussions attended by a distinguished international audience of about 100 high profile delegates such as Ambassadors, Civil Society Leaders and Private Sector Representatives, from Europe, Africa, and Asia.

The latest invention 'Grasshoppers' was founded earlier this year by Dulith Herath and Dr. Harsha Liyanage.

Dr. Liyanage is an internationally recognised ICT sector expert with over 20 years experience in a variety of industries including, Bottom of Pyramid social enterprises, multi-stakeholder partnerships, international donor relations, social impact creation and sustainability.