Minister of Development Strategies and International Trade Malik Samarawickrama led Sri Lanka delegation to the 12th US-Sri Lanka Trade and Investment Framework Agreement (TIFA) Council Meeting in Washington which adopted a path breaking Action Plan to boost bilateral trade and investment.

The Council meeting was Co-chaired by United States Trade Representative Michael Froman and Minister of Development Strategies and International Trade Malik Samarawickrama. United States Permanent Representative to the United Nations Ambassador Samantha Power participated as well, encouraging the Sri Lankan Government to continue its vital progress on democracy, accountability, and human rights. Ambassador Froman noted that the election outcome has ushered in a new era of US-Sri Lanka economic cooperation. Joint Statement issued at conclusion of the meeting is attached.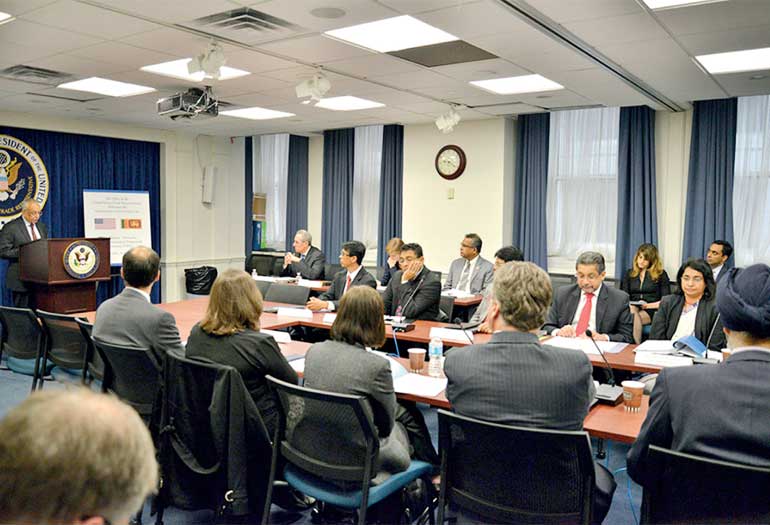 US Trade Representative Ambassador Michael Froman in his opening remarks stated that "it is our first significant opportunity for engagement on trade and investment issues since

the Sri Lankan presidential election last year." And he further stated "With the Joint Action Plan that we will announce today, we hope to set forth a series of concrete and specific initiatives to strengthen Sri Lanka's trade and investment regime and mobilise more of the Sri Lankan population to participate in a trade-oriented economy."

Ambassador Samantha Power speaking at the Inaugural Session stated: "As part of its determination to deal with abuses of the past, the (Sri Lanka) Government had committed to justice and reconciliation processes which will serve all Sri Lankans. I have never seen a country take such swift strides in such little time." And she emphasised: "The United States we will seek to leverage our assistance this year to further support broad-based economic growth."

Minister Malik Samarawickrama in his Inaugural Statement, among other issues, highlighted that "Government is seeking to stabilise the economy and implement a development strategy that is capable of giving our people sustained accelerated growth and a million jobs in the next five years. We are determined to break out of the cycle of stop-go policies, which have characterised our past. For this, we need to create a sustainable growth framework." The Minister highlighted: "Increased market access for Sri Lankan exports will be crucial for building a more prosperous, stable and peaceful Sri Lanka."

Ambassador Prasad Kariyawasam speaking at the Inaugural Session noted: "Today is a landmark for TIFA process between our two countries, as we have representation at Cabinet-level from US side after long years. And in fact we have two officials of Cabinet rank from your side present, signalling no doubt, United States support for the ongoing transformation in Sri Lanka."

At the conclusion of the meeting, both governments pledged their commitment to deepening their engagement over the coming months in order to develop a detailed implementation plan for the Action Plan, with formal launch envisaged later this year.

During his visit to Washington, Minister Malik Samarawickrama met with several US investors and addressed a Business Roundtable Discussion hosted by the US Chamber of Commerce. Minister also met with several members of US Congress, including Representative David Price, Representative Steve Chabot and Representative Joe Crowley.

Prior to the commencement of the US-Sri Lanka Trade and Investment Framework Council Meeting, Minister Malik Samarawickrama held a bilateral meeting with Ambassador Michael Froman, US Trade Representative at the Office of the US Trade Representative.

Delegation of Sri Lanka to the TIFA Council Session included Minister of Development Strategies and International Trade Malik Samarawickrama , Ambassador for Sri Lanka to the USA Prasad Kariyawasam, Secretary to the Ministry of Labour and Trade Union Relations Gotabaya Jayaratne, Head – Agency for International Trade Saman Kelegama, Director General of Commerce Sonali Wijeratne, Director General of the Board of Investment of Sri Lanka Duminda Ariyasinghe, Senior Assistant Secretary of the Ministry of Labour and Trade Union Relations A. Wimalaweera, Asst. Legal Advisor of the Ministry of Foreign Affairs Tilani Silva and Minister/Commercial of the Embassy of Sri Lanka Bandula Somasiri.
Five-year Action Plan


Sri Lanka now has the opportunity to achieve more of its potential and become a much stronger trade and investment partner of the United States. For this purpose, the United States Trade Representative (USTR) and the Government of Sri Lanka propose a Joint Action Plan to increase External Trade and Investment under the aegis of US-Sri Lanka Trade and Investment Framework Agreement (TIFA) Council.

The Action Plan envisages leveraging the growing role of external trade and investment in the Sri Lankan economy to boost employment and economic growth, and sets out proposal-specific goals within a five-year timeline for completion. It recognises that by increasing aggregate demand, a more competitive Sri Lankan economy will provide much greater export and investment opportunities for US business.

The Action Plan is primarily a guide for best practices for export led growth. The Government of Sri Lanka and USTR other stake holders will play an important strengthening role in developing an implementation plan of the enumerated proposals. The US- Sri Lanka TIFA Chairs will be charged with monitoring progress in implementation of the Action Plan. The Plan affirms that growth in external trade and investment can be accomplished, inter alia, through a combination of macroeconomic reform; trade and foreign investment policy reform; structural adjustments; addressing competitiveness factors; and better marketing of Sri Lanka as a place to do business. The U.S. can draw on a number of resources to partner with Sri Lanka in its external trade and investment related efforts. The following key elements will form the proposed Joint Action Plan:
Proposal #1: Sri Lanka transforms its trade/investment regime to world class standards.
Proposal #2: Improve the competitiveness of Sri Lanka's current exports.
Proposal #3: Develop new markets, especially regional services.
Proposal #4: Promote greater inter-action among U.S- Sri Lanka business.
Proposal #5: Improve utilisation of opportunities under the U.S. Generalised System of Preferences (GSP).
Proposal #6: Strengthen worker rights and promotion of ethical and environmentally friendly manufacturing practices to boost the global competitiveness of Sri Lankan industry, especially the Ready Made Garment (RMG) sector.
Proposal #7: Reform education for making it more responsive to the needs of the business.
Proposal #8: Deepen the role of all sectors of society, especially women, in business and trade.
Proposal #9: Promote greater support of SMEs in trade and investment.
Proposal #10: Consider promotion of other initiatives to increase external trade and investment and strengthen bilateral economic relations.