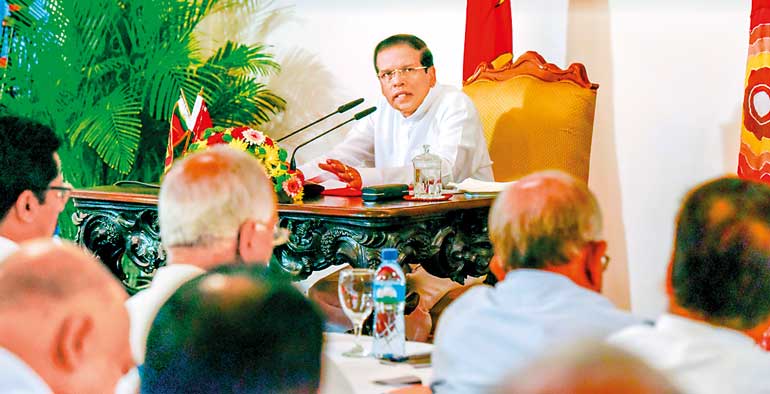 President Maithripala Sirisena addresses the meeting with heads of print and electronic media yesterday - Pic by President's Media Unit

By Nisthar Cassim

President Maithripala Sirisena yesterday fired on all cylinders at MP and former President Mahinda Rajapaksa, exposing the latter's past ill-doings and sinister intentions and warned any comeback bid for an oppressive and corrupt rule would be a pipe-dream and strongly thwarted.

The stage for Sirisena's scathing attack on his former boss-turned-nemesis whom he defeated at the 8 January 2015 presidential poll was the breakfast meeting with editors and came ahead of a much-speculated showdown of the strengths of opposing camps within the Sri Lanka Freedom Party during May Day rallies.

Taking the bull by its horns, President Sirisena inquired from media heads whether anyone had asked Rajapaksa why he decided to call for a presidential poll two years ahead or whether the former President had explained his reasons.

"If he hadn't, he would still be President," quipped Sirisena, and listed avoiding humiliation from the UN Human Rights Council session in Geneva in March 2015 and effects of a global economic crisis on Sri Lanka as two reasons for Rajapaksa's early call for polls.

"Their past regime was corrupt and oppressive and I knew what the Rajapaksa clan was planning if they won the election. Out of sheer fear and contempt and in the interest of the country, I decided to resign and join hands with the Common Opposition for a change despite having opposed the UNP for 48 years," recalled Sirisena.

He described speculated efforts by Rajapaksa and his supporters to form a Government in Parliament as a pipe-dream.

"There is no room for a Parliamentary coup and even if Rajapaksa conspires and secures 50 MPs out of 95, he cannot get the 113 majority without support from UNP Leader and Prime Minister Ranil Wickremesinghe or me, "Neither the TNA nor the JVP will support the return of Rajapaksa," Sirisena opined.

"Rajapaksa and his camp are engaged in an exercise to create a false sense of political instability and thereby drive fear among officials, law enforcement authorities and the Judiciary. The most striking remark during Rajapaksa's speech at the Hyde Park rally was telling the Judiciary to notice the crowd. This was to instill fear among authorities currently engaged in probing bribery and corruption of Rajapaksas. The people were coerced or lured via money to attend the rally. But our intelligence revealed only around 11,000 were present," said Sirisena.

The President, who some political analysts claim has been losing his grip within the party, also claimed there was no crisis within the SLFP but that a small camp of corrupted people were devious and power-hungry despite their defeat.

"The founder of SLFP, the late S.W.R.D. Bandaranaike, wasn't corrupt, he didn't amass wealth but mortgaged his Rosmead Place residence to raise money for elections. He didn't promote family nepotism or rule. During the Rajapaksa regime, the brothers took decisions before coming to the Cabinet. They reigned with corruption and oppression. Is this what the SLFPers want to return to the Party and the country?" queried President Sirisena.

He said despite being the defeated presidential candidate, Rajapaksa was provided with military security, something unheard of internationally.
«However Rajapaksa is using State resources to go around temples and rallies to topple the very same State. How dangerous and ridiculous is this?» pointed out President Sirisena, who expressed regret over some media outlets› extra prominence to an ousted and corrupt leader like Rajapaksa.

Sirisena said that among his priorities during his term was to prevent the return of such an un-democratic and corrupt leader to power or election of such a Government in the future. «This is why we passed the crucial 19th Amendment exactly a year ago, facilitating the establishment of Constitutional Council and independent commissions to ensure democracy, good governance, meritocracy, transparency and accountability,» the President emphasised.

President also said lack of clear majority at the 17 August general election was a strong mandate from the people for the two major political parties to work together in the national interest and ensure good governance, unity and sustainable and equitable development.

«In fact that our election manifestos promised a national government and the people voted expecting the major parties to work together no matter how challenging that may be,» Sirisena said.