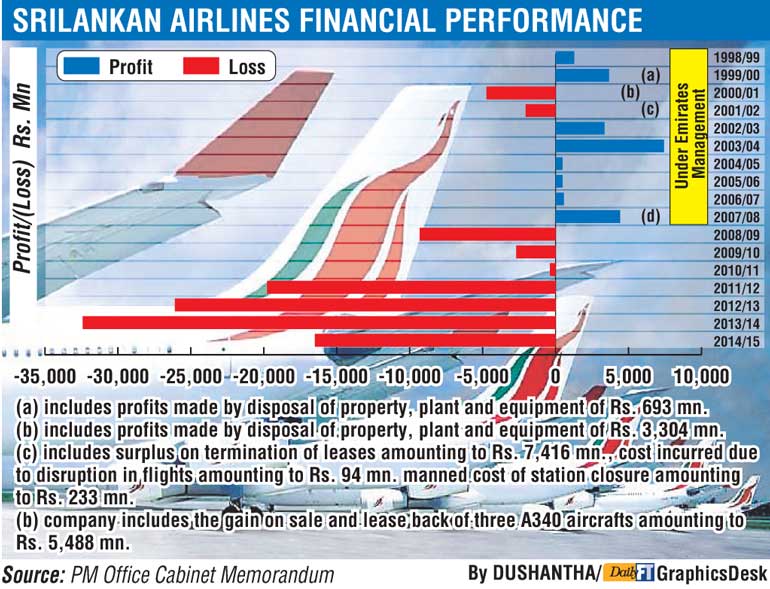 By Uditha Jayasinghe

Cabinet yesterday gave approval for the Treasury to absorb Rs.461 billion total liabilities of SriLankan Airlines and make it more attractive to an international partner as the Government continues on its efforts to form a joint venture.

The national carrier's total debt was calculated at Rs. 461 billion or $3.2 billion, which also includes payments from a $2.3 billion deal with Airbus for eight A350 aircraft entered into by the previous Government.

The Cabinet paper to take over the debt and move towards a joint venture was presented by Prime Minister Ranil Wickremesinghe to Cabinet on Wednesday.

"I propose that the Government of Sri Lanka take over all liabilities of the SriLankan Airlines … towards sourcing a suitable partner who can successfully manage the operation of the airline on the basis of a clean balance sheet," noted the Cabinet paper presented by Wickremesinghe.

"It is possible that money raised from divesting 40% of SriLankan shares to a foreign company will be used to repay some of the airline's debt," a Cabinet minister told Daily FT requesting anonymity. Analysts have long predicted the Government would have to absorb the bulk of the company's debt to make it attractive to a buyer.

As a capital contribution the Government has infused $125 million in 2012, $100 million in 2013 and $150 million in 2014 by issuing bonds, said the Cabinet paper seen by Daily FT. Additionally, SriLankan Airlines acquired a credit facility of $175 million from the Mashreq Bank of United Arab Emirates (UAE) in 2012 with a sovereign guarantee of $50 million in 2014. That same year the national carrier issued an international bond of $175 million also with a sovereign guarantee.

"For a considerable period of time SriLankan Airlines has been running with an operational loss as a result of operational inefficiencies and a weak financial position. Accordingly, the airline prepared a restructuring plan to emerge as a viable entity in 2015 while introducing an interim solution by July 2015," the Cabinet paper said.

In this regard the Treasury has issued two Letters of Comfort to both People's Bank and Bank of Ceylon to extend a credit facility of Rs. 30 billion to meet the company's financial requirements. The Letters of Comfort ceased on 31 March 2016.

"Irrespective of all efforts made, SriLankan Airlines continues to incur serious losses, which has caused a negative net worth."

The company carries Rs. 81 billion negative net worth as at end January 2016. Additionally, total interest bearing liability and contingent liability on the orders made for new aircraft made by the carrier at the end of 2015 stands at $508 million and $1 billion respectively, the Cabinet paper went onto note.

"Other long term liabilities including a Rs.6.5 billion overdue CPC bill adds up to $310 million. Consequently SriLankan is currently facing severe financial difficulties and is not able to meet short term liabilities and working capital requirement."

Sri Lanka's national carrier was founded in 1947 and became a limited liability company in 1979. In 1998 the Government divested 40% of Air Lanka to Emirates for $76.3 million and signed a 10 year management contract with the Dubai based airline. Later the share ownership of Emirates was enhanced to 43.63% when it acquired some shares belonging to employees and also rebranded as SriLankan.

In 2010 former President Mahinda Rajapaksa's Government repurchased the Emirates shares for $53 million under controversial circumstances. Bank of Ceylon, People's Bank National Savings Bank and the Employees Provident Fund (EPF) pitched into purchase the shares on behalf of the Government.