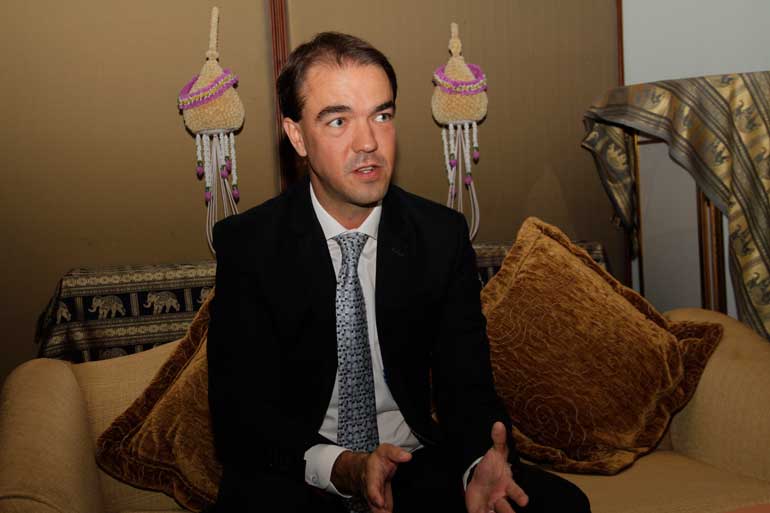 Dusit International Vice President - Development Rustom Vickers
By Madushka Balasuriya in Bangkok, Thailand

Luxury Thai hotel and apartment operator Dusit Thani, a subsidiary of Dusit International, has made its first venture into the Sri Lankan market with the launch of Dusit Thani Beachfront, Balapitiya.

In partnership with Indola Group Ltd., a Board of Investment approved company in Sri Lanka, Dusit International announced the soft launch for the first phase of the luxury apartment project earlier this month, which saw a limited release of 40 of the 121 apartments to be constructed.

Located on a tropical plot of freehold beachfront land featuring 450 metres of direct access to four beaches on Sri Lanka's West coast between Bentota and Hikkaduwa, Beachfront Balapitiya is being targeted towards primarily European clientele and is being billed as the "closest beachfront real estate to Europe in Asia".


Residential project

Announcing the project Vice President Development Dusit International Rustom Vickers revealed the first phase of the project was due to be completed in 2019 and will be marketed as primarily a resort but will also serve as a residential property.

"It's a residential project with rooms being sold primarily to the diaspora but also international customers. The model is one where the investment goes into a rental pool and it acts as a resort property. It's like a branded residential resort. It will operate more like a resort," explained Vickers.

The first phase of development will consist of the construction of two of four towers, hosting 126 units accumulating to 248 keys. The unit prices will range from $ 244,000 for one bedroom to $ 616,000 for a three bedroom apartment, while facilities will include an all-day dining restaurant, spa, fitness centre and rooftop pool and bar. The second phase, which will host a further 196 units accumulating 320-plus keys, will see the addition of the Beach Club and Convention Centre so as to cater to the Indian wedding market.

"In Sri Lanka the canvas is open. Bentota has a history as far being a destination for weddings. The opportunity lies in creating a new destination, a new and fresh product," said Vickers.

"In terms of investing, this will also provide potential for a real food and beverage offering, which will create a nice destination offering."


Focus on education

With 29 hotels under its banner and a further 45 in the pipeline, Dusit International is well established as one of Asia's leading hospitality groups, however hotel management is not its sole function. A feature which sets it apart from other similar operators globally is its focus on education.

Earlier this month the group announced the Dusit Hospitality Management College in Manila, Philippines. The first of its kind in the region, the college is fully integrated with upmarket hotel the dusitD2 The Fort, Manila and will open in 2017. In Bangkok meanwhile, Dusit has launched a vocational school in September 2015, which Vickers refers to as the "nerve centre" with a satellite roll out planned in the region.

"We offer hand-in-hand two solutions, which is actually becoming a much more important thing. There's huge need across the region for quality vocational training," says Vickers.

The school in Bangkok offers 'paperless education'; each student is provided with a tablet and laptop and given access to all necessary information and documents online in cloud storage. Vickers believes this is the way forward in lowering the cost of education, and making vocational schools more affordable for students in lower income regions.

"The potential for Sri Lanka is in vocational training. With all the information stored in the cloud, it means you can access it anywhere, whether it be in Kandy or the north."

The degree program offered will be certified by world-renowned hospitality school École hôtelière de Lausanne, which Vickers believes offers an ideal blend of Asian hospitality with European standards.

Dusit Thani is looking at opening several campuses in Sri Lanka with Colombo as its centre, but is yet to find a partner in Sri Lanka. Vickers reassures however that they are "very actively" partaking in discussions with potential partners.