Even if Sri Lanka enjoys GSP facility with other developed counties, the EU is recognised as the major player which provides more benefits. Most of Sri Lankan leading export products are included among the 7,500 products eligible for EU GSP
The new Government elected in January 2015 has focused its immediate attention of building a conducive environment by policy changes in the country in an attempt to convince the European Union for grant of GSP Plus benefits temporarily suspended in early 2010. Hence it is timely apposite to pen this note as to why GSP Plus is considered so advantageous to enrich the Sri Lankan economy.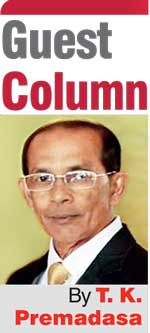 In the early 1960s, the main dialogue in international trade arena was to remove trade barriers and open avenues of opportunity for developing and least developed countries for entry into trade with developed countries. The offer of tariff preferences by developed nations to developing countries and least developed countries as the best gateway to have trade relationship with developed countries was proposed by The United Nations Conference on Trade and Development (UNCTAD).

The Generalised System of Preferences or GSP System was introduced in 1968 by the General Agreement on Tariffs and Trade (GATT) on its initiative to encourage industrialised countries or developed countries to grant Autonomous Trade Preferences to all developing countries in accordance with the recommendation of UNCTAD.

From the early 1970s developed countries or industrialised countries such as the European Union (EU) (1971), Japan (1971), Norway (1971), Switzerland (1971) New Zealand (1972) Australia (1972) United States of America (USA) (1974), Belarus (1992) , Russian Federation (1992) and Iceland (2002) implemented their GSP System in offering trade preferences to developing and least developed countries.

Developing countries and least developed countries recognised as beneficiary countries are offered preferential tariff reductions for their export products to developed countries under GSP System. It is a removal of partial or entire tariff charges for goods exported by beneficiary countries.

Beneficiary countries are bound to be adhered to certain international labour regulations and manufacture the products to compete with international standard together with certain percentage of value addition accepted by offer countries.

Since the early 1970s Sri Lanka has being enjoying GSP benefits.


Introduction of GSP Plus

In 2005 the EU introduced special incentive arrangements under the EU GSP scheme called GSP Plus and Everything But Arms (EBA) treatments. Under the Everything But Arms (EBA) treatment of the EU GSP, 49 Least Developed Countries receive duty-free quota-free access for all their products except arms and ammunition.

GSP Plus, our main subject, was introduced by the EU in 2005 under the EU GSP Scheme as special incentive arrangements. The special feature of this scheme is all the eligible products under this new scheme could be exported by selected beneficiary countries to EU totally import duty zero or duty free.

The beneficiary countries are able to expand their export to EU better than the scenario they enjoyed under standard GSP scheme come since 1971. Under the standard GSP the products from beneficiary countries have been imported in to EU not totally duty free, but reduction of normal import duty rates.

The beneficiary countries should mainly confirm and effectively implement 27 core international conventions on human and labour rights, sustainable development, environment and good governance for the entitlement GSP plus benefits.

GSP Plus currently covers 13 beneficiaries: Armenia, Bolivia, Cape Verde, Costa Rica, El Salvador, Georgia, Guatemala, Mongolia, Pakistan, Panama, Paraguay, Peru, and the Philippines. Sri Lanka was a beneficiary country since 2005 to 2010. It is heard in some quarters that EU offered GSP plus to Sri Lanka in consideration of the tsunami disaster.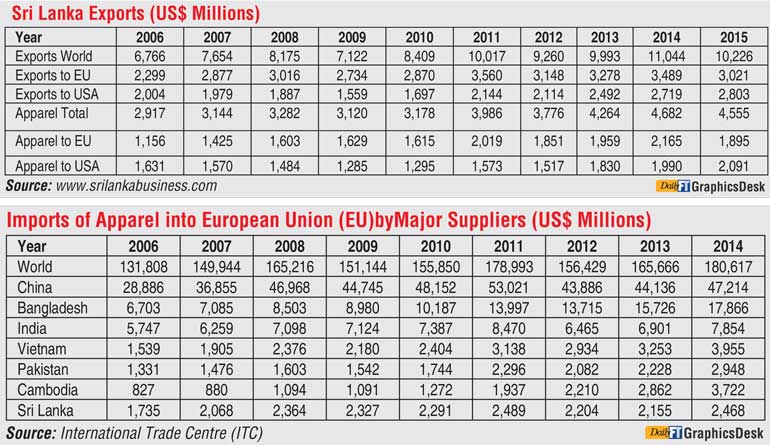 GSP Plus withdrawal

It was in December 2009 that EU decided to withdraw temporarily the GSP Plus benefits to Sri Lanka. This decision was based on the findings of an exhaustive Commission of Investigations launched in October 2008 and completed in October 2009. In view of the report, no satisfactory progress was shown by Sri Lanka in the implementation of the three UN human rights conventions such as Civil and Political Rights, Convention against Torture and Rights of the Children which were related to the grant of benefits.

Initially this withdrawal was only for period of six months. As this period was not sufficient, it was further extended to enable to identify and address the issues faced. EU has opened a dialogue with the Government of Sri Lanka hopeful of necessary measures taken to resolve matters involving human rights issue, the situation of which was being monitored and re-evaluated by the EU. Unfortunately, there was no significant interest displayed by Sri Lanka since 2010. The new Government has immediately continued dialogue in positive manner with high hopes of getting GSP Plus restored.

However from 2009, Sri Lankan exports have been offered to revert to standard GSP preferences as provided for in the current GSP Regulation.

Policymakers of the Sri Lankan Government have also realised that this decision has caused a heavy blow to export trade with the closure of several garment factories amounting to a loss of $ 782 million of exports. This is an invisible challenge for growth of Sri Lankan economy. As such, it is essentially important to consider why GSP Plus is deeply beneficial to Sri Lanka.


Need for EU GSP Plus

A review of Sri Lankan exports indicates that nearly 57% of exports is exported to EU and USA. It shows 27% of exports is shared by USA and the majority 30% is shared by EU. Out of all products exported during the last 25 years, the apparel sector has taken the lead in 45% of total products exported. The most significant feature is that the USA and EU equally share 43% of exports, making the total 86% of whole Sri Lanka apparel exports.

In view of the above facts, it is important to look into how EU GSP will benefit Sri Lanka compare with GSP USA as the two leading export trading partners.

Special significance of the American GSP is that all products categorised under US GSP Scheme are entitled to enter US market with duty zero facility. Even though USA is the second largest market after EU for Sri Lanka, the benefits under their GSP are very minimum.

It has to be noted that certain articles are prohibited under USA GSP facility such as textiles, apparel, footwear, handbags, luggage, work gloves and other leather wearing, ceramics, glass and steel, etc. This reveals that even apparel, Sri Lanka's biggest export product which covers 70% total exports to USA, is not included in USA GSP facility.

Main Sri Lankan products that are exported under USA GSP are rubber products, gloves, mittens and mitts mixed with rubber or plastic. It is obvious that Sri Lanka's exports last year were approximately $ 190 million worth of items which covers only 10% of total exports to the USA under USA GSP facilities. This clarifies the demand for need of EU GSP Plus.


EU leading

Today the EU has become the leading business dealer of the international trade with nearly Euro 4,000 billion trade. The EU consists of 28 powerful Western nations having 500 million population and high purchasing power. The EU has achieved a strong position by acting together with one voice on the global stage, rather than with 28 separate trade strategies. As members of one Union GSP Plus is offered to encourage a wider range of products to be purchased by the EU. Even if Sri Lanka enjoys GSP facility with other developed counties, the EU is recognised as the major player which provides more benefits.

Most of Sri Lankan leading export products are included among the 7,500 products eligible for EU GSP. It should be noted that all apparels categorised under HS tariff Code 61 and 62 and textile code 63 except a few items are permitted for export under EU GSP facilities. Footwear, tuna, other seafood, ornamental fish, some varieties of cut flowers and foliage, black tea, gherkin, rubber items, activated carbon, tableware and wooden products are among the Sri Lankan export products of supply capability in the eligible list of EU GSP.

Sri Lanka could easily utilise more benefits from EU standard GSP and GSP Plus for exports. In addition to apparel, the EU is the leading market for Sri Lanka fishery products, ceramic coconut kernel and other coconut products, cut flowers and foliage and is a significant market for tea, spices, rubber products and a large number of other products as well.


Current situation

Currently, Sri Lanka exports under standard GSP with reduced tariff but not totally duty free. Exports to an approximate value of $ 2.5 billion under EU GSP could be executed which represents 25% of total Sri Lankan exports to the world. During the period Sri Lanka enjoyed GSP Plus, Sri Lanka exported products to the value of nearly $ 1. 8 billion to the EU under GSP Plus in 2008, covering 58% of its total exports to the EU.

Since the volume of exporting fish to the EU is not as high as apparel, the onus is on the Government to take immediate remedial measures to remove the ban on fish exports to the EU. In spite of being a regular exporter of fish to the EU for a long period of time, import of wild catching fish from Sri Lanka was banned by the EU in 2014. The EU had warned Sri Lanka with a yellow card in 2012 requesting Sri Lanka to adhere to EU regulations on wild catching fish, but Sri Lanka appeared to have ignored the warning. Since Sri Lanka did not abide by the EU rules and regulations, finally the import of fish from Sri Lanka was banned in 2014.

There are approximately 75 large and medium scale fish export companies in Sri Lanka and 32 companies among these large and medium scale companies utilise the EU-approved fish processing plants. It should be appreciated that steps are being taken to remove the ban.

As a nation, the onus is on the Government to focus special attention to overall exports since there is no indication of a significant improvement shown in our export trade for the last six years. Average annual exports still amount to $ 10 billion in value. The collapse of sectors like garments (42%), tea (13%) and rubber and rubber products (8%) will lead to a chaotic situation in both economic and social aspects.

In 2010 a Five-Year National Export Strategic Plan was ceremoniously launched, at a highly colourful event, for the period 2011-2015 targeting 13% average growth rate to reach exports to the value of $ 15 billion by 2015; $ 4 billion was the target of garments by 2015. It was the normal promotional tools that were highlighted as strategies in the plan. Removal of temporary suspension was not considered as an issue. The main intent of the plan was to increase exports to markets other than the EU and USA over 50% by 2015, having high confidence in India and China.


Beneficiary countries and higher benefits

Beneficiary countries elegantly utilised the optimum to increase their exports consequent to the introduction of new special incentive, GSP Plus and Everything But Arms (EBA) by the EU in 2005. This situation has caused the decrease of Sri Lankan market share in EU unfavourably to Sri Lanka.

Mainly South America and four Asian nations are currently covered by GSP Plus as beneficiary countries. Suddenly after suspension of Sri Lanka, Pakistan was recognised as a beneficiary country for GSP Plus benefits in 2013. Vietnam and a few other countries competing with Sri Lanka are eyeing the earliest opportunity to enter GSP Plus.

Another most important factor is Bangladesh, Cambodia Afghanistan, Nepal, Myanmar and Yemen, which are direct competitors particularly for apparel, tea, fisheries products and light engineering products, and enjoy trade benefits under a special incentive plan arranged by EU GSP scheme, namely, Everything But Arms (EBA) introduced in 2005. It is indicated that better benefits are given under this EBA rather than GSP Plus. These beneficiary countries are permitted to export duty free of any product other than arms to EU under this EBA. It means that 100% of their products are open on duty zero basis to EU.

In terms of international trade statistics, our competitors Pakistan, Cambodia, Vietnam and Bangladesh continue to maintain a significant growth rate in trade with EU specially apparel products and other countries as Nepal and Myanmar are in full swing to capture the market share of its competitors.

Bangladesh, as a beneficiary nation, has enthusiastically increased its exports during the last 10 years at an average growth rate of 13% with 10% of EU apparel imports. In spite of criticism made against the prevalent low condition of the supply service, Bangladesh has become the second largest exporter of apparel products after China in running nearly 4,600 manufacturing factories in the country.

During the period 2006 to 2016, Sri Lanka enjoyed a 1.3% market share of EU apparel market without any improvement while Cambodia, Vietnam and Pakistan followed with 2% market share each who had 0.5%, 1%, and 1% market share in 2006 respectively. Today, Cambodia, Vietnam and Pakistan have overtaken Sri Lanka maintaining high growth rates 21%, 13.5% and 10% respectively.

The higher benefits received under GSP Plus and EBA are the main reason behind the progress of the export trade of Bangladesh, Pakistan and Cambodia to EU. This trend cannot be seen in USA as apparel is not an eligible product in the USA GSP list.

Huge challenge to Sri Lankan exports

Obviously, this scenario stands a huge challenge to Sri Lankan exports. Sri Lanka could consider a long-term plan for development of exports and apply various methods, but a constructive strategy should be drawn in the short-term plan to protect our market share in EU.

In this context, it is proposed to work out a meaningful effort with high priority to get the temporary suspension of EU GSP Plus removed at the earliest in a bid to secure our export trade.
(The writer is the retired former Head of Corporate Affairs and Communications – Sri Lanka Export Development Board and Ex-Director of Sri Lanka Trade Centre in Maldives. He can be reached at [email protected].)