Hero Cycles Ltd has acquired a majority stake in Sri Lanka based bike exporter BSH Ventures Ltd.

With this move India's biggest bike maker Hero wants to take advantage of the benefits associated with Sri Lanka regaining the GSP+ import duty free status. This allows for Sri Lankan made bikes to be imported duty free in the EU member states, according to a report in www.bike-eu.com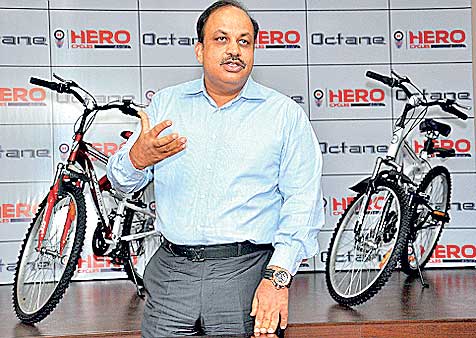 "We have bought a 60% stake in BSH Ventures. This move is to strengthen our efforts to emerge as a key bicycle exporting company to the hi-end EU markets from South Asia," commented Chairman & MD of Hero Cycles Ltd Pankaj Munjal at last week's India Int'l Cycle, Fitness & Outdoor Expo in Ludhiana.

In an exclusive interaction with Bike Europe at the show Hero MD Munjal emphasised that the acquisition of the Sri Lankan company is a part of the Hero Cycles strategy to further expand its global footprint. Next to that Hero will be spurred to this take-over by the fact that Sri Lanka is about to regain its import duty free status for bikes exported to the European Union. This saves 14% import duty on Sri Lanka made bikes that are imported into the EU member states.

Neven Mimica, European Commissioner for International Cooperation and Development said last week in Colombo, Sri Lanka that the country is on the right track to regain trade preferences granted to the country under EU's Generalises System of Preferences (GSP).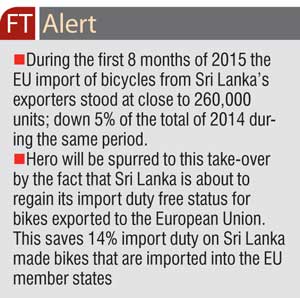 The EU Commissioner stated also, "We will work together with Sri Lanka for an early application. The approval process for GSP+ takes about 10 – 12 months. The process is on track and a meeting will take place in April when a delegation from the EU comes to Sri Lanka."

BSH Ventures is the third acquisition of Hero Cycles in about one year. The company bought India based premium bicycle brand Firefox followed by UK based Avocet. BSH Ventures Ltd is an export oriented bicycle manufacturing company that started operations in January 2011. It has a workforce of over 100 people and a production capacity of 250,000 bicycles annually. The state-of-art facility is located in the Biyagama Export Zone and confirms to all international standards and compliances. BSH was set up with an investment of about $ 4 million. BSH holds a licensee agreement with Raleigh International for making and marketing Raleigh bikes.

Bangladesh based Meghna Group is involved in BSH Ventures Ltd. Meghna provides technical support to BSH while MD Mizanur Rahman of Meghna Group holds a stake in BSH. Together with Jeyam Perumal of BHS Ventures he holds 40% of the BSH shares. Hero Cycles now owns 60% of the shares.

When asked about the financial details of the deal, Munjal declined to comment. But he said that further investments in the BSH plant will be made in order to hike the production by about four times in a three year plan. "We would likely to invest to the tune of about US$ 15 million to raise the plant capacity from the current 250,000 units to 1 million units."

Next to Sri Lanka regaining its GSP+ status the country's sea ports and shorter lead time for shipments to Europe are the key factors that drove Hero to this acquisition.

During the first 8 months of 2015 the EU import of bicycles from Sri Lanka's exporters stood at close to 260,000 units; down 5% of the total of 2014 during the same period.
http://www.bike-eu.com/