Minister of Special Assignments Dr. Sarath Amunugama who represented the President at a function held at the Mahaveli Centre on the occasion of World Kidney Day said that the Government's attention is focused on the prevention of the chronic kidney disease and action for that purpose was being taken at a national level.

Dr. Amunugama was the chief guest at this function organised by the All-Island Kidney Patients Association. The Minister also distributed prizes to the winners of the first-ever softball cricket match between teams representing Sri Lankan kidney donors and kidney transplantees.

The authors of several books

written in connection with the World Kidney Day presented their work to the Minister, who also presented to kidney patients vouchers for

medical examinations and

scholarships to their children.

A large gathering including actor Ravindra Randeniya and Professor Rizvi Sheriff was present.

The proceedings were

conducted by Kalasoori Sathischandra Edirisinghe.

Following are excerpts of Minister Amunugama's address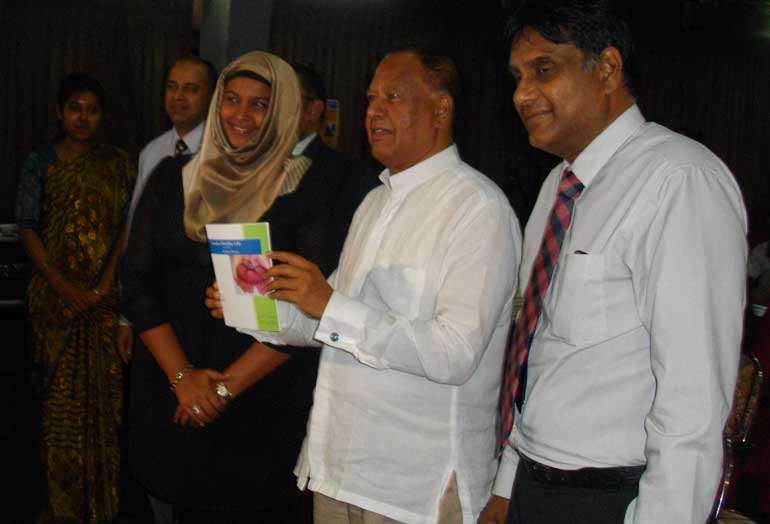 I take this occasion to express our respect and appreciation of the role played by doctors to prevent the occurrence of kidney disease and to expand the awareness of the public about that disease. I also wish to express my appreciation of the sacrifice made by donors of kidneys.

Buddhism teaches us about the donation of our flesh and blood and the different organs of our body. When we think of people who donate parts of their body to others, we realise what small people we ourselves are. Then also in front of such skilful specialist doctors such as these, we are forced to reflect whether we ourselves have performed any comparable service. Our respect continues to grow. Therefore, once again I wish to extend to you all our grateful thanks.

Our President takes a special interest in this kidney disease. Everyone knows about that. He has served for a long period as Minister of Health. He was also the Minister of Agriculture for a long time. He also represents the North Central Province which is now facing the threat of kidney disease. It is estimated that there are about 5,000 kidney patients in that province.

In that context this is not just a social problem; it is a problem affecting our very humanness itself. It is imperative that solutions be found. In the case of diabetes it is partly inherited and partly caused by your style of living. In the case of kidney disease it is necessary to take medical treatment expeditiously.

It is our rural folk who have been largely afflicted with this. Their lifestyle has nothing to do with this. It is the farming community which has been largely affected. Due to various reasons including the chemicals contained in fertiliser they have been affected by this disease. That is a national problem. If residents in one province become adversely affected through the use of water, the whole of society must become concerned with that issue.

The system of irrigation water management in our country is called the 'cascading system'. That means the water which flows down from our central hills is repeatedly used in the fields seven or eight times. The water used in one field flows down to another field. From there it goes into an ela. From that ela it goes to yet another field. Like that the same water is used for agriculture seven or eight times repeatedly, from one angle there is nothing wrong with that. That way our water is well managed. In other countries a field gets its own supply of water.

The danger in our system is that if there is any poisonous chemical mixed with the water it gets distributed as the water flows down to several fields in turn. People having their fields lower down, people living lower down, have to face this problem invariably. Therefore it is essential that we supply pure water, especially pure drinking water. The Government without any hesitation will spend a huge amount of money for this purpose. Money has been allocated for this water supply project in the Budget. The President will do all that is necessary in this connection.

The President treats the kidney disease problem not just as a matter of duty but as something touching his own life, a matter felt in the heart. Sometimes some people find fault with our doctors. The media also does the same. However it is our fortune that we have doctors who devote themselves entirely to diseases like this. There can be black sheep anywhere. There are more black sheep in politics. However it is wrong to condemn an entire profession because of a few black sheep. That is a travesty of the truth. Therefore I wish to say on behalf of the President that the services of doctors and their dedication are things indispensable for the country.

Through the Government budgets we have spent money over several decades on free education and health. Through that means our country has produced specialist doctors, lawyers, administrators and leaders in many other fields. Their services should be appreciated. Our people study with dedication and display their talents to the entire world. We must never underestimate their achievements. I wish to declare that the President will secure for you through the Government all the assistance that is necessary for you to further expand your services.