The Government yesterday signed an agreement with Total S.A., a French multinational integrated oil and gas company, to explore for offshore oil and gas.

Minister of Petroleum Resources Development Chandima Weerakkody signed a Joint Study Agreement (JSA) with Total yesterday to explore two ultra-deep water blocks off the east coast of Sri Lanka.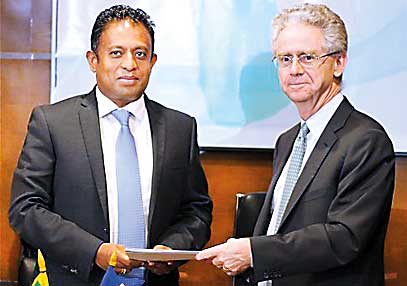 Ambassador of France to Sri Lanka Jean-Marin Schuh and French Embassy officials, Secretary to the Ministry of Petroleum Resources Development and the Chairperson of the Petroleum Resources Development Committee Sudharma Karunaratne, Director General of the Petroleum Resources Development Secretariat Saliya Wickramasuriya, and other PRDS and Ministry officials were also present at the occasion.

Total is one of the world's largest international "super major" oil and gas companies, with operations in more than 130 countries.

Total was awarded the Sri Lanka east coast exploration study by the Cabinet of Ministers in May 2015, following an international selection process launched during the 2013 licensing round.
The objective of Joint Study, and similar agreements, of which several hundred are in place in many countries around the world, is to explore marginal areas with limited data for hydrocarbon prospectivity by conducting geological, geophysical and technical surveys, analysing and interpreting the acquired data, and ultimately assessing the presence of commercially viable oil and gas.

Since these agreements are usually between host governments and international oil companies and involve extensive collaboration and technical knowledge transfer without a production commitment, they are known as Joint Studies, and contribute extensively to capacity-building in the host country.

Joint study agreements are generally short duration agreements, in which the investor and host country each have certain roles and responsibilities with stipulated time frames.

Summary of benefits to Sri Lanka from JSA:

Acquisition of several million dollars' worth of seismic and other data in areas that currently have none, allowing Government to assess future production potential at no cost.

Exposure of Sri Lankan technical and academic staff to modern data acquisition and interpretation methods.

Receiving a ground rental of $ 1 per Sqkm for the entire acreage of the Joint Study Area valued at approximately Rs. 7 million per annum.

Procuring of goods and services for associated activities locally, where available and when reasonable so to do.

Implementing an international scholarship program and other formal training opportunities for suitable Sri Lankan candidates to further their education in France in a wide array of related academic disciplines, in the event that discussions between Government of Sri Lanka and Total continue into a Petroleum Resources Agreement.

Learning a best-practice industry health, safety and environment management system, assisting Sri Lanka in preparing her own national oil company for business.