By Shanika Sriyananda

Field Marshall Sarath Fonseka said that his Democratic Party reached a collective agreement with the United National Front (UNF) mainly to form a strong political alliance to 'fight' the Rajapaksa clan coming into power again.

He said the new alliance with the UNF will be a strong anti-Rajapaksa movement similar to the alliance which was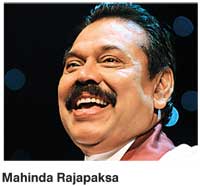 formed during the Presidential elections in 2015, in which former President Mahinda Rajapaksa was defeated.

"We want people to rally around this alliance to protest the Rajapaksas and to stop corruption," he said, adding that all political parties should get together to counter the Rajapaksas who are once again attempting to come into power.

"The prime objective of our party's joining the UNF is to counter the Rajapaksas. We have to start this mission early," Fonseka told Daily FT.

The Democratic Party leader said if that they kept mum about the alleged corruption carried out by the Rajapaksas, people would grope in darkness. "We have to start early to make people aware of how they engaged in corruption. With signing the collective agreement, the two parties have launched their fight against the Rajapaksas," the former army chief said.

Fonseka signed the MoU with Prime Minister Ranil Wickremesinghe at a ceremony held at Temple Trees on 3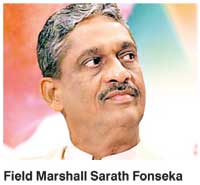 February.

He said the Democratic party would contest the elections under the UNF and the party will soon start re-organising at the village level.

Meanwhile, sources close to the UNF said the final decision to decide to offer the seat in Parliament vacated by late Minister of Lands M. K. A. D. S. Gunawardana to Fonseka will be announced following the UNP's Working Committee meeting on 8 February.

"It's not only Field Marshal Fonseka's name. There are a few other names also under consideration. The final decision lies with the UNP Working Committee," the sources said.

It had also been reported that Fonseka was to get a powerful ministerial portfolio but, when asked, he said he had not requested and was not interested in getting any Cabinet posts.