We live in a time of unprecedented environmental destruction and climate change. The recently-concluded historic Paris Agreement received a surprising amount of support from a majority number of nations – a measure that is unfortunately driven by desperation.

As the world is preparing to make a change and climate change gets pushed to the forefront of global issues, the renowned Sri Lankan artist Anoma Wijewardene tackles this weighty topic through the universal medium of art.

The 'EarthLines' exhibition and installation by Anoma, being held as part of Galle Literary Festival 2016 this week, draws attention to the haunting impact of climate change on the world, how the current measures including the Paris Agreement are insufficient to make a change and the significance for Sri Lanka as an island nation surrounded by the rising ocean.

Anoma's thought-provoking art will be presented with the poetry of the acclaimed Sri Lankan poet Ramya Jirasinghe and a reading by award-winning Indian author Amitav Ghosh. Public viewing of the exhibition will be at 48, Lighthouse Street, Galle Fort, Galle on 15, 16 and 17 January.

The ticketed event including the reading by Amitav Ghosh will be held on Thursday, 14 January at 5:45 PM at 48, Lighthouse Street, Galle Fort.

The current situation does not look good for earth, and every single being inhabiting it. The emission reduction levels set by all the nations at the Paris negotiations are not sufficient to achieve 1.5°C or 2°C. Warming is likely to range from 2.7°C to 3.5°C, unless more drastic cuts are made.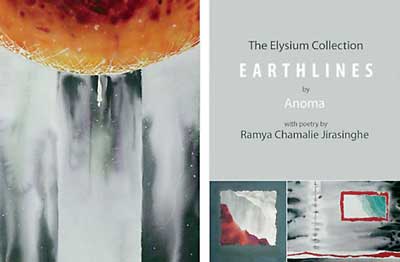 With half the weather disasters in 2014 – storms, droughts and other extreme events – being triggered or influenced by human-caused climate change, the matter is of extreme urgency to act upon. Sri Lankans especially, need awareness and unity in taking a stance against climate change with the dangerous situation of sea level rise that is already causing severe damage to coastal properly and infrastructure.

Further, the increasing temperature and humidity, especially in the tropics where we live, is expected to have lethal effects on hundreds of millions. The stress caused by climate change is also beginning to cause a ripple effect of danger and violence across humanity: Scientists have found evidence that the 2007−2010 drought contributed to the ongoing conflict in Syria. The drought saw mass-migration of farming families to urban centres due to widespread crop failure which turned to unrest and clashes with the government. Climate change is an issue that can potentially end human civilisation, as we know it, on earth.

It is within this troublesome context that Anoma Wijewardene joins hands with poets and writers to draw our attention to climate change. Anoma is an alumna of the prestigious Central St Martins College, University of the Arts, London. With a career spanning 45 years, Anoma has shown extensively locally and internationally, including solo shows in New Delhi, Kuala Lumpur, Sydney and London. She has presented in London, Singapore and Sydney. Awards and sponsorships have been awarded from Deutsche Bank, HSBC, Liberty's of London and the Asia Foundation for her exhibitions on Reconciliation, Climate Change and Sustainability; themes.

Ramya Jirasinghe whose poetry enriches Anoma's art, is the author of 'Rhythm of the Sea,' a book on the Asian tsunami, and 'Trinity'. Her book of poetry, 'There's an Island in the Bone,' won the State Literary Joint-Award for Poetry in 2011. She was long-listed for the Fish Poetry prize of Ireland in 2011 and was a joint runner-up to the UK Guardian Orange First Words Prize of 2009.

As an artist and a poet from an island with a past marked by the seamless coexistence of a magnificent material civilisation and the natural world, Anoma and Ramya feel it is their responsibility to alert fellow Sri Lankans to wake up and take a look at the bigger picture. The installation, encompassing ephemeral glass sculptures and paintings and fragments of poetry, captures the precarious fluidity of the earth's delicate ecosystem that is rapidly being destroyed. It is a moving reminder that we are stripping the earth of its life-sustaining resources.

Inspired by poets and philosophers, the exhibition catalyses an inner dialogue with the speaker of that quiet voice within each of us, forcing us to heed the desperate cry of the planet we inhabit that nourishes us and radically re-examine the way we currently live.

The exhibition will be declared open to the public through a special evening including a reading by award-winning Indian writer Amitav Ghosh who also grew up in Sri Lanka. He studied in Delhi, Oxford and Alexandria and is the author of 'The Circle of Reason,' 'The Shadow Lines,' 'In An Antique Land,' 'Dancing in Cambodia,' 'The Calcutta Chromosome,' 'The Glass Palace,' 'The Hungry Tide,' and 'The Ibis Trilogy'; 'Sea of Poppies', 'River of Smoke' and 'Flood of Fire'.

Amitav Ghosh's work has been translated into more than twenty languages. He was shorlisted for the Man Booker Prize and also won France's Prix Médicis award, the Arthur C. Clarke award, Crossword Book Prize and the India Plaza Golden Quill Award. Amitav agreed to participate at this event as he is passionate about climate change and continues to support it at many fronts.

Manishka De Mel from the Earth institute- Columbia University USA and Dr. Ranil Senanayake, chairman of Rainforest Rescue International/member of Sri Lankan delegation to Paris Cop21 collaborated with EarthLines to provide the current scientific thinking on the issue to be made available to the public at the exhibition.

Anoma's art with Ramya's poetry and Amitav's reading, is a call for urgent action; action for an issue that threatens to cost us the only home we have in this universe.

Public viewing freely open at 48, Lighthouse Street, Galle Fort on 15, 16 and 17 January. For more information on the opening event tickets and the program, visit www.galleliteraryfestival.com. The paintings will be available for Colombo viewing at Anoma Wijewardene's Studio from 27 January onwards. Please contact 0777349079.