Women in Logistics and Transport (WiLAT) Asia Forum was launched on 8 January in Singapore in the presence of representatives from four WiLAT member countries.

The event was hosted by Chartered Institute of Logistics and Transport (CILT) Singapore.

The mission of the forum is to promote the status of women in Logistics and Transport, to bring together those who support talent and career development of women and to provide a support network and mentoring opportunities for women in the sector keeping in line with the global WiLAT mission.

WiLAT Asia Forum members with International Vice President Dato Radzak, WiLAT Global Advisor Dr Dorothy Chan, WiLAT Global Convenor Aisha Ali Ibrahim, Chairman CILT Singapore Karmjit Singh


Singapore, Sri Lanka, Malaysia and Hong Kong were signatories to the memorandum of understanding (MOU). WiLAT Sri Lanka Chairperson Gayani de Alwis signed the MOU on behalf of WiLAT Sri Lanka. Other WiLAT Asia forum members are India, China and Pakistan. WiLAT Asia is in the process of forming WiLAT fora in other countries to expand their foot print in Asia.

WiLAT Global Convenor Aisha Ibrahim in her address mentioned that African Forum which was setup in 2014 with seven countries have been very successful and congratulated the Asian counterparts for managing their WiLATs very effectively and taking this initiative to form the Asian Forum.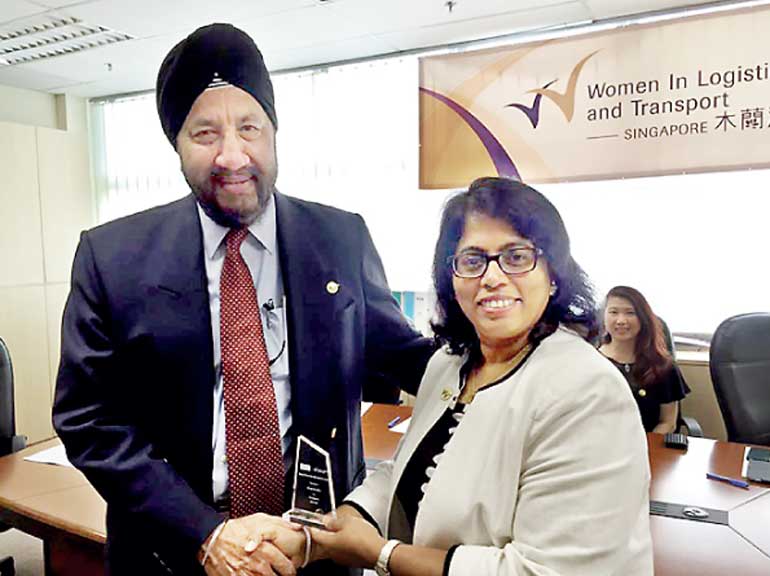 CILT Singapore Chairman awarding a plaque to WiLAT Sri Lanka Chairperson to mark the occasion


Past International President and WiLAT Global Advisor, Dr Dorothy Chan explained the main objectives of the forum and commended the country chairpersons for their tireless efforts to improve gender diversity to create value in the sector. The Asia forum held their first meeting post the MOU signing ceremony. A walk was organised on 7th by the WiLAT Singapore team to mark the occasion in Marina Bay area which the visiting WiLAT members also took part.

WiLAT is the women's forum of CILT. It is part of an ever expanding global network within CILT. The main objective of WiLAT is to promote and encourage the art and science of logistics and transport among women. Currently WiLAT is present in 16 countries with over 1600 members in the global network which is expanding rapidly.

WiLAT Sri Lanka is one of the five pioneering fora of the global network which was established on 21 March 2013. WiLAT membership is open to all women working in public and private sector and in academia in the areas of logistics, transport, supply chain and supporting functions in organisations.

WiLAT Sri Lanka forum is expected to provide a platform for women engaged in the industry to maximise their true potential both professionally and personally. For more details on WiLAT, visit their web page http://www.ciltsl.com/wilat/.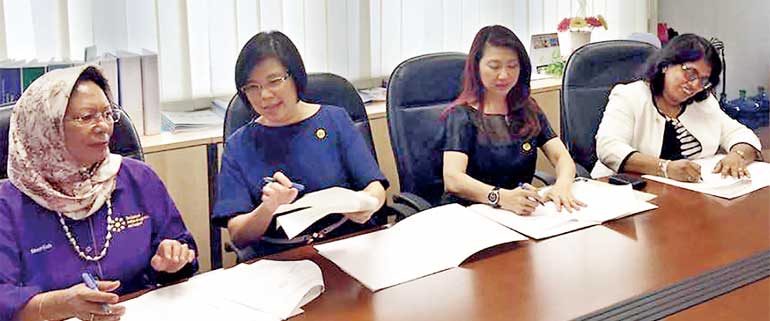 MOU Signing ceremony from left: Chairpersons from WiLAT Malaysia, WiLAT Hong Kong, WiLAT Singapore and WiLAT Sri Lanka