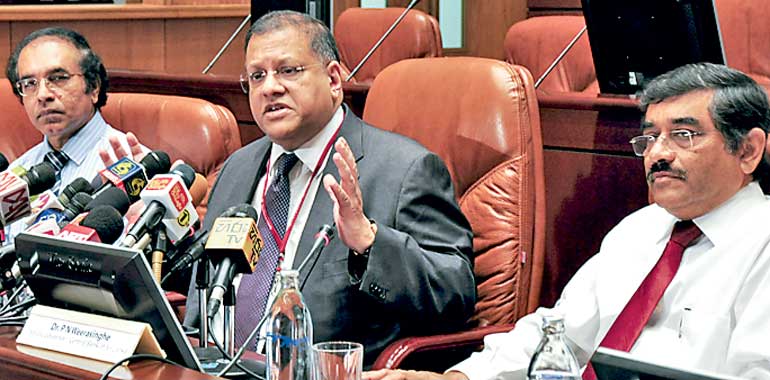 Central Bank Governor Arjuna Mahendran gestures during the media briefing yesterday flanked by Deputy Governors Dr. Nandalal Weetasinghe (right) and P. Samarasiri – Pic by Lasantha Kumara
2016 growth target 6.5%, debt $ 2.3 b, currency swaps of $ 2.3 b to be rolled over
IMF request likely in February but not a rescue, China and Japan among other concessional lending options
CB Chief defends decision not to hike policy rates
Confident exports will recover, worried over remittances, rate change possible in March
Dormant accounts transferred if unused for ten years, interest to be paid
By Uditha Jayasinghe

Sri Lanka's economic fortunes will likely be mixed in 2016 with the Central Bank setting a growth target of 6.5% but considering turning to the International Monetary Fund (IMF) for assistance as early as February, in part to help refinance a chunk of $ 4.3 billion debt repayment.

Central Bank Governor Arjuna Mahendran is confident Sri Lanka's economy will remain steadfast in the new year, insisting any additional funds from the IMF will simply be to reassure international investors that the country is well protected against any global financial upheavals.
Discussions are also afoot with several organisations, including the World Bank and IMF, to possibly refinance $ 2.3 billion in currency swaps obtained by the Government, preferably at lower interest rates. An additional $ 2.3 billion debt will have to repaid by Sri Lanka in 2016 but Mahendran is confident the Treasury will have enough depth in its coffers to meet the payment.

"An IMF delegation monitoring Sri Lanka's previous $ 2.6 billion stand-by agreement will be here in February and we may make a formal request then. But it's still very early days and we are awaiting direction from the Prime Minister and Finance Minister," the Governor told reporters.

Mahendran emphasised Sri Lanka was "not in dire need of any sort" for IMF funding as it had sufficient reserves and the economy remained on a stable course. "The IMF is not coming to rescue us," he firmly noted, pointing out "there are various ways to handle the debt. Several bilateral options including China and Japan are available to Sri Lanka to tap concessional funding so there is absolutely no need to panic. The currency swaps will likely be rolled over."

2015 had proved to be a tough year that resulted in the Central Bank rolling back its initial growth projections, officials acknowledged, with exports and remittances becoming worrying sectors. Currency depreciation traditionally helped boost exports after the lapse of six months, noted Mahendran, but the marginal drop of 0.8% on remittances would be harder to address. Yet the 5% growth marked in the previous year was a "testimony to the resilience of the Sri Lankan economy."

Defending raising bank reserve ratios to 7.50%, Mahendran insisted the move would reduce liquidity in the market that was encouraging banks to lend more. Such a trend would have eventually led to a strain on balance of payments, he opined, adding that Sri Lanka's current rates were in line with inflation statistics.

However, if the US Federal Reserve raised rates a second time as expected in March then the Monetary Board would have little option but to raise local rates.

Even though the 2015 deficit target has been overshot, Mahendran was confident it could be maintained at around 6%. He also noted that the accounting system followed in Budget 2016 would likely change the way revenue and expenditure numbers were calculated.

Transference of funds in dormant accounts was also clarified by the Governor. An account without activity for ten years would have its funds transferred to the Consolidated Fund as it falls under the category of abandoned property. An estimated Rs. 3.2 billion from dormant accounts are already under the management of the Central Bank where they are invested in government securities. However, under the new provision the funds will be maintained under the Treasury and the holders will be paid interest rates when the money is reclaimed.