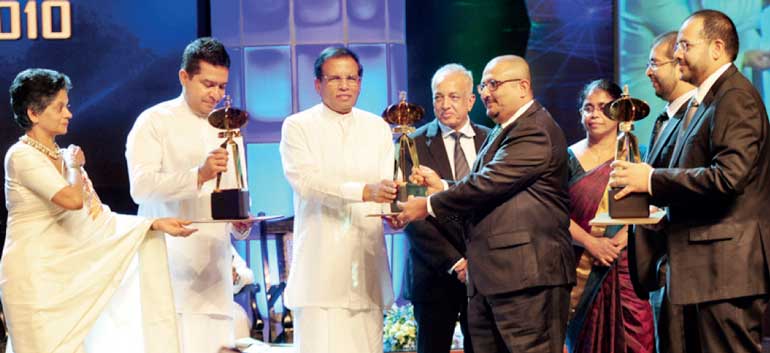 Akbar Brothers Director Tyeab Akbarally receives the award from President Maithripala Sirisena yesterday - Pix by Lasantha Kumara
The pre-eminent standing of Akbar Brothers in the Sri Lankan Tea Industry has once again been affirmed and recognised with sweeping accolades at the Presidential Exports Awards.

Akbar Brothers bagged seven highly-coveted awards at the ceremony held on 16 December, presided over by President Maithripala Sirisena. The company was adjudged the Best Tea Sector Exporter for the years 2010, 2011, 2012 and 2013. In addition, it won the exalted Best Sri Lanka Overall Exporter (All Sectors) for 2010 and the Best Sri Lankan Brand Exporter (All Sectors) for 2012 and 2013. Most impressively, Akbar Brothers had the singular honour of being the only tea company that has qualified for the Presidential Export Awards.

These prestigious awards stand testament to a tradition of excellence in the export of teas that spans generations. The Akbar family has had an intimate connection with Ceylon tea that dates back to 1864. Over the decades, its members have made significant contributions to the industry.
The present company, Akbar Brothers Ltd., was incorporated in 1972. Now run by the fifth generation of the family, it has become the largest marketer of Ceylon teas in the world, a position it has held for the last 25 consecutive years.

Despite keeping a relatively low profile, Akbar Brothers today contributes a remarkable 15% of the nation's overall export earnings from tea. On average, 65 million cups of Akbar teas are consumed everyday around the world. This validates the company's corporate approach which aims to brew the cup of tea preferred by millions of consumers, rather than pursuing the glory of publicity.

"Our tea products – tea packets, tea bags, ready-to-drink teas – are positioned in the upper segment of the mass tea market," says an Akbar Brothers spokesperson.

"We continue to seek quality conscious tea consumers globally who value pure Ceylon teas of premium standard." This single-minded focus on quality is reflected in the comprehensive international accreditations achieved by the company.

These include the HACCP, the International Food Standard Certification, the Fair Trade Certification and well as ISO 2200 and ISO 9011.

Akbar Brothers focuses on value-addition in all stages of its operations across a diverse product portfolio. These extend to both backward and forward linkages with ownership of substantial stake in Tea Small Holders Factories PLC as well as in packing plants in Russia and Iran, two of Sri Lanka's big tea markets. The Quick Tea subsidiary markets tea bags of every design and description required by consumers world-wide including string and tag tea bags, heat-sealed foil envelop tea bags, pyramid type tea bags, pot-type tea bags and tagless tea bags.

"The rapid expansion and growth of our tea business has been due to a strategic change in direction," says Akbar Brothers Group Chairman Abbas Akbarally. We have moved away from being a commodity trader to a competitive marketer of value-added branded tea products." He adds: "The aggressive pursuit of this policy, coupled with the company's focus on quality, innovation, ethical marketing and modern technology are the key factors to the growth and success of our business."