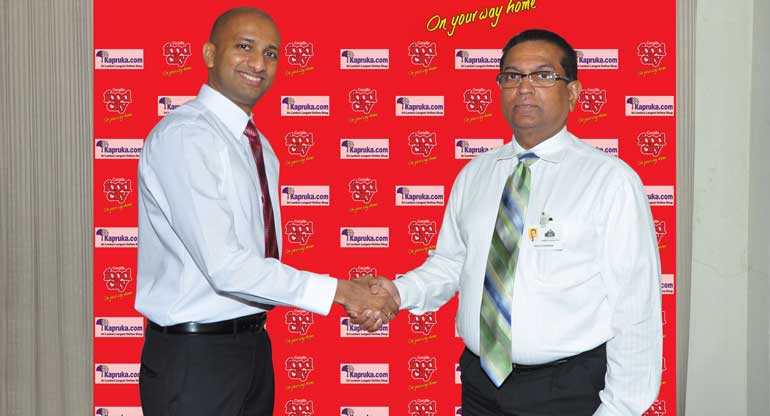 Kapuruka Founder and CEO Dulith Herath (left) with Cargills Food Company CEO Sidath Kodikara
Cargills Food City, Sri Lanka's leading supermarket chain has tied up with the leading e-commerce solutions provider in Sri Lanka, Kapruka to provide online shopping facility to customers to deliver groceries to anywhere in Sri Lanka at the store price!

Now Kapruka customers from Sri Lanka or from around the world can get Cargills Food City groceries delivered home at a click of a button. All items are priced at the same price as in the local store making the shopping experience a truly rewarding one.

Commenting on the tie up, Sidath Kodikara of Cargills Food City said the partnership promises to deliver real value to customers. "Our customers have been demanding for an online shopping solution for a long time. Many Sri Lankans overseas want to get groceries delivered to their loves ones and trust Cargills to do it for them. But we took our time fine tuning this solution with the most reliable and in fact largest online shop in Sri Lanka. We have initiated this solution with groceries and customers can get all products delivered to their doorstep at the same price as what's available in our outlets," Kodikara said.

He noted that Kapruka's efficient logistics operation is key in this partnership. "When it comes to product quality and price customers place trust in Cargills Food City and when it comes to reliability of delivery Kapruka has built that same reputation and they have put a tremendous amount of effort to ensure that the last-mile operation runs smoothly. We are therefore confident that our customers would find this online shopping experience convenient, reliable and a value-for-money proposition, he added.

Dulith Herath of Kapruka mentioned that this is a major step in e-commerce in Sri Lanka and it's just a beginning of a strong partnership. "Together our aim is to offer customers an amazing experience coupled with both convenience and affordability. Taking into consideration the tremendous developments and growth Sri Lanka has been going through over the past few years, we are of the view that most individuals now work in a very competitive environment; hence this would be an ideal solution for the individuals who seek for convenience in their busy lives," Herath said.

Customers across the global can now log into www.kapruka.com/foodcity and shop at their favourite supermarket Cargills Food City and get groceries delivered home.