By Fathima Riznaz Hafi

Q: Could you tell us a little about yourself?

A: I grew up in Kandy and attended Good Shepherd Convent. Afterwards, I completed my Bachelor's Degree in Computing at Singapore Informatics affiliated with the University of Portsmouth in the United Kingdom. I then travelled to Australia where I first completed a Graduate Diploma in Computing at the University of New South Wales and then completed my MBA from Edith Cowan University in Western Australia.

Before travelling to the US to be treated for my illness, I was a part-time lecturer teaching Business Communication and Information Systems for undergraduates and MBA students. I had also started my own venture, Enchanted Memories, a business that provides event-planning services. More recently we entered the greeting cards market as well. Apart from these duties, I was also a freelance web developer and was employed part time as a Senior Project Manager for an IT firm.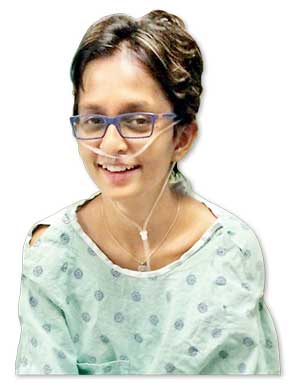 Q: How and when did you find out about the illness? Could you elaborate on the nature of the illness and the present situation?

A: My parents first noticed the problem when I was two and took me to see my paediatrician. He noticed that there was a slight murmur and hence referred me to the best cardiologist he knew. This doctor concluded that there was nothing abnormal in my heart and referred me to a chest specialist. All doctors who proceeded the cardiologist kept on treating me for asthma and even when my panting got worse, they still did not think there was anything wrong with the heart.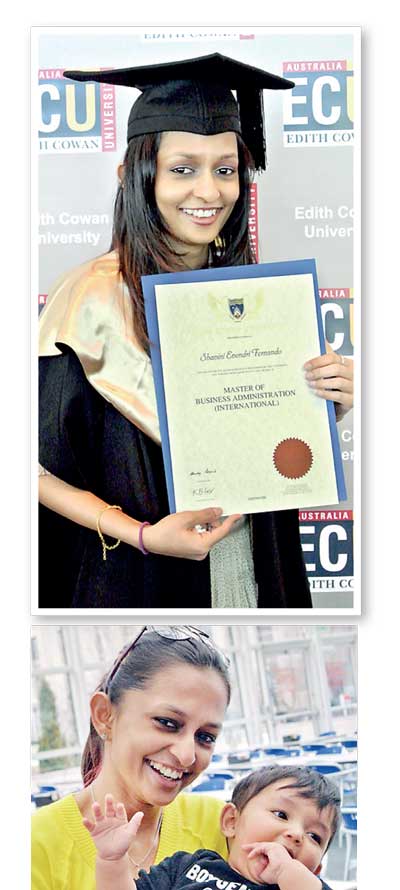 Six years back when I started to get palpitations, the doctors said I was having acid reflux and prescribed Gaviscon. Seven weeks ago I noticed that my lips were turning blue when I was tired, so I thought of visiting a cardiologist again, just to see if there was some plausible explanation. This is when they finally decided to perform an echocardiogram to investigate my pulse. The doctor was then able to diagnose my condition immediately as an 'Ostium Secondum Atrial Septal Defect' or in laymen's terms a hole in the heart. He also discovered that due to this condition my pulmonary pressure was unusually high as well.

I was then referred to specialists in Colombo for further testing, where after confirming the diagnosis, one of the doctors handed me, for the lack of better words, a death sentence as well. Quite bluntly he said that my condition couldn't be treated anywhere in the world and even refused to give me an oxygen prescription for travel to another country to get a second opinion. Therefore, I travelled back to Kandy to the cardiologist who initially diagnosed me and from him got the oxygen prescription and the rest of the documents needed to travel to the US.

The doctors at John Hopkins confirmed the diagnosis and went on to add that the condition was irreversible as the damage was too extensive. According to them, the pressure in the right side of my heart is much higher than the left and as a matter of fact far higher than they have ever seen in any other patient. Due to this abnormality it is only a matter of time until the right side seizes to function entirely. The worst part of it is that, no one knows when that day would be. This is why the doctors have said that a heart and lung transplant is my only hope.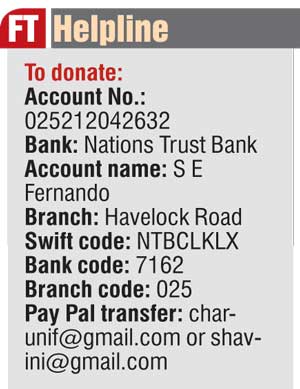 Q: Are you working now? Who is presently taking care of your finances?

A: I was working until I was diagnosed seven weeks back. However, now I am not supposed to work at all since any extra exertion will result in my condition getting worse.

At this moment my family and my friends who have pooled together some money cover my expenses. However, due to the constant Emergency Room visits, consultations by specialists, and due to all the medication I have been required to take, this money is running out at an alarming rate. Furthermore, to even get on the donor waitlist, I need to show the hospital that I can cover most of my expenses. These are the main reasons my family and friends started a campaign to raise funds to help with my expenses.


Q: Are you now residing in the US or do you only go there for treatment?

A: I am not a citizen here; I came to the US to see if I could get treated for my condition. The hope was that they would be able to close the hole in my heart, while reducing the pulmonary pressure. However, the doctors told us otherwise, that my only real option was a heart and lung transplant. Once they told us of the cost, which to my family is unimaginable, we contacted doctors in Canada and Australia to first see if there might be an alternative and also to find out if we might be able to get the transplant done for cheaper.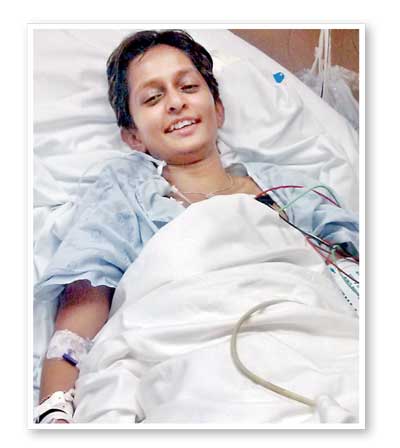 To our disappointment they confirmed that my only option was a transplant and upon further research we learned that only citizens are eligible for transplants in those countries. We also tried Singapore and the UK, to no avail. Although India remains an option, the doctors just last Wednesday told me that I am not to take a flight longer than two hours, which in essence means that if I do not get a transplant here in USA, I might never get to go back home.


Q: What is the treatment you are undergoing now while waiting for surgery?

A: Right now I take Sildenafil three times a day. The doctors do want to modify the regimen but they want to first check what the reactions to the new drugs might be. They have also given me aspirin, which works as a blood thinner to prevent blood clots. I had a mild stroke a few weeks back due to an air bubble in my brain and this is why the doctors prescribed aspirin.


Q: People have been coming forward to help you (through Facebook, etc.). Could you tell us about that?

A: I feel like a celebrity... I never expected this many people would come forward to help me. I actually thought I would raise at most $2,000 a week. But when I saw within one day we had raised more than$20,000, I was stoked. Within just over a week we are now at $160,000; more than 25% of what we set as our goal of $600,000 and I am simply at a loss of words.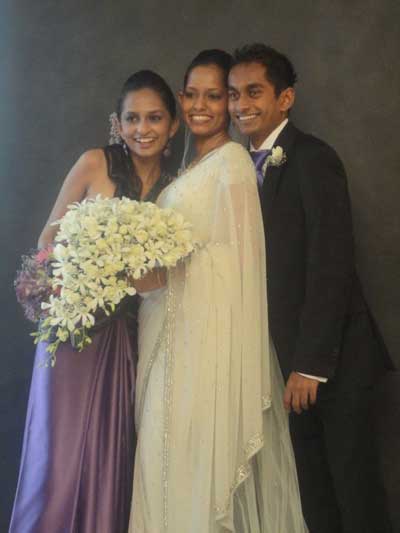 To be at the receiving end of people's generosity is quite an experience. You begin to realise how blessed you really are. I honestly do feel bad because I cannot talk to each and every person out there who has been donating, spreading the word and praying for me. But if I may, let me use this opportunity to thank them for their generosity and selflessness.


Q: How much more money do you need?

A: Well the 'spare parts' are a little costlier than we initially expected. At the moment we have collected $160,000. The first step for the transplant is getting on the list and for that we anticipate that we need at least $300,000. The sooner we can get on the list, the better my chances are because even after getting on the list there is a wait period. The total expenses are estimated to be around $800,000, which is the goal we are attempting to get to.


Q: Would you like to add anything?

A: I just want to thank each and every individual from all walks of life who have stepped forward to help me in my time of need. It truly is a special feeling to receive the compassion of a complete stranger, a person who has never met you, spoken to you, or even heard of you before.

I am not the only Sri Lankan fighting a life and death battle because of this condition; I am merely one person who was blessed enough to come to the US for another chance and was blessed enough to be in the company of people who were in a position to help me. I have been receiving many emails from others back home who are suffering from pulmonary issues, asking me to ask my doctor if their medications are correct.

My wish is to see that no one else has to go through the walk that I'm walking. So please take a minute every day to find someone else who might need your help and hold their hand as they walk their walk, just as you have done for me in my walk. Thank you all for your love!