Access Projects recently completed the restoration of the North Wing at the iconic Galle Face Hotel, Colombo. This ambitious restoration project was designed to preserve the grandeur and magnificent historical architecture while modernising the quality of facilities and services within the hotel. Renowned for their expertise in construction, renovation and refurbishment in the hotel

sector, Access Projects successfully completed restoration of the Galle Face Hotel ensuring that the spirit of the

hotel remained untouched.

Access Projects Director Nishal Ferdinando gave us a candid view on the completion of this

ambitious project. Ferdinando joined Access Projects as a Management Trainee in 2005 and was elevated to Director in 2010 at the age of 28. Since then, he expanded on the company's operations and strategies to align the company to real growth and opportunities presented post war Sri Lanka. Following are excerpts of the interview:
---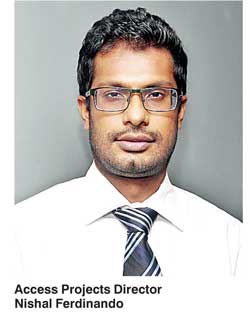 Q: Could you expand on the history and key milestones behind Access Projects?

A: Access Projects began operation in 2002 as a supply and installation contractor of ceilings with around 20 employees. Since inception, we dedicated resources towards expanding both horizontally and vertically through integration and thus began manufacturing metal ceilings as a backward vertical integration initiative and thereafter horizontally integrating to fabricate and install proprietary aluminium doors, windows and curtain wall systems.

Our initial entry to the leisure sector was as a ceiling contractor for ballrooms in many of the leading 5-star properties in Sri Lanka. We expanded to a place among the top contractors in refurbishments of the hotel sector. Our first major civil/interior project in the leisure sector was the refurbishment of the Cinnamon Lakeside lobby and ballroom which we undertook to complete within a short period of just four months in 2009.

Thereafter, we were entrusted with the complete re-construction of the Chaya Blu Hotel – Trincomalee which was completed in six months. Thereafter another significant project was when Access Projects took up the enormous challenge of renovating around 100 rooms at the Taj Samudra Hotel in less than five months in time for CHOGM. Results of these projects proved noteworthy when we were awarded the total construction of the Cape Weligama Resort.

From 2009 we have been making steady growth doubling our turnover year on year for the last three years and our workforce has risen to around 400 employees at present.



Q: How did the Galle Face project come about?

A: We were invited to quote for the project that entailed reconstruction of the old wing, along with various others C1 contractors. We used our expertise in the hotel sector to develop a proposal which was not just competitive but value engineered with the level of expertise we had gained in the leisure sector by then.


Q: What were the top three challenges faced when carrying out this project?

A: The first challenge was the construction of a basement car park at the entrance of the hotel. The Galle Face Hotel is over 150 years old and the excavation and construction of the basement car park at the front of the hotel had to be done with extra care and precaution.

Secondly, a significant deliverable of this project was to recreate those finer intricate details that supported the colonial feel of the hotel. The mouldings, arches and patterns in the doors and ceilings date back centuries. In order to maintain those features we had to make a large number of immaculate shop drawings from scratch and thus had a huge drafting team on site that undertook this task and executed it with near perfection.

Finally, it was quite a daunting task to manoeuvre renovation and refurbishment work within a 150-year-old colonial structure such as Galle Face Hotel. Although we had the guidance from specialist consultants, our engineers had to take extra precaution to limit the number of 'unforeseen events'. We had to think out of the box to implement innovative techniques that ensured minimal repercussions.

All challenges were mitigated to a greater extent due to the support extended to us by the Galle Face Hotel Chairman Sanjiv Gardiner and their management team who at all times maintained an excellent relationship with Access Projects.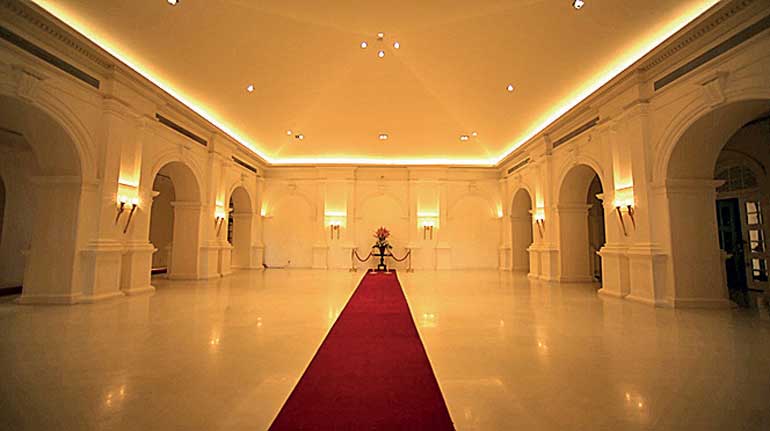 Q: What are those factors that differentiate Access Projects from competitors?

A: At Access, we get up close and personal with all projects. There is no hierarchical structure and that plays a major role in keeping staff motivated and more efficient client servicing. Moreover, we have a large number of employees including skilled workers that have carried out a large number of specialised leisure sector projects in short time spans while achieving a high level of finishing. These teams are deployed mainly for leisure sector projects therefore the learning curve is at accelerated level at present whereby enabling us to offer our clients n exceptional service.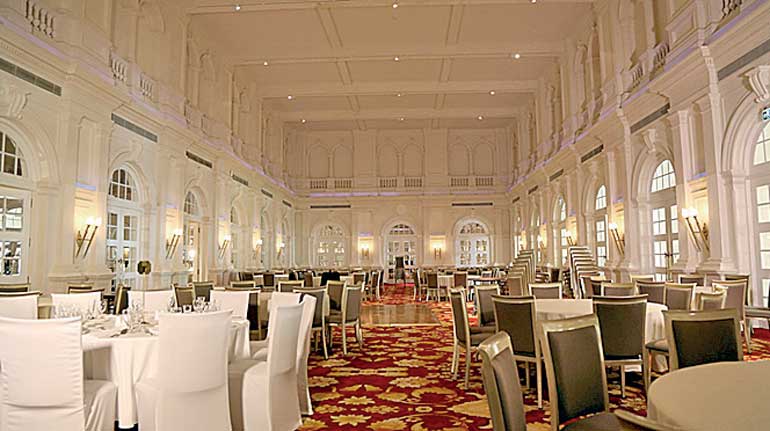 Q: What kind of value does Access Projects bring to the Lankan market?

A: The feasibility and payback of projects is instrumental for international hotel operators to come and set up their operations in Sri Lanka. As a contractor who specialises in the hotel and leisure sector we therefore, consistently give hotel operators value added and value engineered proposals.

We have set benchmarks in the local context for fast paced hotel sector construction. With international hotel chains and operators coming into the country, Access Projects envisions to position ourselves to compete with top international contractors specialising in the leisure sector whereby developing our specialised local subcontractors and creating more job opportunities for local skilled labour and local industries.


Q: What is the company's long term vision?

A: Our vision, along with our Chairman Sumal Perera's and Managing Director Dilshan Ferdinando's guidance, is to go beyond the contractor-client relationship and establish strong partnerships with our clients. With international hotel chains entering into the country Access Projects envisages a demand for high quality construction and is focused on fulfilling that requirement. We intend to take these attributes to all areas of the construction sector and be a dominant force throughout the industry.