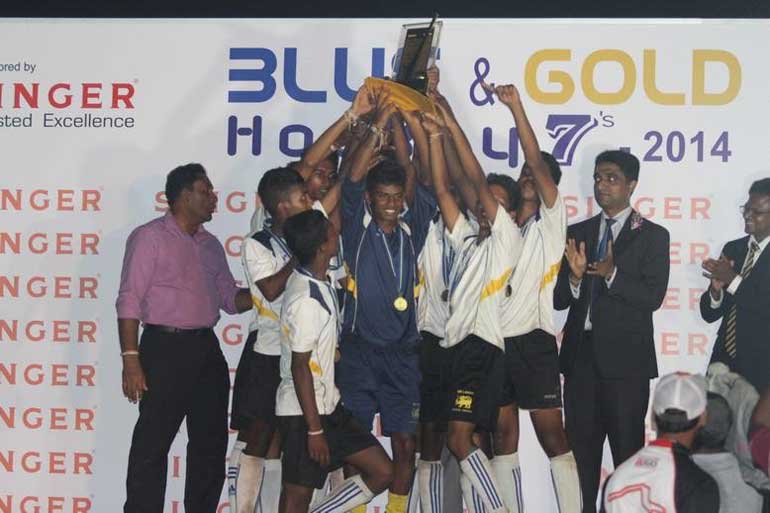 Defending champions Vijaya College Matale receives the trophy after beating St. Sylvester College, Kandy.
By Vasantha De Silva

The Royal College Blue & Gold All-Island Schools Hockey Sevens tournament will be held on 7 and 8 November at the Royal College Grounds Read Avenue. This Annual tournament is sponsored by Singer Sri Lanka for the 13th year in succession.

This tournament had 20 teams take part in the inaugural year in 1992 and was held on two days.

With Singer Sri Lanka coming on board as the main sponsor in the year 2002 it was made possible for the Royal College Hockey Club to have conducted this tournament for the 13th year in succession, attracting around 55 teams drawn from all parts of the Island including the teams from Jaffna, Galle, Matara, Uva, Wayamba, Matale, Kandy and Colombo.

It is now a date much looked forward to by the schools hockey fraternity. The tournament offers many attractive prizes including plate, bowl and cup championships. The success and durability of the tournament is due to the highly professional manner in which the tournament is conducted and is a testimony to the dedication, commitment and the spirit of Singer Sri Lanka and the officials of the Royal College Hockey Club. This tournament has brought the best in boys and girls categories and encouraged new comers to take up the game especially in the rural areas of the country.

The encouragement and support of the Education Department, Sri Lanka Hockey Federation, Schools Hockey Association and the Umpires Association is much valued and a major contributory factor in making the annual event a success every year.

The writer is the Founder Secretary of the Royal College Hockey Club.