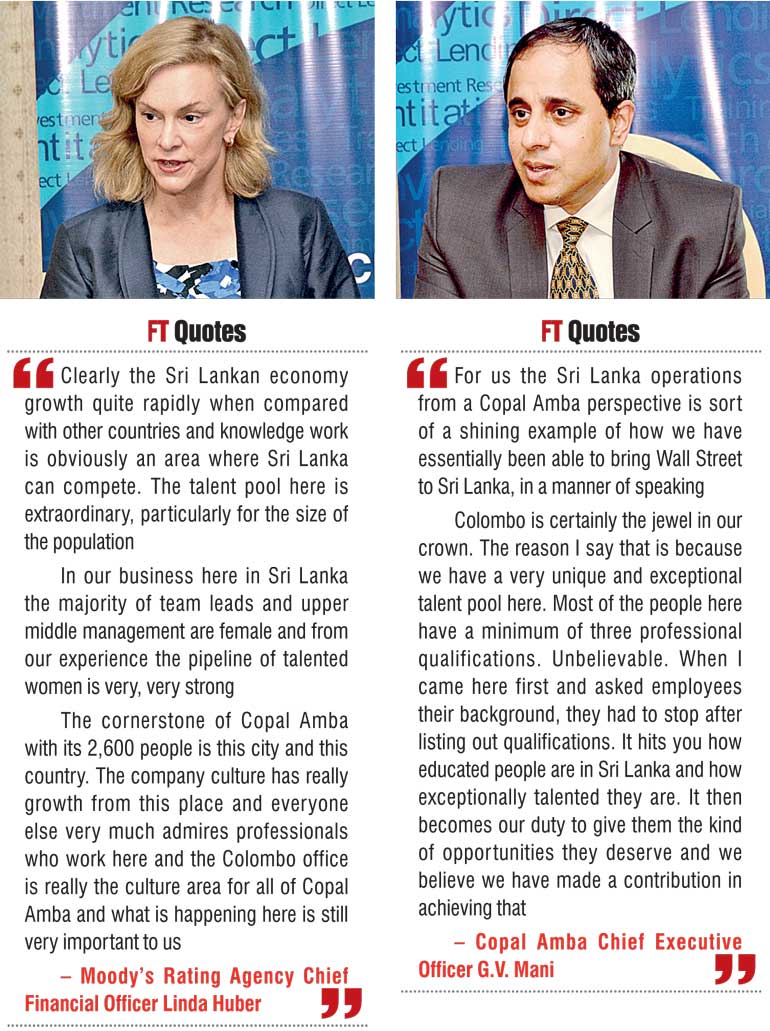 Moody's Rating Agency Chief Financial Officer Linda Huber and Chief Executive Officer of its Copal Amba unit G.V. Mani in an interview with the Daily FT outlined expansion plans for Copal Amba and Sri Lanka's potential to take knowledge services to international markets during a recent visit to the island. Copal Amba is owned by Moody's Corporation. Copal Amba is a leading provider of offshore research and analytics services to the global financial and corporate sectors. Excerpts of the interview are given below:
---
By Uditha Jayasinghe

Q: How has the acquisition of Copal Amba by Moody helped the organisation in its business growth?

Huber: Copal Amba, which has delivery centres in five countries, has very fast growth and it is a profitable business so we are very pleased to have the capabilities of Copal Amba being joined with Moody. The two parts of the business can work together very well. Both Moody's the rating agency, which is one part of Moody's corporation and Moody's Analytics which is the research and analytics part of the company and that can be served very well by Copal Amba which has about 2,600 very talented analysts and professionals on its own. So the two parts put together very, very well. We're looking for a strong growth business with focus on profitability.


Q: How fast is the growth projected to be?

Huber: The business has been growing better than 12% a year, which is very significant in a sort of 1-2% growth world.


Q: Given the current structure of Moody's, where research and ratings are done by parts of the same organisation, is there space for conflict of interest?

Huber: Copal Amba in supporting other clients outside of Moody's. We do have the beginnings of one support organisation for the rating agency and that is just getting off the ground right now and in fact that operation will be held very separate from everything else that Copal Amba does and will be managed by the rating agency so there will not be any conflicts of interest. Moody's analytics is a completely separate organisation.


Q: How will this combination help bring some of the global best practices to the Offshoring space in Sri Lanka?

Mani: For us the Sri Lanka operations from a Copal Amba perspective is sort of a shining example of how we have essentially been able to bring Wall Street to Sri Lanka, in a manner of speaking. So we do support large global financial institutions or global banks out of the Colombo operations and the way we run those operations is exactly the same way as our delivery centres everywhere else in the world. So we have about 250 people in Colombo and we have about 2,000 people in India.

Our best practices include how we recruit and how we train people. Training is important because the work we do for clients is global capital markets and when we do global capital markets in markets which are not globally ready then there is a big gap between what the people know here and taught here and what they have to work on. There is a bridge and we build that bridge through a very extensive training program, which has recognition with the CFA institute. So that is another kind of best practice.

There are also best practices in what we call the research process itself. We do a lot of documentation, technical training and transition management. The latter is another process we have to make sure the client's world is not affected because someone in our team leaves. We're very proud of our operations here and the work we do.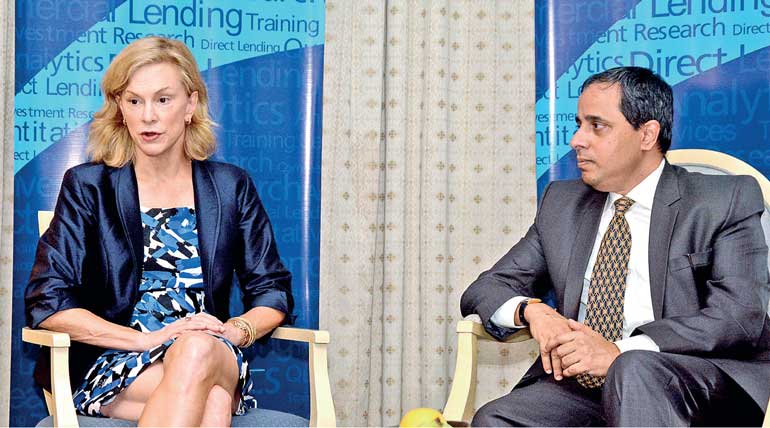 Q: What is the distinction between Moody's Investor Service and Moody's Analytics?

Huber: Moody's investor service is a regulated business and it is the better known part of Moody's cooperation and its primary function is to rate fixed income securities and that is done around the world. Moody's analytics originally grew up as a separate company to sell research written by the rating analysts. It is an unregulated business and one which allows clients to use tools to make their own credit decisions. So your choice could be you either look at the ratings from the rating agencies which is of course available free of charge or you can buy tools and do your own work and many firms in fact do both. So that is the difference between the two.


Q: What is the advantage of doing both?

Huber: It is often considered a good idea to look at a Moody's rating and be informed by that rating. Various regulatory bodies around the world are now encouraging buyers of fixed income securities to do their own credit work as well. If one is a major buyer of fixed income securities such as Fidelity or Pimco or Blackrock, those kinds of firms can very easily have many analysts of their own. However, if you are thinking of a smaller function that might buy bonds such as a small pension fund for a city, they may not have the ability or resources to do a lot of independent credit work and there a Moody's credit rating is useful is helping them make a good credit decision.


Q: What are the career opportunities that Copal Amba can now provide for Sri Lankan graduates?

Mani: There are a range of opportunities which we offer. The baseline here is you can work for an on global capital market that is the starting off point, which to me in a market like this is in itself is providing something that is not locally available. So that is how everyone starts off. So when they start working with analysts they are able to grow within the network and do more and more higher end research and higher quality work.

There are many instances where our folks here are doing essentially 85% of what an analyst would do as part of their global operations, important to note that the final ownership of what we do is owned by the client and the analyst. We are not taking any of that but the fact that we are able to help professionals in such a material way gives the analyst an opportunity to grow as a capital markets analyst.

After several years the next level of opportunities opens up, those are threefold. The first opportunity is to actually become a team leader of a team of analysts at Copal Amba, the second is to become a specialist analyst for certain clients, thirdly some of our clients are able to hire these employees and make them part of their global teams in New York or London or wherever they are located. So those are the three parts that we offer as career opportunities in Colombo. We are proud to say people who have started in Colombo now work as directors of research in renowned banks and global capital market centres like Hong Kong and London.


Q: Sri Lanka's Government has been keen to promote knowledge services. How can Copal Amba assist this policy drive?

Huber: Clearly the Sri Lankan economy growth quite rapidly when compared with other countries and knowledge work is obviously an area where Sri Lanka can compete. The talent pool here is extraordinary, particularly for the size of the population. There are a remarkable number of chartered accountants and it has always been a strength. So what we find is we are able to employ some of that exceptional talent and really give it the opportunity to blossom on a global basis and that experience, whether those individuals continue to work for Copal Amba or Moody's really creates a network of very powerful capital market professionals for the Sri Lankan economy and for the country as a whole.

At Copal Amba we have one-third of the Certified Financial Analysts (CFAs) in the country at any given time. So these are highly-credentialed, respected, financial professionals who can be successful anywhere but they have quite an opportunity working here in Colombo for Copal Amba.


Q: What are Moody's expansion plans for Copal Amba in Sri Lanka and other parts of the world?

Huber: We would like to double the revenue of the business in the next five years and we would certainly expect that here in Colombo the number of employees, which is around 250 right now, could also growth at that same kind of rate. The lesson that other multinationals might take from all this is that in Sri Lanka there is a very deep and very rich talent base and work now being able to be done, really from anywhere, given technology this is an excellent place for other companies to look in terms of trying to find analytical talent. We think what we have done is really an excellent model for other countries.


Q: What would your advice be for women in this sector?

Huber: In our business here in Sri Lanka the majority of team leads and upper middle management are female and from our experience the pipeline of talented women is very, very strong. I think in a few more years' time a number of those women could rise to run businesses here in Sri Lanka or elsewhere and experience companies like ours can give is very important. It's a combination of having a good pipeline and opportunities and from what we can see the future looks very good.

I think given the success of our business and the fact that women are put in leadership positions at Copal Amba shows that women can be given these kinds of positions and succeed. Other firms can certainly look at that and realise they can double their chances of having successful professionals if they are open minded about having women in those positions. It's very clear to us that women can succeed if they are given those types of opportunities.


Q: How important is Sri Lanka to Copal Amba?

Mani: Colombo is certainly the jewel in our crown. The reason I say that is because we have a very unique and exceptional talent pool here. Most of the people here have a minimum of three professional qualifications. Unbelievable. When I came here first and asked employees their background, they had to stop after listing out qualifications. It hits you how educated people are in Sri Lanka and how exceptionally talented they are. It then becomes our duty to give them the kind of opportunities they deserve and we believe we have made a contribution in achieving that.

The Sri Lanka capital markets, I think, have benefitted and enriched because of these efforts. The founders of Amba had the vision and said we need to be here and that gave Copal Amba the market edge because of such awesome talent here. We have to train people because we don't get trained professionals in the business we are in so over the years we have developed a very solid training program which is now part of the CFA curriculum and we do that with Securities and Exchange Commission so on and so forth. But what is interesting is this training program has become so popular companies want us to come to them and train on capital market. So we ended up having a business around training run and managed out of our Colombo centre. We are very proud of it and we feel that developing talent is very very powerful.

Huber: The cornerstone of Copal Amba with its 2,600 people is this city and this country. The company culture has really growth from this place and everyone else very much admires professionals who work here and the Colombo office is really the culture area for all of Copal Amba and what is happening here is still very important to us.

Pix by Upul Abayasekera