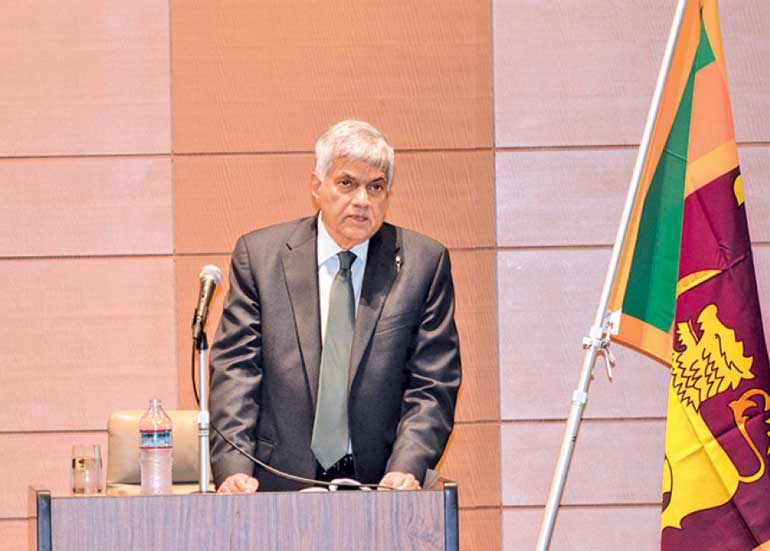 Prime Minister Ranil Wickremesinghe addressing the Japanese National Diet
The newly-formed National Government of Sri Lanka is working to gain international assistance for post-war reconstruction and development. On this basis, Prime Minister Ranil Wickremesinghe's five-day visit to Japan offers a new optimism in Japan-Sri Lanka diplomatic relations.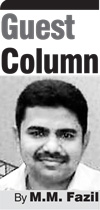 This official tour was organised on the invitation of Japanese Prime Minister Shinzo Abe. During the visit, Wickremesinghe delivered the keynote address at the opening plenary session of the Science and Technology in Society (STS) Forum at the Kyoto International Conference Centre in Kyoto. He later proceeded to Tokyo to deliver a Special Memorial Speech to the Parliamentarians of the Japanese National Diet. Previously, only two State leaders have been given the opportunity to address the Japanese Parliament. They are Indian Prime Minister Narendra Modi and US President Barak Obama.

The tour also included high level bilateral talks with Prime Minister Shinzo Abe and several other members of the Japanese Cabinet. The talks paid special attention on economic, trade, investment relations between the two countries and science and cultural fields.


Warm and friendly relations

Historically, Japan and Sri Lanka have maintained warm and friendly relations over the past 63 years. Sri Lanka is also known as a traditional friend and supporter of Japan. After World War II, Sri Lanka voluntarily waived any right to receive war reparations from Japan under the San Francisco Peace Treaty, and it was one of the countries that greatly contributed to creating an international environment favourable, both politically and economically, to the recovery and development of post-war Japan.

Since 1952, official as well as people-to-people relationships between the two countries have grown significantly through the combination of cultural and economic ties between the two governments and the people.

Japanese Official Development Assistance (ODA) to Sri Lanka has grown through the past half-century. Currently, Sri Lanka is a priority aid recipient country in Southwest Asia, and receives assistance in many forms, including grant aid, technical cooperation and loans. The bulk of all external aid to Sri Lanka is given by Japan which is about 45%. In terms of per capita aid, Sri Lanka has received the largest amount in Asia.


Shift towards China

Due to the protracted ethnic conflict in between majority Sinhalese and minority Tamils, the brutal war began in 1980s in the island. Three decades of the war ended in 2009 through the defeat of the Liberation Tigers of Tamil Eelam (LTTE).

In the post-war scenario, former President Mahinda Rajapaksa's led government did not maintain good term of foreign policy and diplomatic relations with its Western counterpart. Rajapaksa's Government mainly attempted to follow pro-China diplomacy for post-war recovery, reconstruction and development. Specially, war crime allegations against to previous Government had not provided opportunity to maintain worthy international relations.


Change in foreign policy

Newly-elected President Maithripala Sirisena and his Prime Minister Ranil Wickremesinghe stepped to move away from the former Government's pro-China diplomacy after they took office in January 2015. At this juncture, it is crucial to discusses Ranil's present visit to Japan and changes Sri Lanka's foreign policy.

Wickremesinghe met with his Japanese counterpart, Shinzo Abe, in Kyoto. Japanese Prime Minister Shinzo Abe proposed to establish an active group comprising high ranking ministers and officials to further strengthen the relationship with Sri Lanka. The Japanese Prime Minister had echoed these sentiments when he met with visiting Sri Lankan Prime Minister Wickremesinghe on the sidelines of the Science and Technology Summit in Kyoto. He had expressed confidence that Sri Lanka would experience a rapid growth under the current Government and said that Japan would extend its fullest support.

Further, delivering a memorial lecture at special conference hall 6 of the Japanese Parliament in the presence of Japanese Prime Minister Shinzo Abe, Wickremesinghe outlined extensive plans for development before the members and requested assistance on multiple fronts. Further, he called for Japan's support to hold a summit for the social and economic development of the north and east for reconstruction and development.


Tokyo Donor Conference

Similarly, Wickremesinghe's previous Government (during 2002 to 2004), had requested international community to assist for post-war development which led to the Tokyo Donor Conference on Reconstruction and Development of Sri Lanka was held in June 2003. The engagement of the international development community, directed by the World Bank, the International Monetary Fund (IMF), the Asian Development Bank (ADB) and many of the bilateral aid agencies, yielded pledge 4.5 billion dollars in reconstruction and development aid at the Tokyo Donor Conference.

As time progressed towards the need of very important and tough periods of diplomacy and incentives, the Tokyo Donor Conference took shape in the form of three countries, namely the United States, Japan and Norway together with the European Union, assuming the mantle of Co-Chairs of the Tokyo Donor Conference. Nevertheless, deadlocked peace talks and restarting of the war disturbed the successful implementation of the theme of Tokyo Donor Conference.

If the Government of Japan takes necessary step to hold a summit according to the present request of Wickremesinghe, it would excellent opportunity for post-war development of Sri Lanka. It may another successful story of diplomacy changes of the new National Government.


Support for Sri Lanka

Prime Minister Wickremesinghe also attended a summit meeting at the Prime Minister's office with Japanese Prime Minister Shinzo Abe. The meeting was also attended by a delegation including Ministers Ravi Karunanayake, Mangala Samaraweera and Susil Premajayantha.

The joint statement, which was released following this meeting, stated that Japan will would Sri Lanka in the promotion of investment and trade, cooperation on the National Development Plan in Sri Lanka and National Reconciliation and Peace-building.

Further, Prime Minister Shinzo Abe expressed his gratitude for Sri Lanka's continued support for Japan's bid for a permanent seat in the UN Security Council. Following the meeting, an exchange of notes for the 45 billion yen Bandaranaike International Airport Development Project phase 2 was signed by the ambassadors of both nations.


Maritime security

Importantly, cooperation on maritime security matters was also discussed in this visit. The leaders pledged to cooperate to ensure the safety of sea lanes in the Indian Ocean. Japan has been apprehensive of China's increasing maritime activities in the region. The two Prime Ministers also agreed to hold working-level talks by the year-end to discuss maritime security and anti-pollution measures.

Moreover, Tokyo is alarmed at China's increasingly assertive posture in the maritime domain, and views the disputes in the South and East China Seas as linked. To mitigate its concerns over the South China Sea, Japan is pursuing a number of strategies: it raises the problem at regional security forums; it seeks to enhance cooperation with the Association of Southeast Asian Nations on issues of maritime security and encourage unity within the organisation on the South China Sea; it discusses the problem bilaterally with Southeast Asian countries and has started to provide capacity-building support to selected claimants (principally, the Philippines); and it seeks closer ties with other external stakeholders that share its concerns.


China-Sri Lanka relations

Chino-Lanka diplomatic relations in the previous Rajapaksa regime created security suspect to international community. Specially, criticism climbed that China might use Sri Lanka (its natural harbour) for its domination in Indian Ocean. Therefore, Japan may possibly try to get Sri Lankan's support to mitigate China's security threat in the Asian region.

China may not happy with maritime security dialogue among leaders of Japan and Sri Lanka. Sri Lanka should carefully maintain its diplomatic relations in this regard. We ought to gain support and assistance from almost all countries owing to our war affected situation. This move also possibly may harm China-Sri Lanka relations in number of ways. Because, numerous construction projects in Sri Lanka has been completed by Chinese companies and some other projects are ongoing at present. Therefore, Sri Lanka is putting its nose into power rivalry of Asian economic super powers which is not good.

Overall, Wickremesinghe's recent diplomatic visit to Japan promoted bilateral relations of both countries. Hopefully, Japan's development assistance to Sri Lanka may perhaps increase to promote post-war development and reconciliation. It will uphold war affected people and entire nation. But it is essential that the National Government carefully maintain its relations with other super powers in the region.
(The writer is a lecturer in political science at South Eastern University of Sri Lanka, Oluvil.)