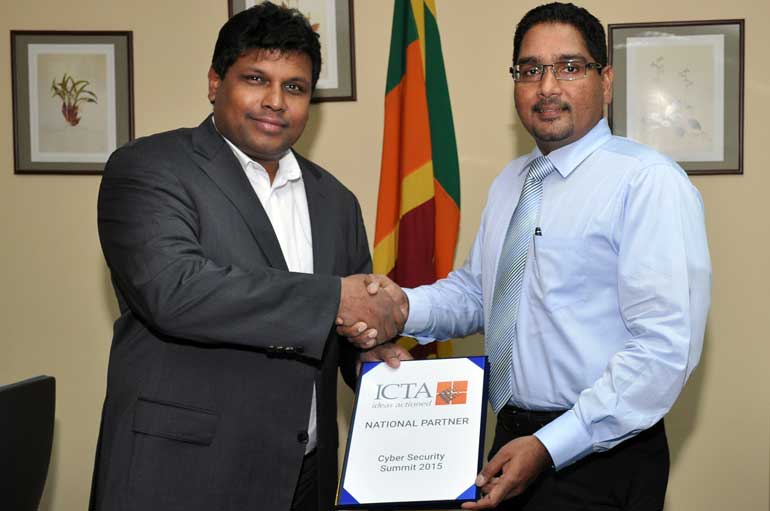 CICRA Holdings Director/CEO Boshan Dayaratne (left) and ICTA Managing Director/CEO Muhunthan Canagey exchange the National Partner support documents for the Cyber Security Summit 2015 - pic by Lasantha Kumara
For the third consecutive year, the ICT Agency of Sri Lanka announced its support for the Cyber Security Summit by functioning as its National Partner.

The summit, which will be held on 29 September in Colombo, will comprise a Cyber Security Summit for IT professions targeting senior officials from the corporate and government sectors, and a 'Night Hack' – an informative evening. A Leadership Forum with CEOs of top corporations will follow on 30 September.

The summit will feature high-profile international IT security experts including those who have worked with Interpol and Fortune 500 companies.

Entitled 'EC-Council Cyber Security Summit 2015', the event is co-organised by CICRA Consultancies Ltd., Sri Lanka's pioneering cyber security training and consultancy provider, and the Daily FT.

"We are indeed happy to be associated as the National Partner of the EC-Council Cyber Security Summit," ICTA Managing Director/CEO Muhunthan Canagey said.

"As the Apex policymaking body for the Government of Sri Lanka on all ICT matters including cybercrime, and as mandated, to implement the Government's ICT, we are glad to partner this conference as it talks about a topic of national interest," Canagey said.

"Cyber security is an important aspect that our industry needs to discuss. It is a common platform for both private and government institutions. We are glad to see such initiatives spearheaded in the Industry and we will continue to support such efforts which are of great importance.

"ICTA facilitated Sri Lanka's biggest cybercrime convention recently, and with this Sri Lanka became the first country in South Asia to join an important Convention on the subject of Cybercrime. The Budapest Cybercrime Convention is the only Criminal Justice Convention on Cybercrime available at present. ICTA is proud to be the force behind its introduction in Sri Lanka," he said at the ceremony to announce ICTA's partnership with the summit.

Speaking at the ceremony, CICRA Director/CEO Boshan Dayaratne said that the cyber security summits in 2013 and 2014 were a tremendous success and he expected this year's summit to create more awareness amongst corporate entities about cyber security risks and how to mitigate those perils.

"As cyber security threats skyrocket and not even a day passes by without a cyber security breach on a corporate or a Government entity on its IT infrastructure, we are pleased to see that the Ministry of Telecommunication and Digital Infrastructure and ICTA have joined hands with EC-Council Cyber Security Summit 2015 in Sri Lanka," Dayaratne said.

The main objective of the summit is to create awareness over the importance of cyber security and to provide top officers in the Government, leading private sector leaders and IT professionals with best practices in acquiring, implementing, managing and measuring information security postures of their organisations and developing countermeasures.

The summit will also highlight the latest flaws in information security that affect the global community, including corporations and governments. Discussions and presentations will revolve around some of the most malicious attacks and potential threats surrounding the security field.

EC-Council stands for International Council of Electronic Commerce Consultants. "EC-Council is the world's largest vendor neutral cyber security education provider based in USA. It is the owner and developer of the world-famous Certified Ethical Hacker course (C|EH), Computer Hacking Forensics Investigator program (C|HFI), License Penetration Tester (L|PT) program and various other programs offered worldwide," Dayaratne stated.

More details about the summit, including the registration process, can be obtained at www.cybersecuritysummit.lk.