​Smile of significance!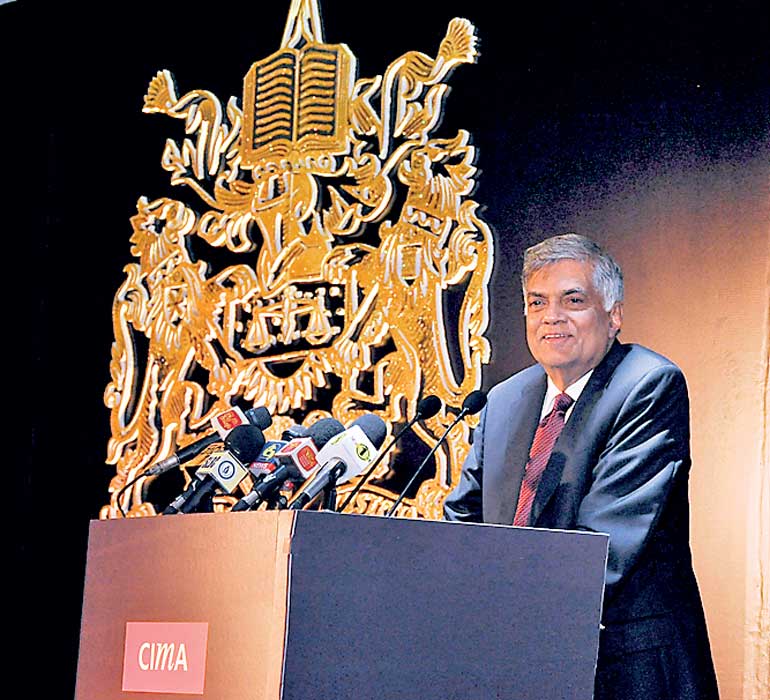 Prime Minister Ranil Wickremesinghe smiles as he speaks at the CIMA Sri Lanka 50th anniversary celebrations last night when he revealed to the nation the breakthrough achieved at the UNHRC sessions in Geneva - Pic by Lasantha Kumara
By Nisthar Cassim

Prime Minister Ranil Wickremesinghe last night hailed the compromise between the Government and member states sponsoring a resolution on Sri Lanka at the UN Human Rights Council in Geneva, saying the world had accepted their commitment to democracy.

Prime Minister Wickremesinghe used his address at the 50th Anniversary celebrations of CIMA Sri Lanka as the platform to announce that Sri Lanka had decided to co-sponsor the resolution drafted by the US, UK and other European states.

"We will no longer have to face the pressures we have been facing for the past five or six years, the world has accepted the fact that we are building a democratic society," said Wickremesinghe, who made the announcement first in Sinhala before switching to English.

He said the Government had agreed to a Sri Lankan judicial mechanism, under the country's own judicial framework that will include the office of a special counsel, which will investigate major violations.
"They will certainly have the help of not only Sri Lankan but also Commonwealth and foreign judges and lawyers. But all that has to be authorised by Sri Lankan law," the Premier said.

He said that all measures will be taken according to and under the Constitution of Sri Lanka.

"So thereby one of the biggest issues facing our country in the last five or six years has been removed and we can face the future with confidence, doing so on the occasion of the 50th Anniversary of CIMA Sri Lanka," Wickremesinghe asserted amidst applause from a packed audience comprising Ministers, Deputy Ministers, CIMA President Myriam Madden, CEO Charles Tilley, business leaders, all past Presidents of CIMA Sri Lanka and the current leadership of CIMA Sri Lanka.

He also told the audience that there had been great fear that the country would have to face economic sanctions as a result of international action. "We are no longer in a cage," he added.

The Prime Minister said that CIMA Sri Lanka had a vital role to play in the future. "You have a vital role to play in creating a million jobs, in making Sri Lanka a highly competitive social market economy, in raising the income of people, creating a strong middle class and uplifting our rural economy," he said.

"We need enough qualified people in this march forward," he told the CIMA forum.

He also said that several initiatives had been taken including the establishment of ministries dedicated to strengthening the country's human capital and bolstering the knowledge economy. Further "ambitious" measures had also been taken to restructure public enterprises and create wealth for ordinary people as well as to strengthen private enterprises.