By Dharman Wickremaratne

Maithripala succeeded as SLFP President after Mahinda Rajapaksa. The position was either given to Maithripala or it was taken. People raised their voices in support of Mahinda. The issue of nominations came up but that obstacle too was overcome. Although NGOs protested and the President made a special statement after nominations were given, it did not change the direction in which the political winds were blowing.

This time there were no cutouts of Mahinda anywhere in the country. There were no processions and posters. Intellectuals and academics, who remained silent up to now, are being drawn towards the Mahinda campaign.

What the incident proves is the shortcomings in the security given to the former President. Since Mahinda ended a 30-year armed conflict by totally defeating the Tiger terrorists he faces a far greater threat to his life than other previous Presidents. When former National Security Minister Lalith Athulathmudali – one of the three most powerful cabinet ministers in the J.R. Jayewardene Government - signed the Impeachment Motion President Premadasa reduced the minister's special security. Thereafter he had only normal security.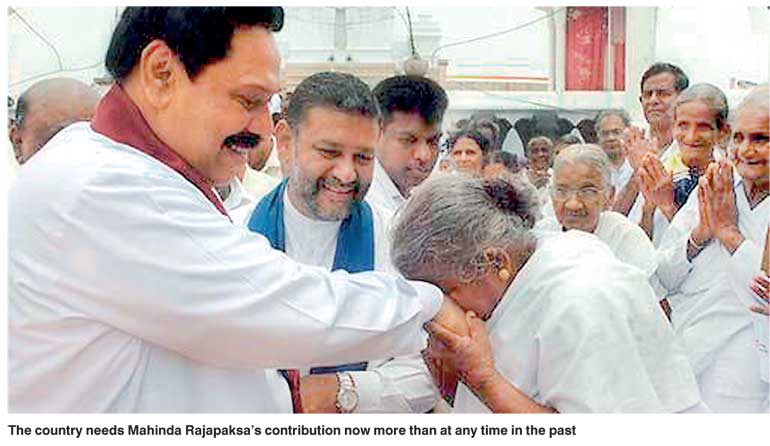 The LTTE took advantage of it and assassinated him on 23 April 1993 at 8:10 p.m. The body of Ragunathan, the assassin who fired six shots into Athulathmudali, was later found at Mugalan Road. But the people did not accept the story. Australia's Frontline magazine in its June 1993 issue reported that Ragunathan's body was displayed to divert attention from the real assassin. Athulathmudali was killed when he was campaigning as Western Province Chief Ministerial Candidate during that year's Provincial Council Election.

UNP's Presidential Candidate Gamini Dissanayake was assassinated during a party propaganda meeting at Grandpass on 24 October 1994. Altogether 61 persons, including Dissanayake, Ministers M.G. Premachandra and Weerasinghe Mallimarachchi, Ossie Abeygunasekera and Dr. Gamini Wijesekera were killed by the LTTE suicide bomber. Chandrika Kumatunga lost an eye in another Tiger bomb blast at Colombo Town Hall grounds on 18 December 1999 during the final propaganda rally held in connection with that month's Presidential Election. A total of 16 persons died in that explosion.

Eight years earlier, on 21 May 1991, a Sri Lankan Tamil female terrorist blew herself up killing Indian Prime Minister Rajiv Gandhi and many others in Tamil Nadu. More and more voters are expressing support for the UPFA which includes the SLFP. Cracks have appeared in the vote base that pushed the present government to power under the Swan symbol. No one will be able to avoid dealing with a parliamentary majority under Mahinda Rajapaksa's leadership.

The UNP throughout its history was never inclined towards nationalism. Similarly when Chandrika Kumaratunga became the SLFP leader those who helped her to come to power were the pro-separatist Sinhala faction. Under her regime NGOs like Sudu Nelum and Thawalama backed by Government funds tried to brainwash Sinhala people towards supporting separatism. It is this group which is now trying to defeat Mahinda Rajapaksa hook or by crook. Although some of them pretend to be nationalists their roots are in the UNP. It is not surprising they are trying to serve their dubious agenda under the cover of Yahapalanaya (good governance).

Mahinda Rajapaksa has come forward to safeguard the country which has been liberated from separatist terrorism and to revive the battered nation. Hence he is caught between Tamil separatists and Islamic extremists.

After the military victory it was the Northern and Eastern Provinces which saw the highest level of development. During the last presidential election the people of north and east helped Maithripala Sirisena – who had TNA and SLMC support – to win by a majority of 654,961 votes. Accordingly, he received on a district basis 179,300 votes from Jaffna, 107,040 votes from the Wanni, 167,791 from Batticaloa, 112,333 from Digamadulla and 88,227 from Trincomalee. The total number of majority votes by which Maitripala Sirisena defeated Mahinda Rajapaksa was 449,072.

The so-called Yahapalana Government is asking what the Mahinda Rajapaksa Government did during the past nine years. The fact is the first four years – from 2005 to May 2009 – were spent on ending the 30-year brutal terrorism which claimed 60,000 lives. The balance five years were spent on restoring normalcy in the North where people suffered immensely during two decades.

Massive development projects were undertaken to rehabilitate thousands of families displaced by the war. Admittedly there were some shortcomings in this work. But on the whole it was many steps ahead of what happened during the 17-year UNP rule (1977-1994).

Groups, parties and individuals supportive of Tamil separatism and the 'Yahapalana' regime are arguing that politicians who grew up in the old political environment should now retire from politics. They have forgotten that J.R. Jayawardene who became a Colombo Municipal Councilor at the age of 34 became Executive President only at the age of 72. When he retired from politics in 1989 he was 83. Sirimavo Bandaranaike, who became Prime Minister for the third time, under the PA Government, remained so until she passed away at the age of 84. She was in a wheel chair during her last days.

Hence there is no reason why the leader who came into politics at the age of 24 should retire from politics at the age of 69. The country needs a real leader for a few more years to defend the nation. After D.S. Senanayake it is only Mahinda Rajapaksa who has had a vision for Sri Lanka. A UPFA victory at the next General Election means not only defeating a rival political party or alliance but also a defeat of anti-national forces. Separatist ideas still remain as sparks which can at any moment burst into flames.

According to CAFÉ (Campaign for Free & Fair Election) there have been 372 complaints of violations of election laws up to 21 July. The number of complaints on misuse of public property and public sector employees, appointments and transfers is 181. The National Election Monitoring Centre has received 218 complaints.

UNP Ratnapura District Candidate Sarachchandra Ramanayake has been released on Rs. 500,000 personal bail by Ratnapura Additional Magistrate following a charge of forcibly releasing a suspect who was the custody of the Kalawana Police on the night of 14 July. On the night of 20 July the Avissawella police took into custody four persons along with their van when they were violating election laws by screening a propaganda video in support of Colombo District UNP Candidate Justice Minister Wijedasa Rajapaksa in Avissawella Town. On 21 July a UNP supporter was produced before the Thambuttegama Magistrate for assaulting a Grade 7 student of a school in Rajangana accusing him of drawing moustache on Minister Harrison's photo on an election poster. There have been many such complaints from all over the country

The people's choice will remain a secret until 17 August. Until then we'll be seeing these nonsensical and comical incidents. Instead of placing before the people party manifestoes and policies what these parties are doing is to attack and insult their rivals. The seven month-performance of the 'Yahapalana' Government proves the country needs Mahinda Rajapaksa's contribution now more than at any time in the past.

(The writer is a senior journalist who can be reached at [email protected])