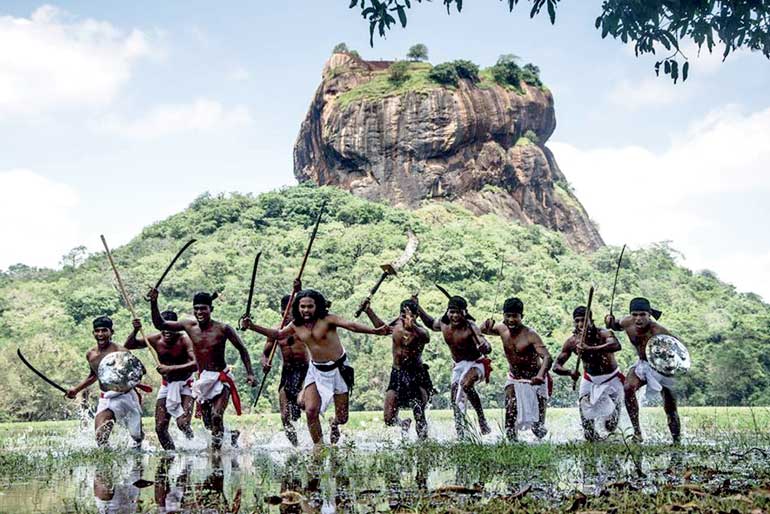 By Sarah Hannan

Q: Digging deep into an island's history can be quite the challenge. What inspired the team to relate the story of Angampora and its origins?

A: Our photographer Reza was the person who laid the foundation for the project four years ago, when he started taking photographs of Angampora practitioners for his personal interest. When his photographs went viral after being featured on Huffington Post last year, he saw the interest that the global community had to learn about the art. We saw this as an opportunity to do something really special and decided to put our knowhow together to make something truly historic and help bring Angampora into the global spotlight by unearthing its lost story through the medium of photography.


Q: The team behind the project; how did you meet and what was the concept for the project at the initial stage?

A: The members of the team – Reza, Dewmith, Nuwan and I – are all good friends. Reza, Dewmith, and I were all friends since our school days at Royal College and Nuwan is a close friend who we met a few years ago thanks to our mutual friends and common interests. All of us wanted to work together to start our own venture because we did not fit into the profile of the regular 9-5 office worker. We are all passionate about our country and we have got a lot of creativity and enthusiasm to do something novel, so we decided to put our skills together to help bring this art into global awareness as our first project through our partnership: Oceans and Continents Partners.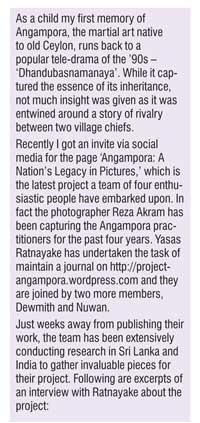 Laying the groundwork was tough and we began with limited capital and big dreams. We are still handling the work of about 10 people between four heads, but we are really proud of where we have come since the time Reza and I first discussed this idea about a year ago. The work is challenging, and it is not easy to be a start-up in Sri Lanka because not too many people believe four young guys who have taken an alternative career choice. But we know the importance of what we are doing and we love every moment of it.


Q: Tracking down the leads for your story board – what were the goals and challenges that you had to face?

A: We have received a tremendous amount of help and inspiration from our main researcher who is a guru of one of the oldest lineages of Angam fighters in Sri Lanka. Due to his request, we have kept his name undisclosed (but we will be introducing him to everyone following our progress very soon). He has a wealth of knowledge about the subject and has already done a lot of work himself to piece together this history. We would not be doing the project without his help, and he was instrumental in guiding our project to where it is now.

Our goal is to make history. As for challenges, we have had no shortage of them. Each day is a challenge for us. The fact that something on this scale is being done for the first time means you have to personally look for first-hand information and be very meticulous about the research. Also, the history of the art is scattered around in many places in the country and abroad in museums, archaeological sites, and archives, so it is a big task to track down all these things while sticking to deadlines.

Then there are traditional practitioners, who live in remote areas of the country and we have to travel a great deal to these places to get what we want. In addition to that, obtaining permissions to photograph artefacts at museums and staging action sequences in archaeological sites is a painstaking process. We have also had to obtain and handle horses, buffaloes, and a tusker for the shoots, and you can imagine what that must have been like. Most importantly, finding the funding to make this happen when you have so much to handle is tremendously challenging.

Being a small team and doing the work of a big project is not easy at all. But regardless of all that, we have come a long way as a team and overcome a lot of challenges that come with doing something novel for the first time. We believe that the book will help revive worldwide interest in Angampora and that is a great motivator. Seeing what we have captured is our biggest inspiration, and we are very excited to show what we've done to everyone in Sri Lanka and around the world.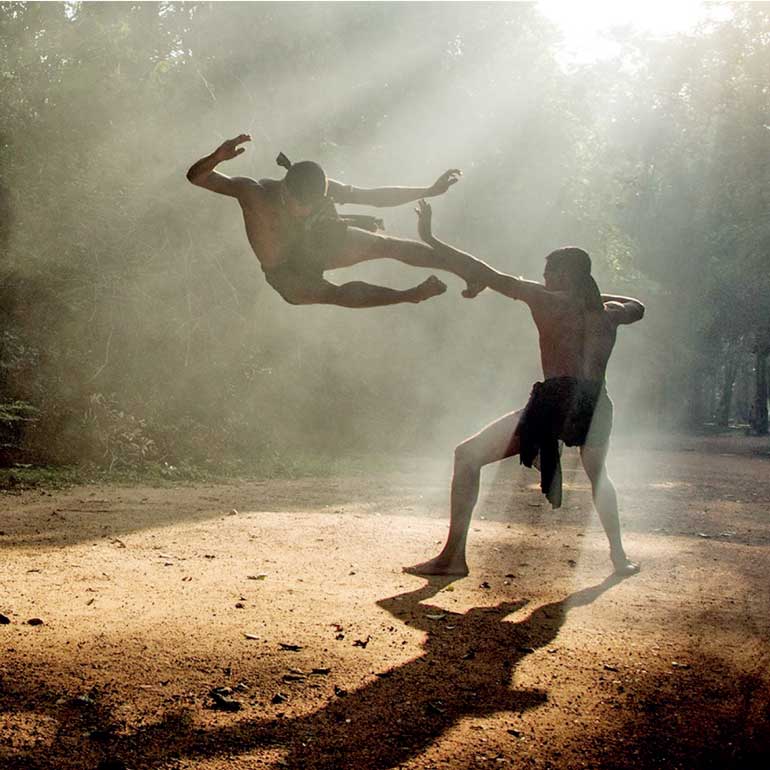 Q: How many locations have you covered so far and how does your journey to India fit into the picture?

A: So far we have covered over 30 locations. Most of the places we have covered are in Sri Lanka. This includes archaeological sites, museums, and locations where we have shot action photographs for the book. I am sure we have travelled more than 5,000km if you tally up the distance of our journey in Sri Lanka alone!

As for India, it was important that we went to some places in Maharashtra and Kerala to get what we wanted for our story. The ruins in Ellora contain some of the few remaining stone sculptures of Ravana, the mythic King of Lanka. The story of Ravana has much to do with the history of Angampora, so we had to go to Ellora to do justice to the history of the art. Also, the frescoes at Ajanta also held important clues to our story. There is a huge wall painting of Vijaya's arrival in Sri Lanka in cave number 17 in Ajanta and it depicts warriors of Lanka in battle with Vijaya's forces. These were important elements for our narrative.

The Keralan martial art of Kalaripayattu has been compared by commentators to Angampora, to the extent of calling Angampora an offshoot of Kalari. We wanted to get to the bottom of this and see whether this was true so we travelled to many places in Kerala to track down traditional Kalari practitioners and we found the information we were looking for. What we found was there were similarities between Kalari and Angampora, but Angampora was more advanced in several respects.

These things will only form a small part of our story, but it is invaluable that we captured this information in photographs so we are thrilled to show these findings in our book.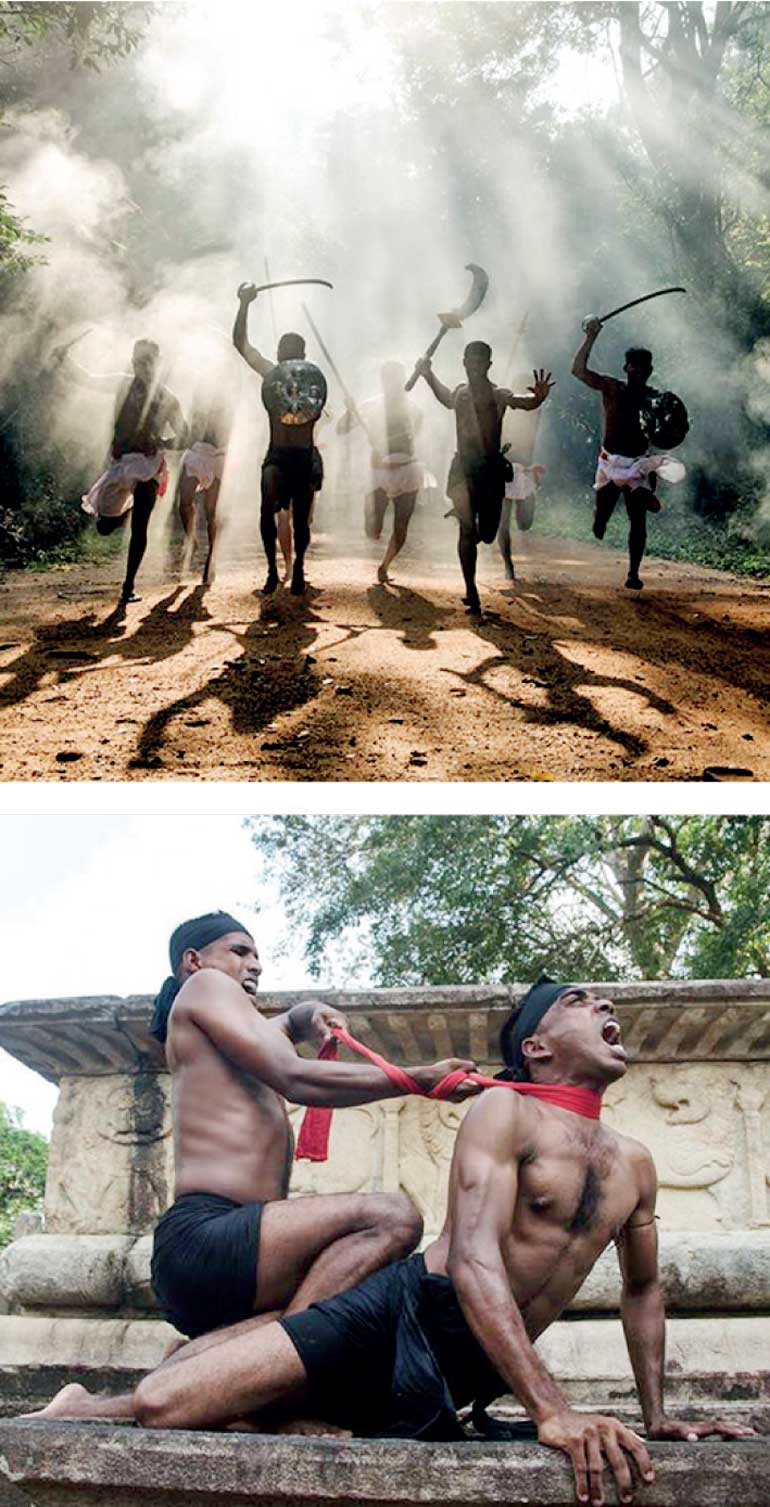 Q: While at location how did you troubleshoot when you faced a challenges and are there any special moments you

would like to recall?

A: We have had a lot of challenges on shoots, from capturing the perfect light for a shot to coordinating animals and dealing with site officials. But more than anything, we have had a great amount of unforgettable moments, which has made the effort worth it.

Meeting a 104-year-old Angam master, travelling thousands of kilometres in Sri Lanka and India, seeing ancient artefacts nobody has seen before, and seeing a fascinating hidden aspect of our culture has been an amazing experience. We hope we can use these experiences to help inspire people to discover our land and culture in new ways. We have seen Angampora from inside out, and we really believe it's a true heritage of humankind.
Q: Your goal to publish the book, is it on track? Can you also elaborate on the crowd funding scheme that is currently taking place?

A: Yes. We are making great progress in finishing the book. Although we have not finalised an exact date yet, we hope to release the book at the end of August this year. We have taken more than 15,000 photographs for the project and the toughest part is to choose which photos to put in the book.

We partnered with New York based crowd funding platform Crimso.com to help raise funds for the project in return for books and photography prints for special rates. One of the main reasons we did this was to bring together a community of people around the world to support the revival of Angampora in Sri Lanka. We have until 30 July to raise the funds, so we encourage all those interested to contribute towards the success of the project.

We are also speaking to corporates in Sri Lanka to help us take this project forward. Corporate citizens have an important role to play in helping protect our culture, so we are looking for support from socially-responsible businesses to partner with us. You can contact the team through email on [email protected], or on Facebook: Angampora: A Nation's Legacy in Pictures.

Pix courtesy Reza Akram
​