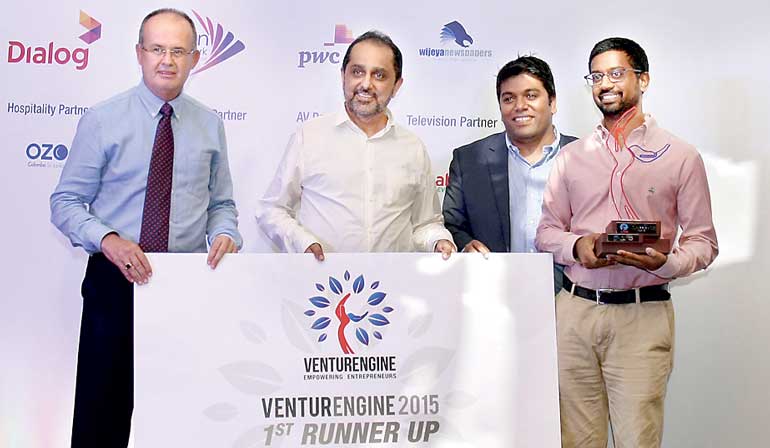 From left: Dialog Enterprise Group Chief Officer Jeremy Huxtable, ExpoLanka Group CEO Hanif Yousuf and Orion City CEO Jeevan Gnanam with the Venture Engine 2015 1st Runner Up Yamu Founder Indi Samarajiva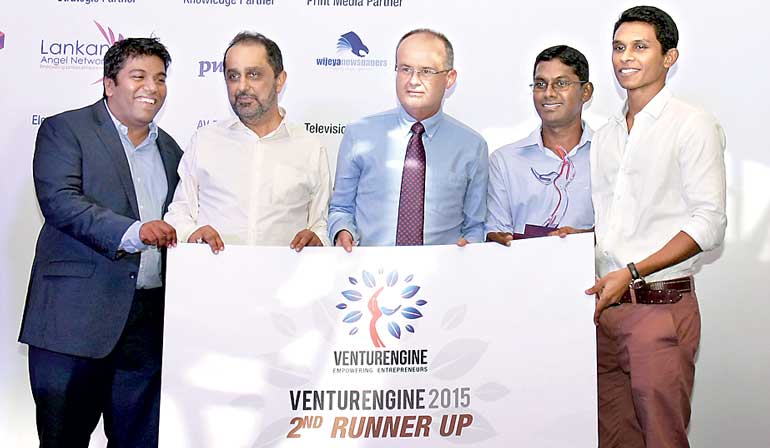 From left: Orion City CEO Jeevan Gnanam, ExpoLanka Group CEO Hanif Yousuf and Dialog Enterprise Group Chief Officer Jeremy Huxtable with Buddika Witharana and Shanaka Mendis of Infocom International, Lisn, Audio books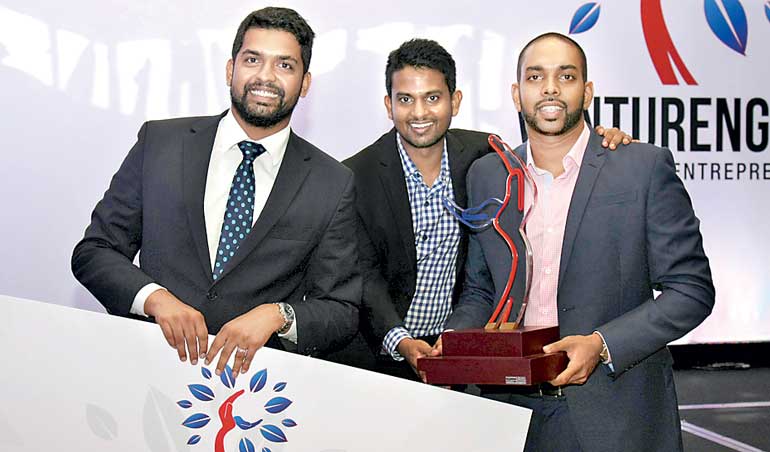 From left: Winners of Venture Engine 2015 – Co-Founders of Stripes & Checks, Udara Ratnayake, Kalana Jayasuriya and Gajan Vinothan
The Venture Engine entrepreneurship development program drew to a close at OZO Colombo on 23 June, marking a successful four-year run.

The 11 finalists behind the top ranked projects made their final presentations to a panel of internationally-renowned judges comprising members of the Lankan Angel Network (LAN) and Indian Angel Network (IAN). Of the final presentations, the top three business plans belonging to Stripes & Checks, Yamu, and Audio Book received this year's honors.

Speaking on the talent pool the investors assessed, Prajeeth Balasubramaniam, Co-Founder of Blue Ocean Ventures said, "This year's talent pool represented a wider array of sectors than we have seen before. We also saw a significantly higher degree of innovative thinking and passion brought to the table. The investors were especially impressed by the level of forward thinking and proactive solutions that were presented. The fact that the projects consistently keep improving every year is an indication that entrepreneurs are developing greater confidence and have truly thought through their business plans. As always, Venture Engine is pleased to lead the creation of this ecosystem in Sri Lanka."

Venture Engine 2015 saw 150 entries encompassing a wide range of industries such as Food Technology and Processing, Ayurvedic and Healthcare, Education, Design, Gaming, Chemical and Fertilisers, IT and Ecommerce, Social Media, Tourism and Hospitality, Bio Tech and Logistics. The finale was attended by potential investors from the Sri Lankan, Indian, Chinese and US business communities.

In what is described as a highly-advanced level of competition, this year's winners include, Stripes & Checks, manufacturers of made to measure shirts; Yamu, an online guide to dining and leisure in Sri Lanka; and Audio Book, a company that provides books in audio format which are also available native languages. The next step for these businesses as well as the other eight finalists will be dialogues with potential investors and discussions on logistical decisions on the next phase of their growth.

A unique aspect of the program is the opportunity afforded to every participant regardless of final ranking. Throughout the competition – during pitches, workshops and presentations, the participants work closely with potential investors from LAN who often choose to invest additionally in many businesses other than just the finalists.

Expolanka Group CEO Hanif Yusoof, speaking on the company's decision to be the Platinum Sponsor of Venture Engine for the fourth year, explained: "As a company with entrepreneurship engrained its DNA, Expo Lanka is a strong believer in the potential that is brought to light at every single Venture Engine installation. This association is our way of continuing to support the growth of new businesses and the realisation of dreams, while helping the talented individuals behind them to achieve their potential."

Speaking on this year's competition,

Jeevan Gnanam, CEO of OrionCity Sri Lanka and also a Platinum Sponsor of Venture Engine, explained: "The SA Group and now Orion is built on a strong foundation of entrepreneurship. Every year we look forward to being part of this program, our way of being part and giving back to the exciting and quickly growing ecosystem of startup culture."

"We are humbled to have been given the opportunity to partner with the Venture Engine programme for the fourth consecutive year running," Dialog Axiata PLC Group Chief Information Officer Anthony Rodrigo said. "The platform shaped by the Venture Engine programme has been instrumental for providing the capital and expertise needed for the augmentation of entrepreneurial spirit that will take Sri Lankan startups to reach their full potential not only locally, but on a global stage as well. I wish all finalist of Venture Engine 2015 all success."

OMAK Technologies Managing Director Ehantha Sirisena said: "Venture Engine was an amazing experience. Not only did it help us grow and attract a high level of investment, it also provided the mentoring and insight that made it possible for us to bridge so many gaps in so short a time. I would like to congratulate this year's winners and wish them the success they deserve."

Indian Angel Network President Padmaja Ruparel, speaking on the success of the 2015 installation of Venture Engine, said: "Venture Engine is growing year on year – and in every way! It has seen an increase in number of startups, sectors and investors! Clearly, entrepreneurship has come to stay in Sri Lanka and Venture Engine has been the big catalyst for this. IAN is a proud Founding Partner."

Commenting on the program's progress, LAN Chairman Eric Wikramanayake said: "The Venture Engine program has become one of the invaluable cornerstones of the Sri Lankan startup ecosystem and has led to numerous high growth Sri Lankan startup companies getting funded. The Lankan Angel Network as the Strategic Partner to VE looks forward to helping these companies accelerate further and support VE in expanding the program in the future."

The months following the program are as intensive as the competition itself, with the entrepreneurs and investors working together to finalise business plans, establish the businesses, and procure a client base. The program also includes a session on follow on funding for previous years' candidates to obtain guidance on expansion plans.

Venture Engine has been gathering momentum over the last four years and will return in 2016 with an even larger pool of investors and mentors. Further information and updates are available on www.ventureengine.lk.