Book signing at Barefoot tomorrow
If you're a former child soldier, being accepted into an elite international school on a cricket scholarship doesn't mean your life is going to change.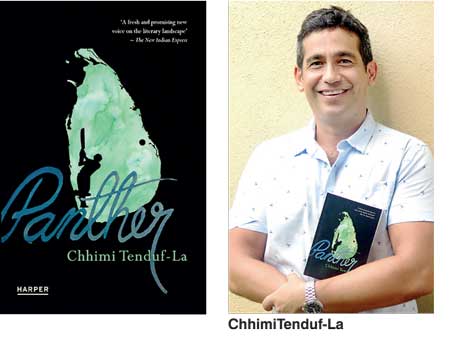 Except it does, because hunky Indika – I for Indika, I for Incredible – takes you under his wing, drags you to posh restaurants and shows you pictures from glossy magazines of women who … well, never mind, that's not the point.

The point is: if your best friend snogs your girlfriend, can he still be Incredible? Was he ever? But don't sweat the small stuff. There are cricket matches to win, examinations to pass, a horrifying past to forget, a sinister schoolmaster to avoid … and, of course, a first kiss to finally experience. Prabu's life is never going to be the same again.

Funny, diamond-sharp and unapologetic, 'Panther' is a novel about that familiar, fractured passage to adulthood that can make us magnificent if it does not kill us.

After the critical and commercial success of 'The Amazing Racist,' the release of 'Panther,' ChhimiTenduf-La's second book, is eagerly awaited. Published by HarperCollins India, Panther is now available in Sri Lanka, ahead of its official launch elsewhere.

"Although I have attempted to inject humour into 'Panther,'" Tenduf-La said, "it is a harder-hitting and more disturbing book than 'The Amazing Racist'. In my opinion, it is a much better novel, but I guess that is for others to judge. Test readers have said they liked the suspense and plot twists and found the characters more relatable and endearing. My wife took 196 days to read my first book, but finished 'Panther' in one sitting, even missing an episode of the Kardashians in the process which really worried me."

"I set out to write a coming-of-age, fish-out-of-water high school story, but the book also explores the trauma of being a child soldier, and although it will look like I am writing about the war here, I am not. I have made up a terrorist group, the Panthers, because I think it would be arrogant of me to pretend to know the ins and outs of the real war here."

Manasi Subramaniam, who acquired and edited the book at HarperCollins, said of 'Panther': "It reminds me a lot of the first Junot Diaz book – smart, contemporary prose that's gorgeous in a postmodern kind of way. A darkly humorous book – chilling in parts and beautiful throughout."

Kanishka Gupta, South Asia's leading literary agent, who represents Tenduf-La, said, "In 'Panther,' Chhimi has written a remarkable coming-of-age tale set against the backdrop of war."

Chhimi Tenduf-La will be at Barefoot Café Book Shop between 11 a.m. and 4:30p.m. on 20 June to sign copies of 'Panther' purchased there.

'Panther' is available at Barefoot, Vijitha Yapa, Trunk (Cinnamon Grand and Ramada), Odel, Paradise Road, Sarasavi, MD Gunesena and Expographics. Also available online at Takas.lk.