From left: The Kingdom of Raigam Chairman Dr. Ravi Liyanage, EAP Broadcasting Company Chief Operating Officer Buddika Kulasekara, President Maithripala Sirisena, former Speaker of the Parliament W.J.M. Lokubandara, Prof. Carlo Fonseka, Mass Media and Information Secretary Karunarathna Paranavithana and Sampath Bank Managing Director Aravinda Perera
Leading television station Swarnavahini recently won 19 awards including Best Teledrama Channel and Most Awarded Channel of the Year, at the prestigious Raigam Tele Awards, which took place at the Nelum Pokuna Theatre in Colombo. Veterans of the media and entertainment industry along with leading actors, journalists and ministry officials attended the event, which was also graced by President Maithripala Sirisena.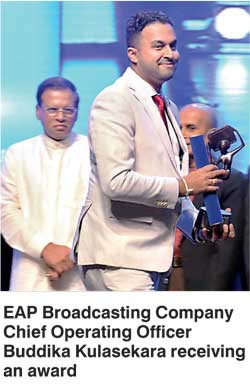 Out of the 19 awards that Swarnavahini bagged, a total of 12 awards were won for the channel's popular teledrama 'Chess', including the Best Teledrama of the Year Award. Cast members of 'Chess' Chandani Seneviratne and Vishwajith Gunasekara also received recognition at the event and won the highly coveted Best Actress and Best Actor awards respectively.

Swarnavahini also won awards for Best Teledrama Art Director of the year for 'Bandara-deiyo' and Madushan Hathlahawaththa won Best Upcoming Teledrama Actor for his role in 'Girikula'. The Raigam Tele Awards are conducted annually to celebrate the best of television and multimedia in Sri Lanka. Hosted by leading conglomerate Raigam, the awards recognise excellence in the visual broadcasting industry and acknowledge the talent of actors, producers, journalists and directors who have excelled in their fields.

EAP Holdings Group Chairman/Managing Director and EBC Deputy Chairman Mano Tittawella stated: "We are extremely honoured to have received a total of 19 awards at the prestigious Raigam Tele Awards, one of the country's foremost platforms for recognising excellence in the broadcasting industry. We are also pleased that one of our leading Teledrama productions, 'Chess' has received significant recognition at the show. I would like to commend the entire Swarnavahini team for this achievement, which helps to solidify Swarnavahini's position as one of Sri Lanka's leading television stations."

Also commenting on the wins, Buddika Kulasekara, Chief Operating Officer, EAP Broadcasting Company Ltd. stated, "The team at Swarnavahini has worked tirelessly to develop and deliver high quality programmes that resonate with our audiences. At Swarnavahini we are dedicated to creating award winning shows, and we work with the best professionals in the industry, to ensure that each and every show we broadcast is of the highest quality. These awards recognise all of our efforts and help shine a light on our exceptional standards of production."

Owned by EAP Broadcasting Company Ltd., a member of the EAP Group of Companies, Swarnavahini is one of Sri Lanka's most popular news and entertainment TV channels that broadcasts a variety of shows across multiple genres. It has played a key role in revolutionising the local television industry by developing some of the most innovative shows and production techniques in the country. EBC was established in July 1992 and operates leading TV and radio channels Swarnavahini, ETV, Shree FM, E FM and Ran FM.