Defends growth, banks on increasing tourism, banking and apparel
Finance Ministry growth higher than 7% predicted by CB
Construction sector slowed to 4.1% in 1Q, steep drop from annual average growth rate of 12.8% in last 8 years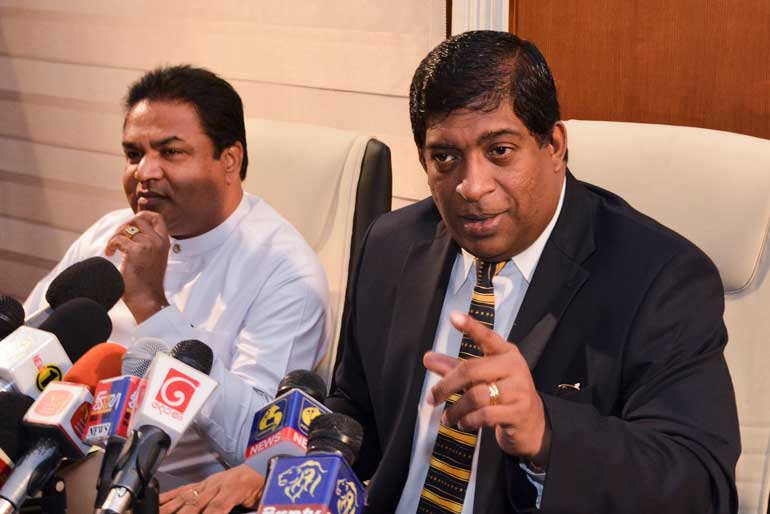 Finance Minister Ravi Karunanayake gestures during the press conference, seemingly setting the record straight – Pic by Upul Abayasekara
Defying critics, Finance Minister Ravi Karunanayake yesterday defended Government policies, showcasing first quarter growth of 6.4% and predicted Sri Lanka would end the year with economic expansion of 7.2%.

Slamming doomsday Opposition critics, Karunanayake stressed the Government had managed to keep the economy on even keel, with growth seen across all sectors. According to figures released by the Department of Census and Statistics this week growth rates for the 2015 first quarter for the three main sectors were 0.7% (Agriculture), 6.5% (Industries) and 7.5% (Services).


"We took over a broken down economy and rebuilt it. This was done even when parliament would not pass bills to increase government revenue. We did not burden the poor with taxes but paid all the welfare promises made by the previous administration," he told reporters.

Sri Lanka's economy is expected to expand 7.2% this year, on higher growth in tourism, banking and garment manufacturing, Karunanayake told Reuters.


Karunanayake's forecast is higher than what economists expect and is above the Central Bank's estimate of 7% growth for the year.

The Central Bank said in April it expected growth to slow from last year's 7.4% year-on-year because of a slowdown in Government-led construction and subdued private investment in the first quarter amid corruption probes on several Chinese-financed infrastructure projects.

"We expect a 7.2% growth this year. Despite the slow construction sector, tourism, garment manufacturing and banking are growing faster," Karunanayake told Reuters. "There are a lot of foreign direct investments expected this year."

The $ 75 billion economy grew at an annual 6.4% in the first quarter of this year, the same pace it recorded in the last three months of 2014 and hovering at its slowest pace since the first quarter of 2013.

Growth in the construction sector slowed to 4.1% in the first quarter, less than a third of the annual average growth rate of 12.8% in the last eight years, the government data showed.


Krystal Tan, Asia Economist at Capital Economics said in a note to investors that the country's growth would pick up in the coming quarters due to rising private sector credit after a rate cut by the central bank in April, improving economic prospects in the US – a key export destination – and big wage hikes for State sector employees.

Sluggish growth in infrastructure, political uncertainty ahead of a Parliamentary election, and a retrospective tax would however weigh on growth, Tan said.


"Overall, we doubt Sri Lanka's economy will be able to match its strong showing of recent years," Tan said, while cutting the 2015 growth estimate to 6.5% from 7%, well below the average 7.4% growth of the past five years.

But Karunanayake insisted the Government would keep its welfare and other payments going. Focusing on the handout for senior citizens the Opposition has charged the Government has stopped paying, he clarified former President Mahinda Rajapaksa had increased initial number receivers from 268,000 to 386,000 ahead of the presidential poll but only allocated Rs. 3 billion when Rs. 8 billion was needed for full disbursement. "We have now provided sufficient funds and will continue to do so," he said.