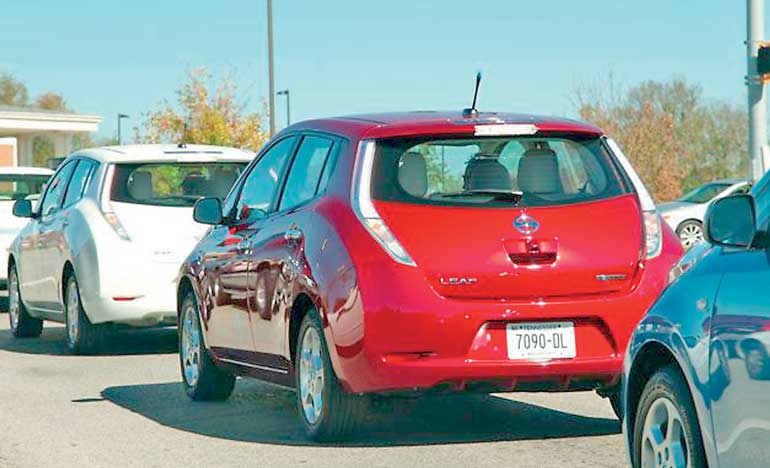 By Tanya Goonewardene

A glance around the city traffic with members of corporate Colombo commuting during peak hours will reveal a certain sprinkling of electric vehicles among petrol, diesel and hybrid vehicles that hug the streets of Colombo. This begs the question, is Sri Lanka ready for electric mobility already? This hypothesis was explored using the following key areas considered as follows.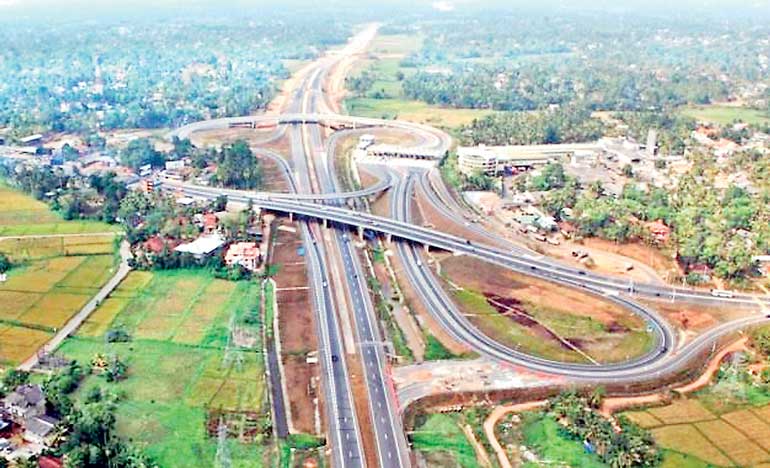 Question: Policy impact and support on a national level?

Conclusion: Enabling.


The Government seems bullish as future of the power and energy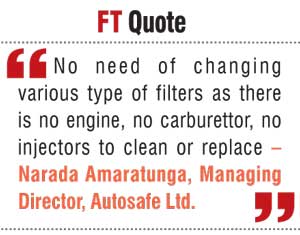 sector remains positive with the Sri Lankan economy expected to continue on a high growth trajectory in the country's accelerated post-conflict development landscape.

With the taxes on hybrid vehicles being increased and those on electric vehicles being reduced from 25% to 5% through the new Government's Interim Budget, the Power and Energy Minister's attention has been drawn towards establishing recharging centres island-wide. The Ministry says that under this program, the involvement of the private sector would be solicited to establish electric vehicle recharging centres island-wide at fuel servicing stations, supermarkets and even homes.


Question: Economic landscape?

Conclusion: Conducive.


As the Government's economic policy is strengthening the disposable income of its populous, many cost conscious consumers are making long-term investments in keeping with future cost savings. According to Motor Traffic Department statistics, the number of electric vehicles registered in 2014 and 2015 is shown in table 1 and table 2.


Question: Infrastructure compatibility?

Conclusion: Developed.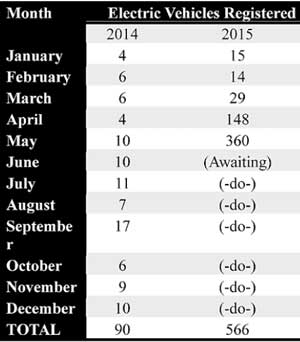 Electricity: Phase 2 of the Norochcholai coal power plant comprising 600MW commissioned in September 2014 strengthened the electricity generation mix and the energy security of the country.

The electricity tariff for the domestic sector has been revised downwards effective from 16 September 2014 following the commissioning of the Norochcholai power plant. The addition of 900 MWs to the national grid through coal power is expected to reduce thermal power generation substantially whereby improving the performance of the Ceylon Electricity Board (CEB).

It is noteworthy that CEB is continuing its efforts to provide electricity to rural areas through the implementation of several new electrification projects island wide.

Solar power: In addition to Sri Lanka's first solar power plant commissioned at Magampura in Hambantota last year adding 500 KWs to the national grid, many households have now commenced generating electricity utilising solar energy.

In a recent independent survey carried out, the responses were favourable towards solar power as a zero emission energy solution. Also known as Renewable Energy (RE), the users are spurred on by the fact that solar power is a freely available clean energy source which doesn't emit any pollutant, unlike fossil fuel or coal-burning thermal power stations.

"Electricity generation via solar panels is environm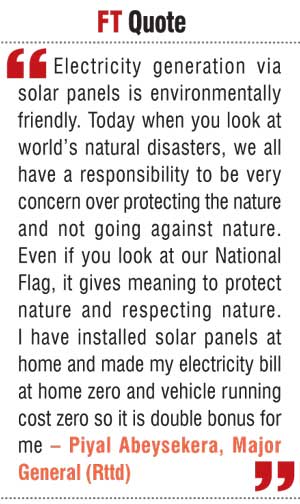 entally friendly. Today when you look at world's natural disasters, we all have a responsibility to be very concern over protecting the nature and not going against nature. Even if you look at our National Flag, it gives meaning to protect nature and respecting nature. I have installed solar panels at home and made my electricity bill at home zero and vehicle running cost zero so it is double bonus for me" – Piyal Abeysekera, Major General (Rttd)

Road development: Having a conducive road network and robust road infrastructure is a factor that contributes to the longevity of any vehicle be it electric or not. However given that levels of efficiency and performance contribute to speed of the vehicle road development levels remain a factor to be reckoned with.

Sri Lanka has prioritised the development of road infrastructure to facilitate the growth momentum of the economy. Construction of highways and express ways as articulated in the Public Investment Strategy 2014-2016 developed by the Department of National Planning was actively pursued by the Government.

This is expected to contribute to the improvement of the urban-rural linkage, the expansion of economic opportunities and regionally balanced growth that will lead to reduction in poverty. In 2014 Rs. 11.9 billion had been allocated to the Road Development Authority (RDA) for carrying out road-related development activities.


Question: Mindset?

Conclusion: Favourable

According to the opinion poll carried out, the majority of participants took up the position that they would recommend the use and/or purchase of an electric car to a friend siting the following as the most popular reasons for their recommendation:


1.Eco friendly – Zero emission factor of an electric vehicle was a primary consideration to of participants who vehemently insisted that as socially responsible citizen every purchase decision must be influenced by an environmental consideration and an accountability towards ones carbon foot print.

2.Economical – Many had installed solar panels at home and brought down their domestic electricity bills to zero and thus was able to be proud of a vehicle running cost that was negligible as an added bonus.

3.User friendly – The technologically advanced features of an electric vehicle which the participants had experience with was a key proponent in their enhanced driving experience. The high level of interaction with the vehicle was noteworthy as an intelligent machine that keeps you connected and is built to give the driver a lot of information and making it a reliable piece of equipment.

4.Maintenance free – The users considered the fact that the engineless vehicle that runs on a battery needs no servicing as there are no oil filters to be changed as a primary advantage over diesel and petrol vehicles. The associated cost of maintenance was limited to the routine air filing and washing of the car as vehicle running expenses.

"No need of changing various type of filters as there is no engine, no carburettor, no injectors to clean or replace" – Narada Amaratunga, Managing Director, Autosafe Ltd.


World current technology

High tech navigation systems, 360 degree camera, BOSE stereo, chrome fog lights, a solar panel, front and rear sensors are a few features of the Nissan Leaf that has caught on rapidly in the mar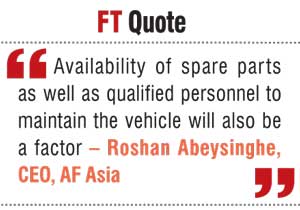 ket which were highlighted by the participants as features that enhance the driving pleasure of any user and their passengers.

Be that as it may one participant who raised his concerns about the usage of electric cars noted the following as his concerns: "Availability of spare parts as well as qualified personnel to maintain the vehicle will also be a factor" – Roshan Abeysinghe, CEO, AF Asia.

It is safe to say that the majority of the participants were accepting of an electric car as a primary mode of transportation. However, the concerns remain whether the technology is yet premature to be an option for domestic use.

Although the world seems positive and optimistic, the conversion to an electric car from alternate method of energy remains entirely a personal choice. Nevertheless ones environmental conscious, and willingness to take on the choices of the future will largely play a role in choosing an electric vehicle as a transportation solution.

Every educated consumer takes into consideration several factors in making their purchase consideration of an automobile including but not limited to considerations such as:

i.types of fuel available

ii.fuel prices

iii.efficiency ratings

iv.emission control systems

v.primary investment

vi.maintenance cost

vii.available infrastructure to provide continuous running support

(The writer is an Attorney-at-Law.)
---
Why go electric?
Autosafe Ltd. Managing Director Narada Amarathunga, an importer of cars, discusses a few FAQs which are of interest to those considering the conversion to electric mobility
Q: What is the single most environmental consideration of purchasing a Nissan Leaf?

A: The most obvious advantage of electric cars is that they don't produce the pollution and are zero emission associated with internal combustion engines. It i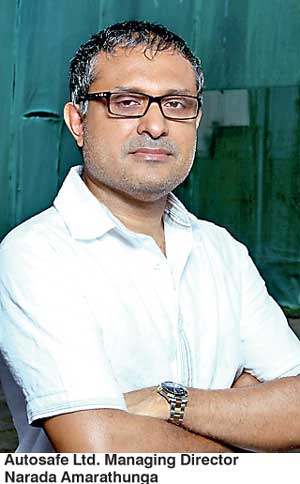 s noteworthy that electrical vehicles are exempted from the requirement of Vehicle Emission Testing Certificate at the time of obtaining annual revenue licence.


Q: How long do you have to charge the Nissan Leaf?

A: There are three levels of charging. The average range is about 150km. Normal charging cycle on a 230V 15A conventional socket takes about four to six hours and the rapid charging method takes around 15-30 minutes and can only be performed by a special charger plugged to a three-phase current system.


Q: How many charging points are in the city?

A: Nissan Leaf can be charged at your home or any other domestic power outlet. Total electricity needed to charge the battery is 23KWh. On a very encouraging note, the Government has pledged support and has promised to put up several charging points around the country. This is supported by the private sector and anticipated by all.

Several private sector initiatives have obtained approval to set up charging stations and there is sufficient conjecture that Nissan will consider Sri Lanka as a destination to set up service stations through an unannounced local agent. In fact, the opening of the very first charging station by the Minister of Power and Energy Patali Champika Ranawaka on 8 April is a cause for celebration.


Q: What is the electricity cost per km?

A: The approximate cost of a full charge will be Rs. 6.


Q: What is the mileage on a full charge?

A: 140km to 210 km but depends mainly on the driving conditions habits of the driver.


Q: How much would the Maximum speed be?

A: The Nissan Leaf is capable of travelling 150km per hour although adherence to speed limits is advised.


Q: What are the main advantages of vehicles from UK imported directly from UK as opposed to vehicles coming from Japan?

A: New generation transportation is based on mechatronic technology and driving experience is enhanced by communication with the car. Therefore communication being in English becomes valuable. All cars from UK come with commands and greetings communicated in English as opposed to any other language that will limit the experience.


Q: What are the add-ons of a Nissan Leaf that recommends itself?

A: The Nissan Leafs comes fully loaded with a high end BOSE surround sound system, leather interior, and camera with 360' degree view around the car. Cars imported from UK has the additional advantage of being in conformity to the European Safety Standards including but not limited to minimum air bag requirement plus other impact mitigating measures that will keep the driver and the passengers safe.