Says hopeful of reaching $ 4,000 per capita income mark by year end
Recovering agriculture will compensate for slowing construction industry
Wants fresh focus on remittances including new data and payment methods from banks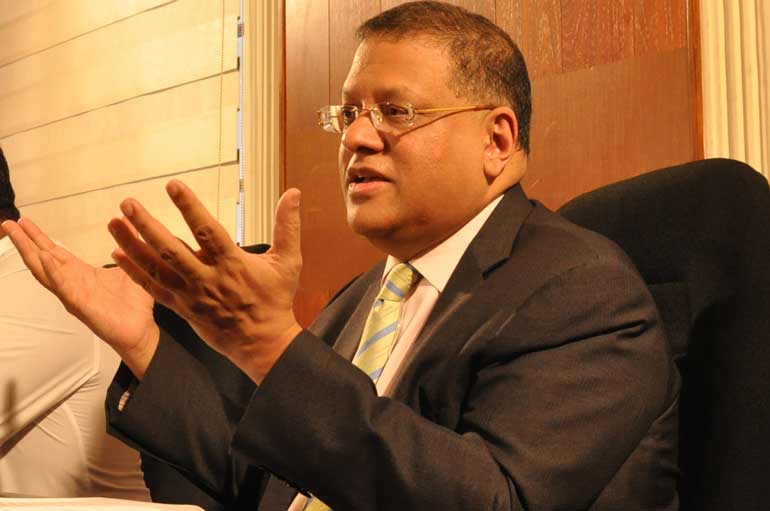 'It's all looking up' seems to be the message by Central Bank Governor Arjuna Mahendran – Pic by Lasantha Kumara
By Charumini de Silva

Concurring with growth projections made by international monetary organisations, Central Bank Governor Arjuna Mahendran is confident Sri Lanka's economy will average around 7% during the first half of 2015, with growth picking up in subsequent years.

"By the end of six months this year, we will average around 7%. There's nothing to worry," a confident Governor told the Daily FT.

"I think things are looking good. Once we hit $ 4,000 per capita, the economy will shoot up. I am hopeful that we reach that level by the end of this year, in which case we can look at 8% to 9% economic growth in the next five years," he added.
Sri Lanka's economic growth is expected to decline to 6.9% in 2015 due to slowing construction activity, according to the World Bank, which has also warned private sector sentiment would be cautious till economic policies of the new Government stabilise. The International Monetary Fund (IMF) earlier in the year gave a growth outlook of 6-7%, and the Asian Development Bank (ADB) a growth of 7%. The country grew by 7.4% in 2014. Further explaining economic factors, Mahendran said that the agriculture sector was recovering after the drought last year, which was a good indication. However, he noted the construction sector had slowed down, mainly because the new Government was reviewing some of the infrastructure projects.


However, he pointed out that agriculture picking up and construction slowing down would balance out the difference.

"That way I think it will keep the economy evenly balanced," he said.


Further clarifying his point, the Governor said private construction such as housing was booming.

"Exports are doing well. Now that the rupee is down by 2% against the dollar, that will also help competitiveness and exports will continue to grow. Exports and FDIs are the two areas we need to improve on. Those are the two areas we are focusing on. The Minister of industry and Commerce has his plans in the export sector. The BOI is developing its plans for FDIs. With those two I think in the medium term we could go beyond 7.5%."


Commenting on remittances, Mahendran said that the country received a record $ 7 billion last year and would continue to grow. "Remittances are the critical component that really saved the economy for the last 10 years during and after the war," he added.

"We are like the Philippines and the Mexicans, which are countries with huge expatriate populations and that is a different kind of an economic model from other countries where they stay back home and grow their own industries. We have to factor that in," he noted.


"Being an expatriate myself, I'm very keen on giving more opportunity to grow their own economy. At the end of the day, we all love our country. We send the money earned to relatives, to invest or to build houses. So we must grow this channel," he pointed out.

The Governor said he would continue to focus on the importance of banks establishing a system for expatriate workers to easily remit their funds.

Citing an example, he said: "In Philippines if a housemaid is working in Dubai she can directly and easily remit money every month on her mobile phone to a property developer who is building an apartment. The same way we could setup a payment system where I could remit some money via my mobile to my Sri Lankan account or to a Sri Lankan property developer."

With such easy schemes, the Governor expressed confidence Sri Lanka could attract foreign exchange. He added that discussions were ongoing with banks to set up similar systems.

"We are talking to the banks. We are working on some options and I'll announce it in a few months," he assured.


Mahendran also noted the Central Bank was attempting to conduct more detailed studies on the makeup of remittances, including regional and gender divisions, which would help in meeting specific market needs.

"We know that 50% is from the Middle East and the rest from other parts of the world. But who are the type of people who are sending those remittances and what's the proportion between housemaids and other professionals? For that sort of information, we actually have to send people out and do a survey or ask the local banks receiving remittances to give us some details. We are starting that study at the Economic Research Department," he said.