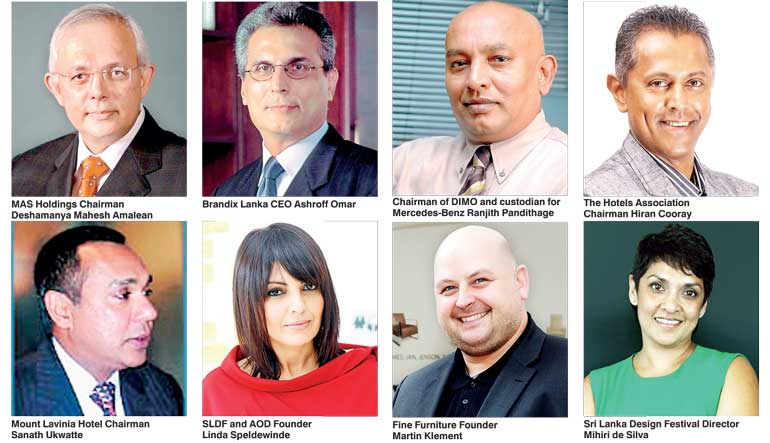 Sri Lanka Design Festival unveiled its 2015 focus yesterday as 'Design Means Business,' amplifying the use of design to support major industries and their ability to draw in new business to the country.

With this vision, Sri Lanka Design Festival (SLDF) now sets forward to achieve a major cross-industry impact enveloping fashion and apparel manufacturing, interior design, hospitality and much more. SLDF shares the emerging creative economy of these industries and the many opportunities to make business with them, to an influential international delegation of buyers, investors and retailers attending the event.

Through a series of forums, interactive exhibitions and runways, SLDF will present the best of Sri Lankan fashion, apparel, interior design and creative innovation as the next big business opportunity brewing in South Asia.

Powered by a new generation of design talent, a well-preserved creative heritage fuelling unique inspiration, and industries that embrace sustainable innovation, SLDF offers a big proposition from the little island Sri Lanka.

To enforce this proposition, SLDF has a powerful agenda that includes forums and symposiums that drive thought leadership, and exhibitions and runways that display the difference brought about through design.

Linda Speldewinde, founder of Sri Lanka Design Festival and AOD stated that the 2015 edition of the event is a culmination of seven years' worth of design integration and development with various industries.

"Each year we take a bigger step forward and we bring in more industries to take design into their core. When we started back in 2009, we worked with the apparel industry and the grass-root level craft industries and integrated the design talent produced by AOD with these businesses to bring out revolutionary results – it is this success that kept these industries from partnering with us year after year, and also convince new industries like hospitality, tourism, interior product etc. to join with us and embrace design. This year, we are stressing on how with design we really mean business, and showcasing exactly how design enriches and changes businesses, through our powerful program."

The SLDF 2015 program that was announced encapsulates the mentioned key industries through ten main events scheduled over three days and is open to industry and the general public.


1. The Mercedes Benz Fashion and Apparel Awards

The international style icon Mercedes-Benz powered by DIMO, joined hands with Sri Lanka Design Festival to recognise the crème de la crème of local fashion, including a dazzling culmination of new talent, industrial innovation and new sustainability in fashion.

The Mercedes-Benz Fashion & Apparel Awards (MBF&AA) recognises this outstanding work through a series of eleven awards judged by a panel of international judges. From individual designers and brands, to apparel manufacturers and retailers, the MBF&AA pays tribute to the finest in this multi-billion dollar business that touches millions of Sri Lankan lives.


2. The Mercedes Benz Fashion Runways

Mercedes-Benz Fashion Runways is a proud representation of a new outlook on fashion. Embracing fashion that is environmentally and socially sustainable, these runways turn the spotlight to the future of the industry where traditional techniques go hand-in-hand with cutting-edge green technology for sustainable fashion.

It also makes room for the fresh talent from Sri Lanka's fashion undergrads who make the future of a promising industry. Recognising the importance of these young graduates, Mercedes-Benz Fashion Runways also presents their new take on fashion on an energetic and eclectic runway.


3. Design and Source Sri Lanka in partnership with Sri Lanka Apparel

Sri Lanka Apparel has been a long term supporter of the event for the major significance that it bears on developing the apparel export industry. As part of SLDF's 2015 edition, Sri Lanka Apparel presents 'Design & Source Sri Lanka' – an exhibition that highlights the technology, design excellence and sustainable crafting that local fashion makers can bring into their products.

By inviting a major delegation of international buyers and sourcing specialists to witness this exhibition and the rest of SLDF, Sri Lanka Apparel ensures that the ground-breaking work from the local industry will get the right kind of attention that it deserves. This exhibition is designed to not only showcase the new fashion innovation, but to also make close B2B connections between international buyers and local manufacturers.


4. South Asian Apparel Leadership Forum

Hailed by the local fashion industry and the visiting international delegates of SLDF as one of the most interesting meeting-of-minds in South Asia, this powerful forum brings down new knowledge from the international fashion frontier. This year's line-up of speakers include Keld Mikkelson – the founder of the Danish luxury brand Day Birger et Mikkelson, speakers from global industry giants like Li & Fung, Coats Thread and the Future Laboratory and local opinion leaders. South Asian Apparel Leadership Forum promises yet another mind-bending discussion on the future of fashion and Sri Lanka's unique positioning to move into luxury fashion making.


5. Sustainable Fashion Symposium

Sri Lanka stands ahead from other apparel makers due to our industry's lasting commitment to sustainability and leading an example. SLDF takes the next step with its 'Sustainable Fashion Symposium', which is to start difficult conversations and encourage others to engage in pushing the boundaries to find a global solution. The 2015 edition of this symposium features some of the biggest international authorities in sustainable fashion like Bruno Pieters – the former Creative Director of Hugo Boss and the founder of the world's first transparent brand 'Honest by', to engage in an enlightening conversation on how sustainability can influence design, to innovate at the source.

Returning for its successful second year with SLDF's Interior design agenda aims to create a paradigm shift in interior design by presenting a new way of living. SLDF's Festival Director Mihiri de Silva stated that the interior edition of the festival is now a significant part of the event, moving parallel to its massive fashion and apparel agenda.

"Sri Lanka Design Festival introduced the country's first dedicated interior design exhibition last year, and this year we're building on that success to present something even bigger and better. This year we're not only showcasing the country's best, but we're bringing down design talent from across borders - Germany and Netherlands etc. The idea is to show the best in Sri Lanka, side by side with what is going on in the rest of the world, and really raise the bar in terms of our local interior design industry and their remarkable capabilities. Taking a step further, we're also recognising the need to nurture an intellectual, knowledge-based interior design industry in the island, and we're hosting the SLDF interior design forum to push this forward. Together, we're really pushing forward a paradigm shift in interior design."


6. SLDF Interior Design Exhibition

This successful exhibition will host some extremely rare and new developments in the local interior design industry and is well placed to attract the attention of regional hoteliers, architects and construction networks. Going against the average home and living exhibition with booths and stalls, this exhibition focuses on allowing the visitor to really experience a new way of living led by contemporary design. Carefully curated by an international design team that works closely with the local retailers taking part in the exhibition, it promises to deliver a one-of-a-kind experience to the public this November.


7. Interior Design Forum

SLDF hosts this new forum as part of its commitment to develop the local interior design industry as a knowledge-based one that moves parallel to international trends and market demands. Gathering a selective group of international and local speakers, with the likes of the senior architect Muraad Ismail and the Berlin based interior product designer and winner of the German design award 2014 Daniel Becker, this forum is targeted towards young interior designers, architects, property developers, construction engineers, design students as well as general design enthusiasts.


8. Island Living

The Island Living section at the SLDF interior design edition presents a new lifestyle that promotes interior product and furnishing textiles that have been handcrafted in Sri Lanka. Working closely with the grass-root level artisan communities, SLDF's international design team has developed a series of products and living accessories for the local hotel industry looking to create a new identity with Sri Lankan design, as well as homeowners and designers who wish to embrace a new island living in their spaces. This section presents a new potential from the local craft based cottage industries, to complement the local tourism and hospitality industries.


9. Design Katha

Hosted by AOD design campus, this young and energetic forum brings together a series of speakers from multiple design disciplines including fashion, interior design, packaging and graphic design, to discuss the theme of 'being ingenious' when designers are working to enrich businesses and industries. The forum is priced to be accessible to young design professionals and design students in order to support nurturing fresh talent for the country.


10. REVEAL graduate design exhibition

Again hosted by AOD design campus featuring the hottest new design talent in town, this exhibition brings together the graduating designers of 2015, in fashion, interior design and graphic design to showcase their talent and collaborative design work with industries and businesses. This exhibition presents the future of design in Sri Lanka, and what the business world can achieve by working with these young, talented design professionals.

As SLDF takes off impacting the Sri Lankan business sphere in a big way, FT shares some key inputs and statements from industry leaders who value the power of design.

The apparel manufacturing industry in Sri Lanka is one that makes a giant impact on the island with a workforce over a million and earning the biggest export revenue. Over the past decade, this powerful industry has evolved from being a mere manufacturer, to an informed fashion industry that integrates design, sustainability and innovation attracting new interest from the rest of the world. One of the most respected leaders of this industry is Ashroff Omar – CEO of Brandix Lanka Ltd., the largest apparel exporter in the country.

Omar is a firm believer on the significance of design for today's business: "Design and innovation are critical for any industry that simply wants to even stay in business today. It is that important. Sri Lankan apparel makers have been manufacturers for some of the biggest brands in the world. Meanwhile, we have excelled in what we do in terms of technology, sustainability and even the way we care for our employees and clients. This is what was behind our success. Now, with the development of our own design and development capacity, we're in a new position to incorporate innovation to give a superior product. I think this will strengthen the relationship with our existing clients and also bring in new business in a big way. But, the key thing to understand is that now is the time we need to own this reputation for design and innovation and embrace the future that comes with it."

Another key visionary in the local apparel trade, Deshamanya Mahesh Amalean – Chairman of MAS Holdings drives creative change through his business and values the power of design for the industry. After years of design-led transformation that shaped Sri Lankan apparel as a unique business, Amalean believes that Sri Lankan fashion manufacturers need to commit to design in order to stay ahead of competition and offer a higher product to the world.

"Over the last several decades, Sri Lanka has cemented its reputation for its manufacturing excellence and ethical business practices. In recent years, many organisations in the industry have also embarked on developing its design and product development competencies, in order to offer greater value to our customers and strengthen our position in the industry. The industry has recognised that design and innovation are the two key competencies that enables Sri Lanka to stay relevant and competitive in the future. We will therefore, need to transform our industry to offer both design and innovation in the coming years. This successful transformation will enable the apparel and textile industry in Sri Lanka to flourish for another 15 years."

As the fashion industry moves forward embracing design, it has gained the support of major local businesses in recognition of its immense national and industrial significance. DIMO (Diesel & Motor Engineering Plc) came forward in 2015 to support fashion and design through their signature global brand Mercedes-Benz. Offering a remarkable international platform for local fashion talent, DIMO and SLDF recently announced 'Mercedes-Benz Fashion Runways' to be held as part of Sri Lanka Design Festival. As part of an internationally acclaimed series of fashion events, this massive undertaking provides the next big step for the local fashion industry, allowing them to step into the global limelight of luxury and high-end fashion; this is an initiative that could become a game-changer for the local fashion and apparel industry as they look to move towards luxury brands and high profit, specialty clienteles.

Explaining the significance of this new addition to SLDF, DIMO Chairman Ranjith Pandithage stated that they're proud to support one of the most influential industries of Sri Lanka: "We're bringing in a global validation for the country's most powerful industry and its capabilities in designing, innovating and manufacturing truly unique fashion. With the Mercedes-Benz fashion runways, we're strengthening an industry that has the potential to transform Sri Lanka. Already, Sri Lankan fashion is gaining reputation as a more sustainably sound, innovation and design driven industry which is great to do business with. We're building further on its potential by opening up the powerful platform of Mercedes-Benz runways, its network and opportunities. The recognition, new business and opportunities that come through this will impact the entire country."

As Sri Lanka Design Festival grows enveloping industries beyond fashion and apparel, one of the largest industries highlighted by the event is the interior design sector tied in closely with the hospitality and tourism industries. As Sri Lanka's tourism industry booms, it becomes essential to develop a unique interior and product design industry that reflects the uniqueness of the country while catering to the tastes of travellers from across the world. SLDF works closely with the grass-root level artisans who are the guardians of Sri Lanka's unique craft heritage while connecting them to contemporary designers who can relate to international demands. This is an initiative that SLDF drives closely with the local hospitality industry which has grown to recognise the significance of design in its success.

Speaking on this relationship between design and hospitality, the president of the Hotels Association of Sri Lanka, Hiran Cooray stated that design has begun to play an essential role in his industry: "I think design has a lot to contribute to Sri Lanka. As our economy grows and our businesses start to compete with global brands and entering international markets, I think design will play a big part in taking local products and brands to the next level, by enhancing value with good products, branding, packaging and so on. So, the future of our industries and therefore, our economy has a big role for design to play in its agenda. It's a relief to see that Sri Lanka has the correct design education and the training to step into this future."

Parallel to developing design for hospitality, SLDF is also working closely with the interior design and product sector to elevate their capabilities and product offering. Joining forces with Fine Furniture- a leading local interior product retailer with outstanding international links, SLDF is presenting a paradigm shift in the sector. This movement is projected to develop as part of SLDF focus on 'Design Means Business' by highlighting the difference brought into products and services when integrated with design.

Fine Furniture Founder, Austrian structural engineer Martin Klement stated that SLDF aims to set a new standard in interior design: "We're setting out to really raise the bar in terms of design and innovation in the Sri Lankan interior product sector. By making it available for designers, architects and the general public and also sharing it on a massive platform like SLDF, we're working to set a new standard for interior product. I think this is an important contribution for the local interior sector, and this is the right time for it."

The Mount Lavinia Hotel that works closely with SLDF year after year pushes an important aspect of sustainability in hospitality practice and embraces design as something that enhances their trade. Chairman of Mount Lavinia, Sanath Ukwatte stated that the hotel supports SLDF and its mission to integrate design into hospitality as it is the future of the business: "We've worked with Sri Lanka Design Festival for seven years because we know how important design is for the future of our industry. Design is not only a value-addition that marks a difference in our trade, but also something that can really make a difference for Sri Lanka by harnessing the true power of our cottage industries, tourism etc. and we're very supportive of this vision."

Sri Lanka Design Festival will be launched to the local business community on 26 November and remain open to the public on 27, 28 and 29 November at the Sri Lanka Exhibition & Convention Centre.

For more information, www.srilankadesignfestival.com/info@srilankadesignfestival.com/0767771488.