Cinnamon Hotels & Resorts is gearing up to host the internationally reputed photographer Nigel Barker in Sri Lanka from 15 to 23 July.

During his tour, the celebrity photographer, reality TV host, author and model will conduct a half-day workshop for Sri Lanka's fashion industry on Fashion, Photography, Modelling and Inspiration. This workshop is organised by Cinnamon in partnership with Raffles Design Institute which is part of Raffles Education Corporation, a premier, international provider of design education.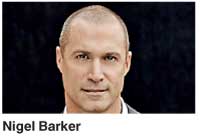 The workshop will be held on 23 July at the Oak Room, Cinnamon Grand Colombo.

It will cover topics such as: The Business of Fashion – How Nigel Barker made it to the top and beyond, Models of Influence – What it takes to be a true supermodel from Nigel Barker's New York Times best-selling book and the use of photography and film to make a difference in the world at large.

Nigel will also be giving a talk about his career and enable participants to engage in an interactive session with him after each topic is covered.

The participants of the workshop would include established fashion designers in Sri Lanka, fashion photographers, design students, models and those interested in Nigel Barker's inspiring story.

Speaking regarding the collaboration with Cinnamon for this event, Raffles Design Institute, Sri Lanka President Prof. Stephen Rawlinson commented, "The Raffles group prides itself in helping students to develop the kind of global mindset that supports career success. There is no better learning opportunity than to acquire knowledge from a truly successful, international professional such as Nigel Barker. Raffles is proud to be a part of this inspired collaboration, and for the opportunity that it provides to motivate both existing practitioners and importantly, our students who will ultimately drive the next wave of success in the creative industries."

Tickets for the workshop are now on sale and can be booked online via the Cinnamon Hotels & Resorts Facebook page www.fb.co/cinnamonhotels.

Early booking is recommended on account of the high demand expected for the workshop. Cinnamon Hotels & Resorts will also be running a social media competition for four lucky winners to win free access to the workshop, as well as obtain signed copies of Nigel Barker's best seller 'Models of Influence'.

On the eve of 23 July, Cinnamon and Hameedia – the leading men's apparel brand in Sri Lanka, will jointly host a book signing event at the Envoy Mansion in Colombo for selected VIPs. 'Models of Influence' is a New York Times best seller where Nigel Barker portrays 50 influential women who have reset the course of fashion.

Nigel Barker's tour of Sri Lanka is organised by Cinnamon Hotels & Resorts together with Hameedia and is facilitated by Walkers Tours – the Ground handling partner and Cinnamon Air – the Domestic Airline partner.

The Nigel Barker workshop by Cinnamon is powered by Raffles Design Institute and co-sponsored by Sri Lanka Convention Bureau, EGB and the Fashion Council while E FM is the exclusive Radio Partner.