Sri Lankan apparel makers prepare to lead 'travel fashion' to the world, steering the industry's future for bigger and better prospects; to be launched at SLDF this November.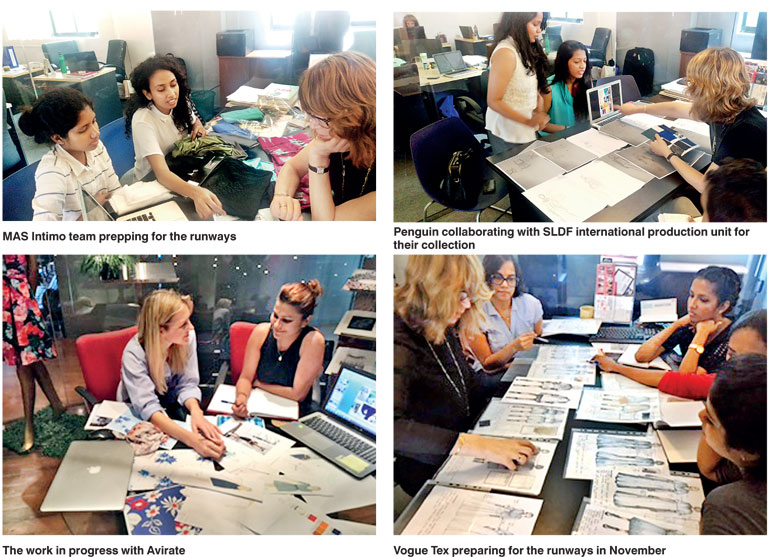 Sri Lanka Design Festival 2016 will host the Mercedes-Benz Fashion Runways with AOD and DIMO bringing an international flavour to the event.

Under this powerful global spotlight, the apparel industry's new game-changer 'travel fashion' will be launched to the world. This initiative to diversify and open up radical avenues is a strategic move for the industry and promises to bring in new business, independent of fashion world seasons.

Although travel fashion was just recently announced to the public, the apparel industry has been working on it with the international fashion production teams of the Sri Lanka Design Festival for close to six months. Depending on their individual strengths and technology, each factory has been assigned a sub-theme under the main theme of travel fashion. Hirdaramani will be focusing on the theme of 'Airport chic', which targets high-end travellers from diverse backgrounds. Orit has taken on the challenge of creating an 'On the road' wardrobe for travel. Simultaneously, Brandix and Textured Jersey will take on the runways with a modern outlook to 'Tropical street-style'. Innovative Knits & Orient Design is currently preparing with the theme 'Urban tropics' while EKKO and Vogue Tex will present individual collections under the theme 'Nostalgic getaway'.

MAS will leverage on their strength for active wear and put forward the looks 'Tropical street-style' by Linea Intimo and the 'Active tropics' with Linea Aqua and MAS Active. The theme 'Urban tropics' is currently under production at Star Garments, Lanka Leather and Union Apparel with MRC working on 'Urban weekend'. Raaksha is prepping for the theme 'By the waterfront', along with an industry collaboration project with COATS. MAS Fabrics will take to the catwalk with 'Zen & Leisure' and Penguin & COATS with 'Travel sport'.

Furthermore, MAS Intimates will be presenting collections under the theme 'Evening city' and Timex on 'Tropical city'. The runways will present this ultra-modern line-up of collections all designed and made in Sri Lanka, as never before by the local apparel industry.


Going tech
Making this proposition irresistible to the global consumer, SLDF will harness technology to take this story worldwide. The runways will integrate instantaneous and cutting-edge buying methods by launching Sri Lanka's first ever 'shop the runway'. Here, the looks presented on the ramp will go live across the world, and will be immediately available online for purchase, at the click of a button. With this, SLDF and Mercedes-Benz Fashion Runways will introduce how Sri Lanka Apparel will use technology as the mediator to go directly to consumers all over the world with high-end, well-crafted, niche products that present larger margins for quality and creative innovation.


Travel fashion
Travel fashion is a new notion that ties together Sri Lanka's super-powers in fashion manufacturing, artisanal craft heritage, tourism and appeal as a modern, all-rounder travel destination together with the emerging strength in design.

'Travel Fashion' works parallel to a new consumer culture; travel is one of today's top consumables with it becoming one of the key lifestyle features that modern generations aspire for. With popular social media channels flooding with stunningly curated travel and lifestyle content, living ideals and standards have been reset drastically. People want visually appealing experiences; this means that 'travel' is now aspired to be experienced, or rather consumed, with the complete 'look'. This is where travel fashion becomes an idea attractive to many. Leveraging on Sri Lanka's worldwide fame as a stunning travel location, this idea has room for exponential growth bringing in massive benefits to not only the apparel industry but also associated industries like tourism and hospitality.

Travel fashion will be taken on by the Lankan apparel industry as a disruptive innovation that will reinvent and transform their existing business models to a more B2C approach that focuses on value creation over volume making, and makes best use of the country's strengths. It's a promising future with big prospects for new business.


Sri Lanka Design Festival
Sri Lanka's apparel industry is probably one of the country's modern calls to fame with ideas and standards that won the attention of the whole world. Within the last two decades Lankan apparel makers made headlines with 'Garments without Guilt', award-winning sustainability initiatives, uncompromising focus on quality over the cheap needle notion and employing design as a distinguishing value addition.

Taking this winning streak forward with the industry visionaries' foresight into the future of the business, Lankan apparel makers are setting the stage for bigger and better prospects. With the vision to differentiate from other manufacturing nations such as China, India and Bangladesh, this multi-billion dollar industry is now ready to take on the future as they diversify, reinvent, disrupt and transform. Sri Lanka Design Festival has been a leading platform through the course of the industry's evolution and looks to offer yet another opportunity to highlight in Sri Lankan apparel in the eye of international fashion.

Two years ago, when Sri Lanka Design Festival (SLDF) highlighted the theme 'from manufacturing to branding' while the industry was shifting gears to go from B2B to B2C, it was a transformation that was coursing its way through the industry as Lankan apparel-makers worked with resident design teams to launch their own retail brands. A year ago, the event pushed the notion 'designed and made in Sri Lanka' allowing the industry to send out a clear message to the world of their venturing into fashion brands and retail, with the new value addition of design. Today, as fashion consumerism takes new shape with technology and as the needs of the market shift with changing lifestyles, Sri Lanka's apparel industry has a new setting to claim its unique place in global fashion. SLDF recently announced the 2016 theme 'Transformation,' becoming the platform for the apparel industry to unveil a new strategic direction on the ramps of Mercedes-Benz Fashion Runways to feature 'Travel fashion'.
MAS intimates team in action


SLDF, scheduled for 3 to 6 November this year is to unveil this new proposition in partnership with the local apparel industry in the presence of an influential audience of buyers, sourcing specialists and thought leaders as well as local business leaders and media.

Sri Lanka Design Festival annually unfolds a powerful apparel agenda including runways, thought leadership forums, B2B meetings and factory visits that facilitates new opportunities for the industry and a chance to showcase their best work and innovation to the world. Covered extensively by local and international media, SLDF has the potential to link new markets and business opportunities with Sri Lanka Apparel.

SLDF will take place on 4, 5 and 6 November at SLECC Colombo, with AOD in partnership with DIMO hosting Mercedes-Benz Fashion Runways, Official Thread and Zip Partner Coats Thread, Official Technology Partner GT Nexus, Official Banking Partner HNB, Official Host Mount Lavinia Hotel, Print Media Partner Wijeya Newspapers Group, Official Beverage Partner Free Lanka, Business Transformation Partner Secquoro, Official Hair & Make-up Partner Salon Kess and We Are Designers as well as key apparel industry participants MAS, Hirdaramani, Timex, Star Garments , LICC, MRC, Nor Lanka, Orit, Innovative Knits, EKKO, Union Apparel, Penguin, Lanka Leather, Raaksha, Textured Jersey, Avirate and Vogue Tex. The event is endorsed by the Joint Apparel Association Forum.

For partnerships, participation and more information, contact the SLDF secretariat on 076 777 0306 or [email protected]