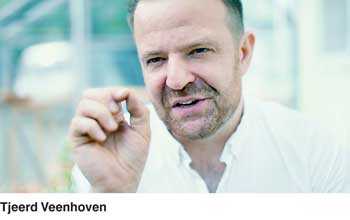 How design becomes the catalyst for a sustainable transition towards a circular economy; and how algae disrupts the fashion system by award-winning Dutch designer Tjeerd Veenhoven
Design thinking, collaborative processes and new alternatives in raw materials are important elements of the emerging fashion future. With consumers demanding that the fashion products they purchase carry meaningful purpose, beauty and sustainable origins and ends, new ideas and technologies reshaping how we make, consume and dispose wearables have become essential. This means brands and makers alike need to stop their race to the bottom and pay new attention to manufacturing processes, machinery, technologies and skills surrounding the fashion product. It also means a higher degree of design intervention into the manufacturing process, where makers and designers collaborate.

For technologically geared maker destinations like Sri Lanka, these are welcome changes that can bring in new clients and strengthen existing partnerships. The 2018 editions of South Asian Apparel Leadership Forum and Sustainable Fashion Summit present a closer insight into this future with one of the world's most innovative biomaterial designers and harvesters – Studio Tjeerd Veenhoven.

The founder of this award-winning studio – Tjeerd Veenhoven will be part of the forums, with two sessions; the first will be held at the Sustainable Fashion Summit discussing how bio-based matter like wood pulp, algae and kelp can offer the textile industry rapidly renewable raw materials; the second session will be held as part of South Asian Apparel Leadership Forum will explore how design thinking through innovation, research and collaborative process will help businesses transition towards a circular economy that current consumers value. The Dutch designer, who won the Global Change Award from H&M Foundation in 2016, has been hosted to visit Sri Lanka and share their knowledge, through a partnership with the Dutch government.

Tjeerd is a strong believer that designers and buyers should change the materials used in their products and consider natural based alternatives. As much as he believes that this is an essential move responding to more conscious markets, Tjeerd also states that it is a responsibility of brands and makers to educate their customers on bio-based technology and why they make for a superior wearables experience, playing active roles in fashion's evolution into a more sustainable business. With Studio Veenhoven, he uses design thinking through innovation, research and collaborative processes to transition towards a circular economy. His sessions in Sri Lanka will present a rare opportunity for local apparel manufacturers to get up-close and personal with where wearables meet design, innovation, science and tech, and understand how to adjust resources and skills to match these inevitable industry 4.0 shifts. Tjeerd's sessions was held on Thursday 25 October at the Sustainable Fashion Summit, and Friday 26 October as part of South Asian Apparel Leadership. For more information, reach 0763427772 or www.mbfwsrilanka.com.