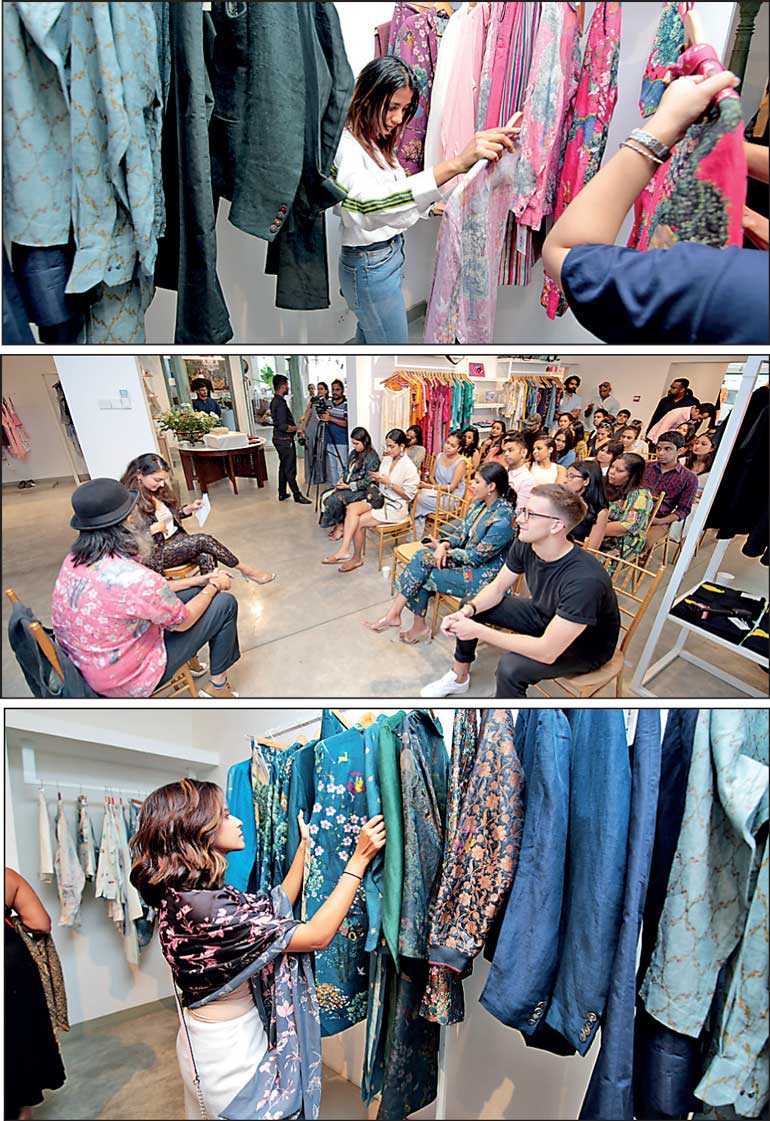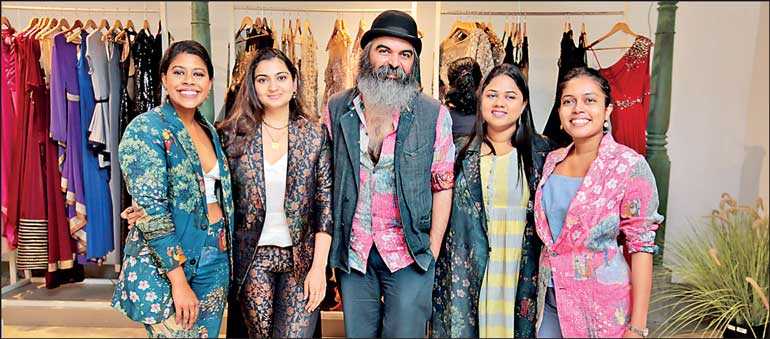 Pix by Damith Wickramasinghe
---
By Divya Thotawatte

Prominent Indian designer Suket Dhir launched his new menswear collection for women titled 'He for She' for the first time in Sri Lanka at the Design Collective flagship store recently.

During the event, he spoke on his career, being a menswear designer and shifting to women's fashion and about his latest collection being launched in Sri Lanka. He said that although his focus has always been on menswear, he was inspired by women who wore men's clothes, such as his wife who wore his menswear designs and was able to make them look feminine. He said that the collection was not unisex, but menswear that is only designed for women.

The cultural prints on the blazers, tailored shirts stitched in multi-coloured threads, and trousers of the designer collection have been inspired by the social life in India. His childhood memories, including the everyday life of India have been highlighted through his designs while the embroidery on the garments is inspired by Pahari miniature paintings. Images of Indian royalty in a contemporary context such as royals playing golf, riding Segways or taking selfies are embroidered on each of Dhir's fashion pieces.

Addressing questions that were asked about the sustainability of his garments, Dhir explained that all his creations were inspired by his grandparents and the culture of India, in which they wore clothes that could be used for decades. "That's what I'm trying to achieve through my products. My endeavour is to make my pieces last for about 20 years and I think we have been managing it well so far," he added. He added that all fabrics used in his designs have been weaved by his label, and that major emphasis has been given on the satisfaction of the customer through every aspect of the product, including its softness and durability.

"Wearing clothes is self-expression. I can't force my aesthetic on my clients, because wearing clothes is all about confidence and how you carry yourself, and what is not their style will make them self-conscious," he explained, highlighting the fact that since his designs are mostly different from the rest, wearing his pieces depended on the customers, and how comfortable and confident they would feel in them.

Vogue India Fashion Features Editor Akanksha Kamath interviewed Suket Dhir, the winner of the International Woolmark Prize (IWP) 2015-16, on his collection during the launching event.