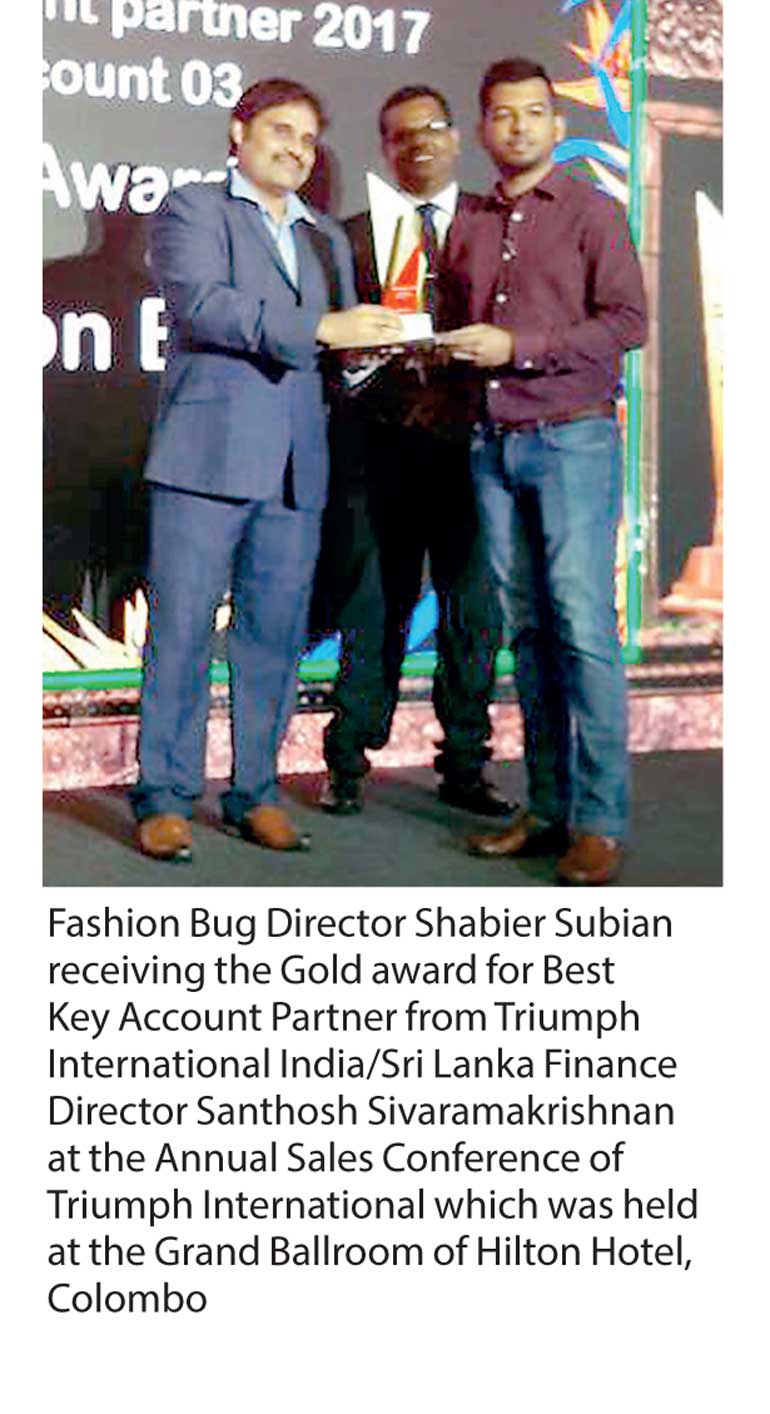 Fashion Bug, one of Sri Lanka's leading retail clothing stores bagged the Gold award for 'Best Key Account Partner' at the recent Annual Sales Conference of Triumph International held on 15 February at the Grand Ballroom of Hilton Hotel, Colombo.

Held every year and attended by its vast network of distributors and top performing retailers from all across the country, the aim of the conference was to highlight and reward their performance for the year 2017.

With Triumph successfully on its second decade delighting customers with an array of new styles and exclusive locations for lingerie shopping, many awards were given away including 'Dealer Centre of the Year', 'Best Dealer of the Year', 'Best Key Account Partner', 'Best Performing Dealer', and 'Best Distributor of the Year'.

Winning the Gold award since 2013, Fashion Bug this time around too exhibited a higher loyalty towards the iconic global leader in manufacture and marketing of lingerie and shape-wear, with the retail fashion chain's Kandy branch walking away with 'Best Key Outlet Award'.

"We believe that by being a trend setter in the industry we can serve our customers and partners with high standards. Over the years we are humble to be bestowed with this prestigious recognition by Triumph and we are more committed than ever to serve great partners like Triumph with exceptional service. We look forward to a long-lasting and mutually beneficial relationship with Triumph who is one of our key suppliers," said Fashion Bug Director Shabier Subian.

Fashion Bug lives up to its motto of 'changing lifestyles' as it spends millions annually on various CSR projects, encouraging positive change throughout the country. These projects vary from sports, environment, public services and most importantly improving access to healthcare and promoting education.

Fashion Bug commenced operations in 1994 as a partnership business between four partners and a staff of just 15. Today, with over 17 stores throughout the country with a workforce of over 1250 employees, Fashion Bug stands among the leading clothing stores in Sri Lanka.