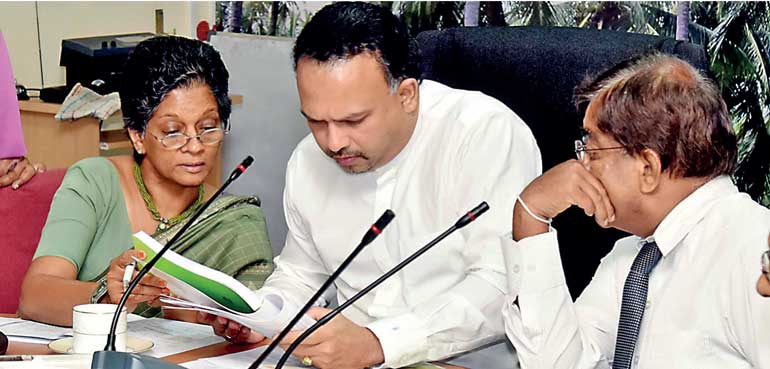 Plantation Minister Navin Dissanayake and EDB Chairperson Indira Malwatta
Tea industrialists have been asked by the Plantation Ministry to submit a list of orthodox teas that need to be imported for re-export after blending under brand names with branding support to be extended under the Sri Lanka Tea Board promotion budget but with active cost-sharing from the private sector.

The proposal had been suggested by Plantation Industries Minister Navin Dissanayake during a meeting with industry stakeholders and the Export Development Board, a statement from his Ministry said.

Tea industry participants had highlighted the need to support branding of tea in overseas markets and requested the government to liberalise the import of orthodox tea for value added re-export. They had also pointed out the current tariff regime causes much hardships on exporters as lack of consistency prevents forward planning as well as marketing. Considering all the new developments in the global market, the private sector feels that the future will become more and more challenging in terms of market development and expansion which warrants strong government support.

"The Minister, however, expressed his concern on unrestricted tea imports that could have a negative impact on local tea prices. He asked the industrialists to submit a list of orthodox teas that need to be imported for re-export after blending under brand names. Support for branding can come under Sri Lanka Tea Board promotion budget but the private sector must demonstrate firm commitment through cost-sharing," the Ministry statement said.

A separate meeting would be held to discuss rubber sector issues over the next few weeks, the Ministry noted. The Minister had requested the private sector to develop long-term master plans for tea and coconut sector development in the line of Rubber Master Plan which has been approved and implemented by the Government. The Minister observed that the Government faces difficulties in implementing policies when different segments in the same industry try to adopt conflicting strategies.

"Everyone must collaborate and achieve common industry goals for national good. That is why we need collaborative plans," he was quoted as saying.

Coconut products exporters are having problems with the availability of fresh nuts that interrupts their production planning and exports. However, in the opinion of coconut producers, there is always a surplus of nuts in the market as plantations produce over 3,000 million nuts per year while only around 700 million nuts are used for value added products. The Minister expressed his concern over the spreading of wilt diseases among coconut plantations as he has personally observed some badly hit estates. He requested the CRI to intensify efforts to eradicate this disease. It was proposed to grow inter-crops such as pineapple in coconut plantations to augment farmer incomes.